People are boozing it up more than ever and British researchers think they have a handle on one reason why: Wine glasses have steadily gotten bigger.
They looked at wine glass sizes over the centuries, including a peek at the British royal household's crystal service, and found a steady increase. Wine glass sizes started really ballooning in the 1990s, they found.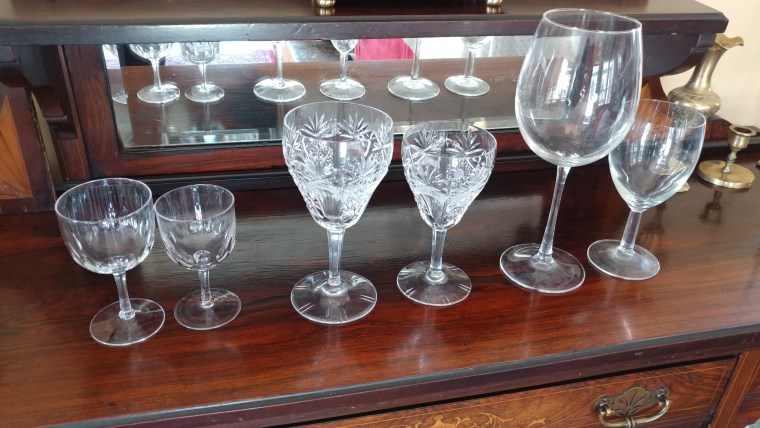 "As we approach the culturally legitimized deviancy of festive drinking, we suggest that size does matter: look at the wine glass in your hand," Theresa Marteau, professor of behavior and health at Cambridge University, and colleagues wrote.
"We sought to measure the capacity of glasses used for unfortified wine (excluding sparkling wines) with a stem and foot that have been available or sold in England from 1700 to 2017," they wrote, adding that they contacted museums, retailers and other sources.
Sure enough, glasses are getting bigger, they report in the Christmas issue of the British Medical Journal (BMJ), which specializes in reporting on true but lighthearted medical research.
"Wine glass capacity increased from 66 ml (2.2 ounces) in the 1700s to 417 ml (14 ounces) in the 2000s, and the mean wine glass size in 2016-17 was 449 ml (15 ounces)," they wrote.
"This increase was gradual until the 1990s, when it became more marked."
Related: Americans are drinking more
Part of this is due to the popularity of using different wine glasses for different wine types, they noted. Plus, wine is trendy.
"Until the later 20th century the forms most commonly drunk were beer and spirits, as wine was for the richer Scrooges rather than the poorer Cratchits," they wrote.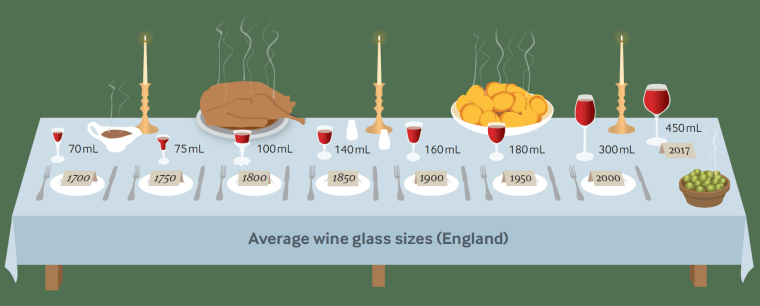 "Alcohol consumption in general then started to increase, and wine consumption rose almost fourfold during 1960-80, almost doubling again during 1980-2004."
Related: Drinking kills 6 Americans a day
And bigger glasses mean greater guzzling.
"Larger tableware is known to increase food consumption: plate sizes have increased over the past 100 years, likely contributing to the prevalence of obesity and overweight," they noted.
"Larger wine glasses can also increase the pleasure from drinking wine, which may in turn increase the desire to drink more."