CVS Caremark pharmacies will phase out tobacco in U.S. retail stores by Oct. 1, a move swiftly embraced by President Barack Obama and the first lady on Wednesday as a step that would save lives and promote good health.
The chain will lose about $2 billion in revenues annually from sales of tobacco in its 7,600 stores, but CVS Pharmacy president Helena Foulkes said it just makes sense for a firm now positioning itself as a health care company not to sell cigarettes side-by-side with medicine.
President Barack Obama, a former smoker who tried for years to stop, immediately praised CVS, saying in a statement that their powerful example "will help advance my Administration's efforts to reduce tobacco-related deaths, cancer, and heart disease, as well as bring down health care costs — ultimately saving lives and protecting untold numbers of families from pain and heartbreak for years to come."
The first lady — who encouraged her husband to kick the habit — quickly chimed in.
The move is also an effort to help curb tobacco-related illness and the 480,000 deaths caused by smoking each year in the U.S. Despite huge reductions over the past 50 years, about 18 percent of Americans — 42 million people — still smoke, health officials say. Smoking costs the nation about $289 billion annually in direct medical costs and lost productivity, according to federal figures.
Health experts and groups like the American Pharmacists Association and the American Medical Association have urged stores that house pharmacies to stop selling tobacco for years. Many small, independent pharmacies and small private chains already ban tobacco, said John Norton, spokesman for the National Community Pharmacists Association.Target stores stopped selling tobacco products in 1996.
But CVS is the first large retail pharmacy chain to do so.
"This action may not lead many people to stop smoking; smokers will probably simply go elsewhere to buy cigarettes," CVS medical officer Dr. Troyen Brennan wrote in an editorial published Wednesday in the Journal of the American Medical Association. "But if other retailers follow this lead, tobacco products will become much more difficult to obtain."
Pharmacy retailer Walgreens released a statment on Wednesday in which it said it has been "evaluating" the place tobacco products hold on its shelves. Representatives for Rite-Aid Corp. and R.J. Reynolds Tobacco Co. wouldn't comment on the pending announcement late Tuesday, calling it "speculation."
"We will continue to evaluate the choice of products our customers want, while also helping to educate them and providing smoking cessation products and alternatives that help to reduce the demand for tobacco products," Walgreens said in the statement.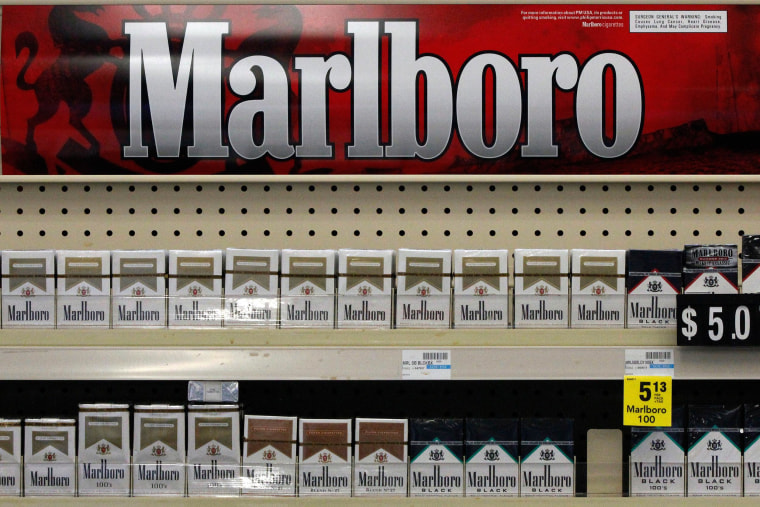 U.S. Health and Human Services Secretary Kathleen Sebelius called the move "an unprecedented step in the retail industry" and urged others to follow CVS' lead.
"The Department of Health and Human Services applauds CVS Caremark Corp. for their leadership in helping to make the next generation tobacco-free," she said in a statement.
Dr. Michael Fiore of the University of Wisconsin's Center for Tobacco Research and Intervention also embraced the decision.
"I think this is fantastic news and I commend CVS for this," Fiore said. "There's a disconnect if the mission of a store is to promote health to sell a product that's going to kill half of the people who use it."
If other large retailers phase out tobacco, it will contribute to other efforts to "denormalize" tobacco use, such as New York's ban on smoking in outdoor public spaces, he said.
Smoking is often just another marker for social and economic disparities, with smoking rates highest among people with the lowest levels of income and education. Creating "zones free of cigarettes in their face" in drug stores will make it easier for people trying to quit, particularly in the early weeks and months, Fiore added.
"There's a disconnect if the mission of a store is to promote health to sell a product that's going to kill half of the people who use it."
CVS pharmacy was among the top five U.S. best retail brands in 2013, according to an annual survey by Interbrand Design Forum. The Woonsocket, R.I., company posted record revenues in 2012 — $123.1 billion, fueled by pharmacy services and retail pharmacy sales.
Earlier this week the Food and Drug Administration announced a $115 million campaign, dubbed "Real Cost," that will use humorous ads and a few scare tactics to discourage teens from ever starting to smoke. According to the FDA, nearly 90 percent of adult smokers start using cigarettes by age 18. Tobacco companies have increasingly been wooing them with candy-flavored mini-cigars and e-cigarettes.
And a new U.S. surgeon general's report adds a new litany of diseases caused by smoking, including Type 2 diabetes, rheumatoid arthritis, erectile dysfunction and the macular degeneration that can blind older adults, as well as two new kinds of cancer – liver and colorectal and cleft palate birth defects.
Taken together with other efforts, the CVS decision could be a first step in budging smoking rates that have hovered near 20 percent for a decade, said Harold Wimmer, president of the American Lung Association. CVS says it plans a broad smoking cessation effort this spring to reach the 7 in 10 people who say they want to quit.
"We really believe that access to tobacco products is one of the factors in reducing smoking," Wimmer said, noting that is to get it down to 10 percent in the next 10 years. "We feel the steps that CVS and others are taking will help us make that kind of a difference."