A New York hospital where some staffers said they could not get coronavirus tests even after a nurse died of the disease it causes has told workers that starting Tuesday it will provide tests to all employees who have developed symptoms consistent with COVID-19, according to an email obtained by NBC News.
"Starting on Tuesday, April 7, if you develop symptoms consistent with COVID-19, we would like to test you for this viral infection using the PCR test with a nasopharyngeal swab within a few days of the onset of your symptoms," said the email Saturday from Senior Vice President Vicki R. LoPachin to all staffers of the New York City area's Mount Sinai hospital network. "This will provide guidance to you and to Employee Health Services regarding your clinical status and return to work."
"If you were symptomatic prior to April 7, we would like to test you for COVID-19 infection using the serum antibody test. This will provide guidance to you on whether you did have COVID-19 infection as well as whether you are a candidate to provide a plasma donation to help others."
Full coverage of the coronavirus outbreak
The email came after queries to the network from NBC News on whether it planned to make tests available to staffers at Mount Sinai West, a hospital on Manhattan's West Side, and a protest Friday by staffers from various Mount Sinai hospitals that included demands for testing. The email said staffers would receive more information Monday.
A spokesperson for the Mount Sinai hospitals did not respond to requests for comment about the network's testing policy for employees and its decision to make tests available starting Tuesday.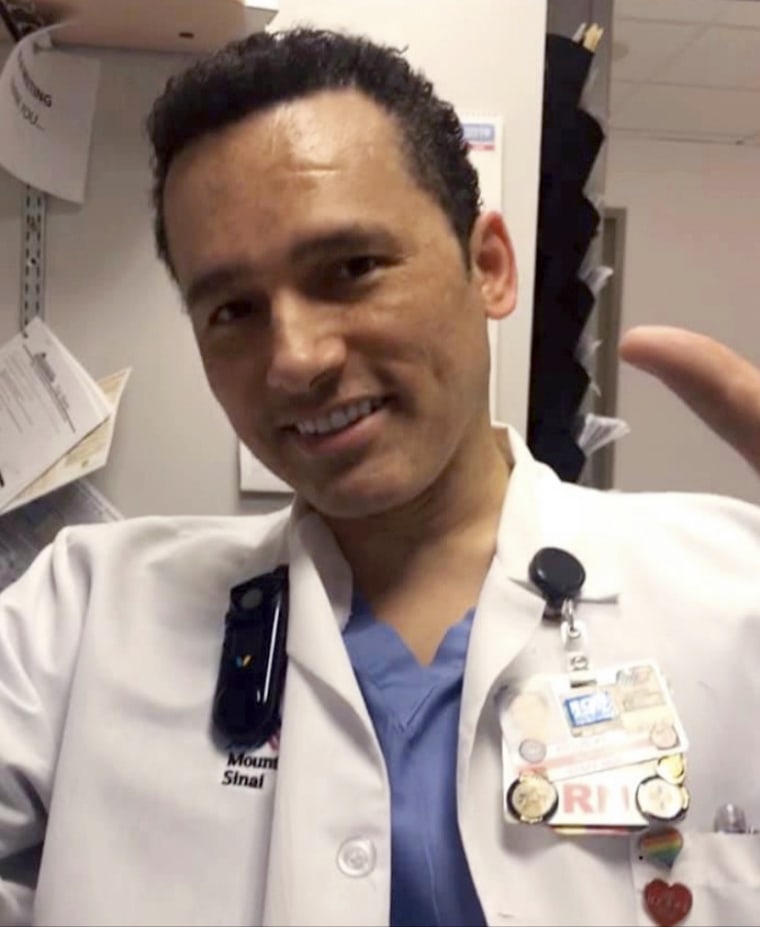 Kious Kelly, an assistant nurse manager on a cardiac observation unit at Mount Sinai West, died of the coronavirus disease on March 24. At least two Mount Sinai West employees who worked in his unit, known as 10B, and a nurse who did not have tested positive for infection, according to interviews with two of the sick employees and the daughter of the third.
According to interviews with staff members, group texts and a list provided by a nurse, other workers in the unit have also tested positive, but NBC News was not able to confirm those illnesses.
Some employees in Kelly's unit, who spoke to NBC News on condition of anonymity, said last week that even in the wake of his death, nurses and other staff members in the unit and across Mount Sinai West had not been able to access testing at their own hospital. They also said that, despite improvements, they were still not being supplied with the personal protective equipment, or PPE, they deem adequate to keep them safe from exposure.
"The way management has been managing this crisis showed us that infectious disease protocol or staffing safety is not their concern," said a nurse on the unit.
Echoing the concerns of nurses and physicians across the country, many in unit 10B and across the hospital had told NBC News that they have been forced to seek testing offsite, including at urgent care clinics.
Diana Torres, a registered nurse who works in the rehabilitation unit at Mount Sinai West, said that knowing who on staff is positive allows health care workers to "take the necessary precautions to avoid exposing more people or exposing our loved ones."
Mount Sinai Health Systems would not confirm how many of its employees at New York-area hospitals, including staff members from Mount Sinai West's unit 10B, have tested positive for COVID-19.
On Friday morning, more than a dozen staff members gathered in front of the Mount Sinai hospital on Manhattan's Upper East Side to protest what they said were continued shortages of protective equipment and to demand standardized infection control and isolation protocols, along with free testing for exposed or symptomatic health care workers.
"Keeping our staff and patients safe is our absolute number one mission right now and, in addition to the resources provided by the City, State and federal government, we are continuing to move heaven and earth to ensure our healthcare staff have access to proper PPE," Jason Kaplan, a spokesman for Mount Sinai, said in a statement about the protest sent to NBC News on Friday. "We understand the fear and concerns and we will continue to do everything possible to protect our heroes on the frontlines. We will not stop until this crisis is over."
Kelly helped manage the team on 10B, and he was there on March 10 when the team received its first COVID-19 patient. The unit typically takes patients who make it out of the intensive care unit but still need to be closely monitored.
One nurse, who agreed to speak anonymously, began to experience symptoms a few days after having treated the patient. On March 13, the nurse called Mount Sinai's employee health hotline and described the symptoms: shortness of breath, fever and an unrelenting dry cough.
"They told me to just manage the symptoms at home because I cannot be tested," the nurse said.
The nurse's primary care physician referred the nurse to the state COVID-19 hotline. The nurse said there was a two-hour wait to speak to someone, only to be told that no testing site could be located. Luckily, the nurse was able to get tested that evening, thanks to a friend who worked in the emergency department at Mount Sinai's flagship hospital.
"If I did not make my own move to call my primary care provider and go to the emergency room, I don't know what would happen to me," the nurse said.
After the nurse managed symptoms at home and did not improve, a primary care doctor prescribed new medication: hydroxychloroquine, azithromycin and zinc.
"I think that really pulled me through to be back again to becoming better, because without it I would still be huffing and puffing," the nurse said.
Other health care workers on unit 10B and beyond said that experience was common. Many said they had not been able to get testing at the hospital despite having developed symptoms or having been directly exposed to the virus. Many also say they were told that testing remained limited at the hospital and that it was being reserved for patients experiencing acute respiratory syndrome.
Torres said she sought testing after having been exposed to a COVID 19-positive patient from unit 10B. She said she was told that she did not qualify.
She has had no symptoms, but she has been worried about exposing her family to the virus.
Download the NBC News app for full coverage and alerts about the coronavirus outbreak
The lack of early and widespread testing of patients for coronavirus has affected health care workers around the country, like those in unit 10B, who were exposed to potential carriers without adequate protective equipment.
On March 14, a patient who had been discharged came back to unit 10B with a fever and other symptoms associated with COVID-19. As more than 30 nurses and techs cared for and were exposed to the patient, Mount Sinai's medical director of infectious disease emailed nursing managers with updated protective equipment recommendations.
To facilitate conservation of N95 masks, the email said, they were now "only to be worn for aerosol-generating procedures."
When Kelly delivered the message to unit 10B during a meeting March 15, said a nurse who attended the meeting, a few nurses started to cry. Others were angry.
"We know how poorly prepared we are," the nurse said. "We know this is a suicide mission."
That day was the last time Kelly was seen at work. He was admitted to intensive care two days later.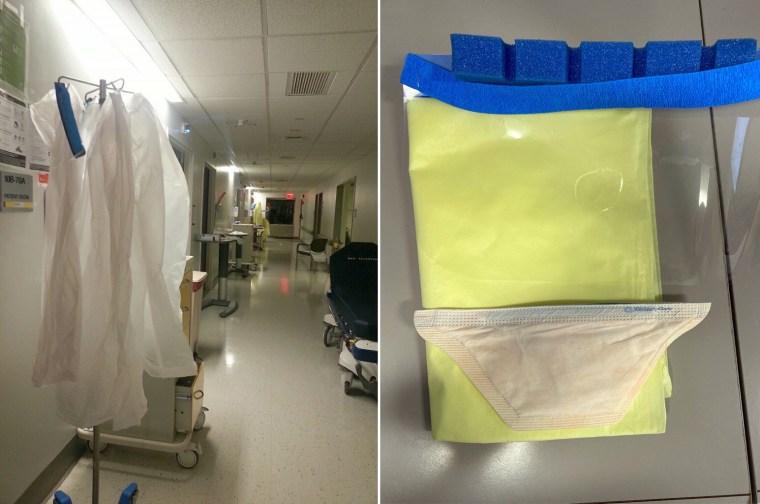 As the days wore on, staffers said, nurses were told to reuse gowns, ration N95 masks and wear surgical masks, which do not offer the same level of protection against the virus, to work in rooms housing COVID 19-positive patients.
Protective gear shortages continued, according to staffers. On the evening shift of March 21, nurses in unit 10B were unable to find any blue gowns and texted colleagues a photo of themselves wearing trash bags. The photo went viral.
Kelly, who died March 24, suffered from severe asthma, said Marya Sherron, his sister. She has questioned whether his death could have been prevented if he were given adequate equipment.
Since then, health care workers say, supplies or protective equipment have been shored up. Staff members have not had to reuse gowns, and N95 masks are in greater supply. But workers say they still do not have access to full protective equipment, including full hazmat or "bunny" suits.
"I want to look like I'm going to Mars. It's that simple," Torres said. "If I don't look like that, then I'm not protected."
A spokesperson for the Mount Sinai hospitals did not respond to a request for comment about the March 14 email or the availability of protective equipment to employees.