Lawmakers across the country are cracking down on scam coronavirus claims and excessive pricing of consumer medical supplies as the virus continues to spread.
California Attorney General Xavier Becerra issued a price gouging alert Wednesday after the state declared a public health emergency when it reported its first death related to COVID-19, the disease caused by the coronavirus.
"Californians shouldn't have to worry about being cheated while dealing with the effects of coronavirus," Becerra said in a news release.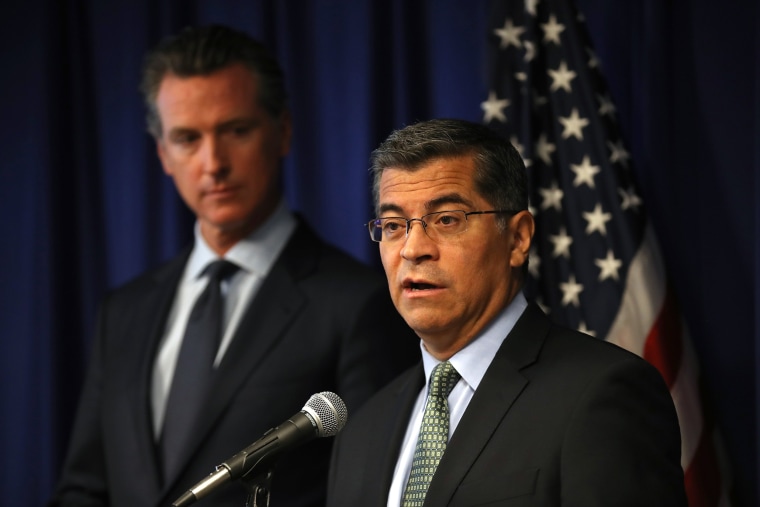 The state's price gouging laws prohibit price markups of 10 percent or more from the cost of an item before the declared emergency. Violators are subject to criminal prosecution and could face fines of up to $10,000.
Amazon has already removed more than 1 million products from its site for making misleading claims, and Walmart said last week that it also will remove listings that make misleading claims. But a third-party seller on Walmart.com was charging $47.95 for an 8-ounce bottle of Purell hand sanitizer, and another was charging $90 for the same item on Amazon until the site removed the listing after being contacted by NBC News.
Full coverage of the coronavirus outbreak
"Price gouging is a clear violation of our policies, unethical, and in some areas, illegal," Amazon said in an emailed statement. "In addition to terminating these third party accounts, we welcome the opportunity to work directly with states' attorneys general to prosecute bad actors."
Brick-and-mortar retailers have also jumped into the fray. Michigan Attorney General Dana Nessel said her office is looking into reports that a west Michigan retailer is selling masks for $10 apiece. The state's Health Department also warned that scammers are using the virus to sell fake products and to steal money and personal information through emails and social media posts. The Food and Drug Administration has approved no vaccine for coronavirus.
"This is the perfect example of criminals preying on people's fears," Nessel said.
New York Attorney General Letitia James issued guidance Thursday about how to avoid virus-related scams and how people can report retailers selling consumer medical supplies at excessive prices.
"We must also beware of unscrupulous actors who attempt to take advantage of this fear and anxiety to scam or deceive consumers," she said. "I encourage anyone who believes they are the victim of a scam or predatory action to contact my office and file a complaint."
Earlier this week, James' office issued a cease-and-desist order to "The Jim Bakker Show," which airs on Direct TV and Dish Network, after one of its guests suggested that a liquid sold on the show's website could treat coronavirus infection.
Download the NBC News app for full coverage of the coronavirus outbreak
State Sen. Brad Hoylman introduced legislation in New York that would prohibit bad actors from hiking the prices of consumer medical items at 10 percent or more during a state emergency. If the measure is passed, scammers could face a $25,000 penalty.
Under current law, the courts must decide whether the higher price is "unconscionably excessive" before the state can impose a penalty. Other states, including West Virginia, New Jersey and Utah, have similar laws.
"We've seen examples in my district and across the state where retailers are taking advantage of an unfortunate health crisis," Hoylman said.
His office has received reports of pharmacy distributors' hiking the price of hand sanitizer and of stores in New York City's Chinatown selling masks for $75 a box when they are typically priced at around $25 a box.
"It's imperative that New Yorkers have access to these types of medical products without having to deal with someone trying to exploit a bad situation as well as profit off of that," he said.