A year after getting secret weight-loss surgery, New Jersey Gov. Chris Christie is clearly much reduced in size, but still far from what you'd call thin.
The recent high-profile controversy over closures of access lanes to the George Washington Bridge has drawn slams not only from those who've questioned Christie's leadership, but also people piling on about whether he'd failed in his effort to curb his girth.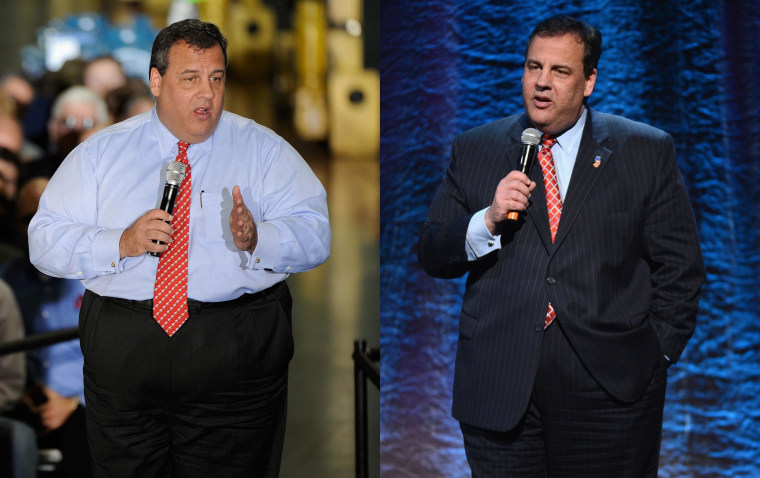 It's been especially nasty on Twitter, where users haven't missed an opportunity to insult Christie's size and conservative pundit Glenn Beck jumped in on the thread last month dubbing the scandal #FatAndFurious.
But a top bariatric-surgery expert estimates that the Republican governor actually has shed between 90 pounds and 100 pounds from his 5-foot-11 frame, slimming down to an estimated 320 pounds after hush-hush gastric-banding surgery in February 2013.
In the world of the super-obese, that's success, says Dr. Ninh T. Nguyen, president of the American Society for Metabolic and Bariatric Surgery.
"We're trying to get somebody into a healthy lifestyle and reduce their obesity-related conditions," said Nguyen, director of bariatric surgery at the University of California Irvine Medical Center. "We're not trying to make somebody skinny here."
"With everything the man is dealing with, it is a wonder he has done so well."
In fact, most people are not like TODAY's Al Roker, who famously lost more than 100 pounds a decade ago after gastric bypass surgery, slimming down to 190 pounds from a high of 340. Some can never get that low, experts say, and even Roker admitted in his recent book that he struggled after the surgery, regaining 40 pounds during a family medical crisis.
For Christie's part, his size has drawn darts for years, with speculation that his extra weight could derail any plans for a 2016 U.S. presidential bid. The fat-shaming died down a bit when word leaked that Christie had undergone weight-loss surgery, but it flared again when the bridge scandal erupted.
Christie, 51, has remained all but mum on procedure that has helped him shed pounds. "What I will say is that I'm more than halfway to my goal," he told CBS News in late September. But he didn't divulge what that goal was, or when he'd get there.
Judging by photographs, however, Nguyen says that it appears that Christie has lost 40 percent to 45 percent of his excess weight in the first year, about what might be expected from adjustable gastric band surgery, more commonly known as Lap-Band.
"From the images I saw, I would say, yes, I would regard it as successful," Nguyen said.
That view was echoed by Dr. Thomas Inge, a bariatric expert at Cincinnati Children's Hospital, who often works to reverse obesity in adolescents before they become ultra-heavy adults.
"With everything the man is dealing with, it is a wonder he has done so well," Inge told NBC News.
Christie chose the least-invasive option for bariatric surgery, in which an adjustable silicone band filled with saline is wrapped around the upper part of the stomach, creating a small pouch that restricts food intake.
About 300,000 procedures have been performed worldwide since the U.S. Food and Drug Administration approved the device in 2001. It now accounts for about 36 percent of the weight-loss surgery market, according to a study by Duke University Medical Center researchers presented last fall.
Gastric bypass surgery is still more popular, accounting for about half of all surgeries. With gastric bypass procedures, the stomach is reduced to the size of a walnut and then reattached to the small intestine, avoiding part of the intestine, and limiting absorption of calories.
Gastric bypass surgery generally results in greater weight loss in the first year than the adjustable band procedure, but those who use the band typically catch up later, "as long as the patient stays on the wagon," Inge says.
But the truth is, even with surgery, most super-obese people are not going to join the ranks of the thin, Inge says. At that level, a person might have a body mass index, a measure of height vs. weight, of 48 or 50. Even with surgery, BMI might fall to 35, or even 30. But a BMI of 30 is still considered obese.
"It's a category that is quite challenging," Nguyen said.
Christie's extra challenge is losing weight — or maintaining a loss — in the face of ongoing public scrutiny.
"In my view, every question is fair since he is a public figure," Nguyen said. "This is a personal issue, but you are in the public eye and everything you do is being watched. Unfortunately, that comes with his job."