If anyone knows what it's like to give your life to the military, it's Amanda Yeram. A military brat herself, Yeram talked her parents into letting her join the Marine Corps at 17 and soon after, she married a fellow Marine.
Yeram's husband, staff sergeant James Yeram, is on his fourth deployment and Yeram, her son and daughter are at Camp Pendleton in California, immersed in military life.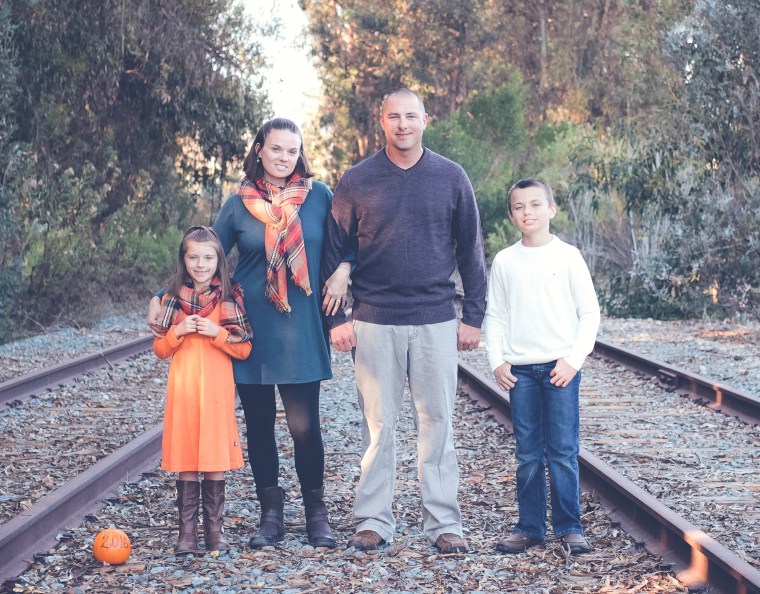 Yet Yeram would not want a lifelong military career for her own son and daughter.
"I think it's a great experience for a young adult to grow into adulthood," Yeram told NBC News. "I definitely wouldn't recommend it for a career. I think it's really hard for an individual and their family."
Yeram is in the majority. A new annual survey of military families shows a majority of active-duty military families — 57 percent of them — said they were unlikely to recommend that their own children join the service.
"I definitely wouldn't recommend it for a career. I think it's really hard for an individual and their family."
That would be almost unheard of in past decades. Military families tend to remain military families.
In the survey released by the military family support organization Blue Star Families, 56 percent of the active duty servicemembers said they had more than one immediate family members currently serving or who were veterans.
Related: Multiple Deployments Now Routine for Military Families
More than half had a parent who served, 60 percent had a grandparent who served and 52 percent had an aunt or uncle who had.
And while more than 90 percent say they are proud of their military service, a growing number say it's just too tough to justify the same career for their own kids.
The most common reasons they give aren't the risk of being hurt or killed in battle, or the high rates of post traumatic stress disorder (PTSD).
"People do love the mission," said Kathy Roth-Douquet, president and CEO of Blue Star Families.
"There is an incredibly high level of pride in service."
So why the negative feelings?
"It is the cuts in benefits. It's the reductions in forces at the same time as we are increasing our mission."
And repeated deployments. "People are really deployed a lot," Roth-Douquet said.
"Nearly three-quarters of those we surveyed say the current level of deployment is too stressful for families."
Like Yeram, Roth-Douquet is married to a Marine and he, too, has been deployed four times.
In the past 15 years, servicemen and women have been sent on multiple rotations to conflicts in Iraq and Afghanistan. "People are always pre-deploying or deployed or coming home from deployment in a way that military experts say is not sustainable," Roth-Duquet said.
Related: Stress of War Takes Toll on Military Kids
More than 2.7 million men and women in the Army, Air Force, Navy, Marines, Coast Guard and National Guard have been sent to the wars in Afghanistan and Iraq and more than a third went more than once. Tens of thousands went four or more times.
It's too much, the survey of more than 8,000 active duty and retired servicemembers and their spouses and other family members found.
Related: Trump Implies Military Suffering From PTSD Can't Handle War
Blue Star said 72 percent of active duty personnel and their spouses found the rate of deployments created too much stress for them. "Among active duty and military spouses who indicated they planned to leave service in the next two years, deployment was the top stressor for both groups with 83 percent and 85 percent, respectively," the report reads.
Yeram, who left the Marines in 2006, says the stress affects the kids. Her 11-year-old son worries about his father, who served in Iraq three times and who is currently in Japan. Families are not just physically separated, but often disconnected for days or weeks on end.
"In Iraq he used to have to wait in line every Sunday to get a computer for 20 minutes or a landline for 20 minutes," Yeram said.
Repeated moves mean spouses cannot get or keep jobs. More than 20 percent are unemployed, the survey found, and many more are underemployed.
Fewer than half of military families in which one spouse is a civilian earn two incomes, compared to 66 percent of non-military couples, the survey found.
Related: Most Military Suicides Come Before Combat
It happened to Roth-Douquet, whose husband retired last year after 30 years as a Marine officer. She had worked in the Clinton White House and at government foundations before they married.
"And then I was unemployed after we got married and moved to Okinawa, so we lost my income which had been higher than his," Roth-Douquet said. "It was a bit of a shocker."
They moved eight times in 15 years, and Roth-Douqet's husband was sent on deployment four times. That makes it hard for a spouse to work.
"It affects your ability to achieve the American dream."
"Even if they are working, lawyers are working as secretaries or healthcare administrators are working as receptionists," Roth-Douquet said. "It affects your ability to achieve the American dream."
And it may affect enlistment in an all-volunteer military, she said. "We want to make it possible for people to serve their country and have family lives," she explained.
The government and local communities can do more to help, Roth-Douquet said. Child care is one immediate issue, as is the easy transfer of medical, legal and teaching licenses from state to state, as well as other accreditation.
"It is an important part of our democracy that we have this volunteer, citizen military," Roth-Douquet said.
Yeram agrees. "I have been a military spouse for 14 years and I want it to be my time and it can't be yet," she said. For now, she's working for Blue Star, waiting for her chance.