If air pollution standards were tightened just a little bit, thousands of lives might be saved each year, a new study suggests.
Researchers found that 9,320 lives might be saved annually by reducing of two types of air pollution — ozone and fine particulate matter — to levels below what the Environmental Protection Agency currently requires. In addition, 21,400 serious health conditions, such as non-fatal heart attacks, might also be avoided, according to the study published in the Annals of the American Thoracic Society.
The researchers also looked at their data city by city to see where decreases in pollution levels might make the biggest difference.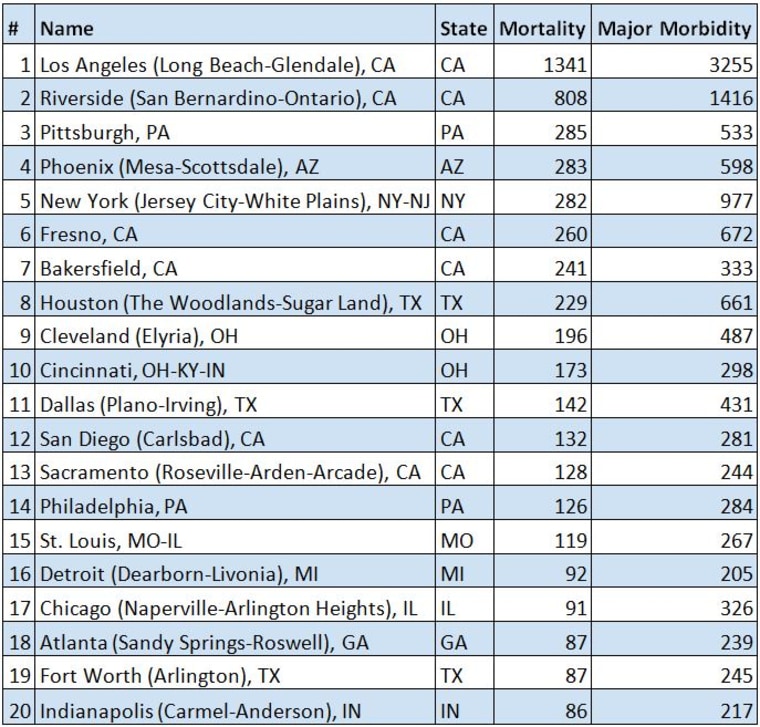 Cities at the top of the list are the ones in which reductions in pollution would have the highest impact, explained the study's lead author, Kevin Cromar, director of the air quality program at the Marron Institute of Urban Management at New York University. Cromar's group collaborated with The American Thoracic Society in analyzing the data.
"Cities that have the highest health impact are those with the highest levels of pollution and the largest populations," Cromar explained. In other words, populous cities that have moderate levels of pollution might be higher on the list than smaller cities with worse pollution.
Related: Air Pollution Kills 3 Million a Year: Study
The group also created a search function that allows users to find air quality levels by zip code.
So, what's the answer: Fewer cars? Cleaner industry?
Each city is different, Cromar said. For example, New York City made big gains when it passed new regulations that limited the amount of sulfur that could be in heating oil, he explained.
"The solutions need to be city specific," he said. "Even small improvements in air quality can have a profound impact on public health."
Experts said the study highlights the health improvements that can result if standards are made more stringent.
"The study shows that there is still a very large burden of illness associated with pollution and if we can bring the levels down a fairly modest amount, that might save nearly 10,000 lives," said Michael Jerrett, professor and chair of the department of environmental sciences at the University of California, Los Angeles, and director of the Center for Occupational and Environmental Health at the UCLA Fielding School of Public Health.
Related: Air Pollution Killing 4,000 in China a Day, U.S. Study Finds
Small improvements have the biggest impact in places where the pollution has already been reduced, Jerrett said.
In other words, a small reduction, 5 micrograms, for instance, would make a much larger impact in a city like Los Angeles, where the average is around 15, than in Beijing where the average levels are four times higher, Jerrett said.
"I hope this study contributes to the evidence base that shows that existing standards are not sufficient to protect public health," said Kirsten Koehler, an assistant professor of environmental health sciences at the Johns Hopkins School of Public Health.
Koehler cautions rural dwellers to not assume that the problem is just one for urbanites.
While particle pollution may not be as bad in the country, "it turns out that rural areas have worse ozone than urban areas," Koehler said. "It's a fluke of the atmosphere. The ozone in downtown Los Angeles is generally lower than east of the city where pollutants pile up against the mountains. It's the same in Baltimore. Ozone is generally lower in the downtown area than in the suburban areas outside the city."