A sugar industry group paid for studies that underplayed the role that added sugars play in heart disease, researchers reported Monday.
Studies paid for by the lobbying group helped set the U.S. on a policy course that focused almost exclusively on fat as the main cause of heart disease, leaving out the considerable role that sugary foods play, the researchers said.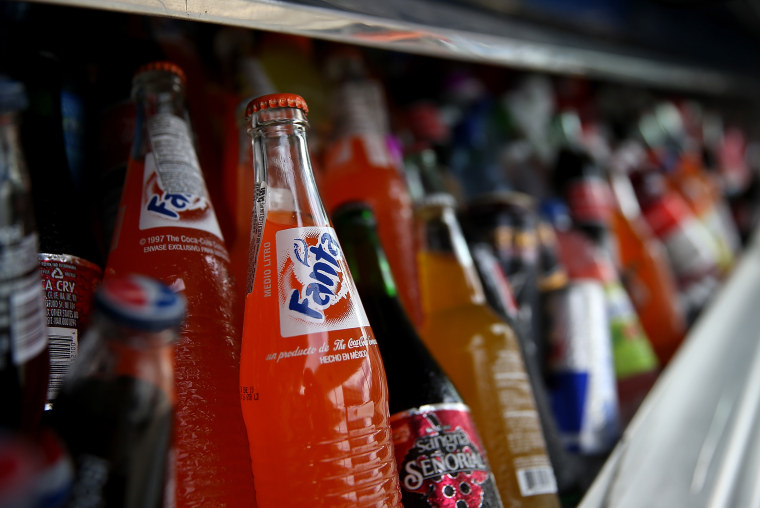 They compare the sugar industry's approach to tactics used by the tobacco industry to shed doubt on research showing tobacco causes cancer and heart disease.
And this kind of practice still goes on today, experts said in a pair of papers published in the Journal of the American Medical Association's JAMA Internal Medicine.
"These tactics are strikingly similar to what we saw in the tobacco industry in the same era," said Stanton Glantz of the University of California San Francisco's Center for Tobacco Control Research and Education.
Related: New Dietary Guidelines Advise Cutting Sugar
Cristin Kearns, a University of California San Francisco researcher who is focusing on the sugar industry, made the discovery when she found a collection of papers at the University of Illinois library from the estate of Roger Adams, a chemistry professor who was a scientific adviser for the Sugar Research Foundation (SRF)—now the Sugar Association. Kearns and colleagues also found papers from Harvard professor Mark Hegsted, who directed Sugar Research Foundation studies.
Both men, highly prominent nutrition researchers, are deceased.
"These tactics are strikingly similar to what we saw in the tobacco industry in the same era."
"Together with other recent analyses of sugar industry documents, our findings suggest the industry sponsored a research program in the 1960s and 1970s that successfully cast doubt about the hazards of sucrose while promoting fat as the dietary culprit in coronary heart disease," Kearns, Glantz and colleagues wrote.
"By the 1980s, few scientists believed that added sugars played a significant role in coronary heart disease, and the first 1980 Dietary Guidelines for Americans focused on reducing total fat, saturated fat, and dietary cholesterol for coronary heart disease prevention," they added.
"I was shocked," said New York University nutritionist Marion Nestle, who wrote a commentary on the findings in JAMA Internal Medicine.
"Mark Hegsted was a kind of nutrition hero," Nestle told NBC News. "So it was kind of shocking to find out that he was taking very large amounts of money from the Sugar Research Foundation to do what they wanted."
The pressure can be subtle. But Nestle said industry-funding and pressure can encourage researchers to look at one line of evidence while ignoring others.
Related: One Serving of Sugar a Day Can be Dangerous
One result of the emphasis of fat alone as a cause of heart disease was a giant food industry push of "fat-free" products that were loaded with added sugars and processed carbohydrates — now shown to be as big a cause of heart disease as fat is, and also a direct cause of diabetes.
"This is fantastic that these documents have emerged. We know they have relevance for today," Nestle said.
"We see that similar things are continuing up to the present. It's terrific to have this kind of evidence."
Glantz found and publicized tobacco industry papers that helped the Department of Justice prosecute major tobacco companies and their research organizations under federal racketeering laws. That led to the 1998 Tobacco Master Settlement Agreement under which the companies were ordered to pay states $200 billion through 2025 in restitution for excess Medicaid spending on tobacco-related disease.
"We see that similar things are continuing up to the present. It's terrific to have this kind of evidence."
"Our findings are a wake-up call for government officials charged with protecting the public health, as well as public health advocates, to understand that the sugar industry, like the tobacco industry, seeks to protect profits over public health," Glantz said.
Related: Here's How Sugar Might Fuel Cancer
The Sugar Association says it is "challenging" to comment on documents its members have not seen.
"Generally speaking, it is not only unfortunate but a disservice that industry-funded research is branded as tainted. What is often missing from the dialogue is that industry-funded research has been informative in addressing key issues," it said in a statement.
What's clear is that too much added sugar and fat both play a role in heart disease, diabetes and cancer, research not paid for by industry groups has found.
"Since the late 1970s, the Dietary Guidelines for Americans and its predecessor, the Dietary Goals for the United States, have advised the public to consume less added sugar. Unfortunately, that advice was drowned out by multi-million dollar ad campaigns for soda and other sugary drinks and foods," the Center for Science in the Public Interest said in a statement.