Search terms relating to "suicide" spiked following the March 2017 release of the Netflix series "13 Reasons Why," according to a research paper released Monday.
Using data from Google Trends, suicide-related search results from March 31 to April 18 were studied by researchers who published their findings in a journal for JAMA Internal Medicine.
Following the show's release, cumulative searches for suicide-related terms went up 19 percent, according to the new research. The phrase "how to commit suicide" went up 26 percent, "commit suicide" rose 18 percent, and "how to kill yourself" increased nine percent.
Terms like "suicide hotline number" increased 21 percent and "teen suicide" rose 34 percent.
Related: Netflix's '13 Reasons Why' Carries Danger of Glorifying Suicide, Experts Say
The dates selected encompassed the show's release date and the day before the suicide of former NFL star Aaron Hernandez. Researchers said they used this end date so search results wouldn't be contaminated with queries relating to Hernandez.
Researchers selected 20 terms to study over the period of time, and removed from their search queries any terms that included "Suicide Squad," which was a film released in August 2016.
Overall, researchers found 900,000 to 1.5 million more searches than expected following the 19-day period after the release of "13 Reasons Why."
Dr. Harold S. Koplewicz, president of the Child Mind Institute, said the study is a unique way of showing how children and teens were affected by the show just after its release.
"This is an innovative, and, I think, important study looking at a Netflix series on teenagers and the risk of suicidal behavior in teens," Koplewicz said.
The show centers around the suicide of Hannah Baker, who leaves behind tape recordings after she kills herself, explaining why others are at fault for her death. The show ends with a graphic three-minute scene of Hannah's death. The series is based on the best-selling 2007 book by Jay Asher.
Although the researchers wrote that the show could increase suicide awareness, they also said it was "concerning" that searches indicating "suicidal ideation" also rose.
"It is unclear whether any query preceded an actual suicide attempt," researchers stated in their findings. "However, suicide search trends are correlated with actual suicides, media coverage of suicides concur with increased suicide attempts, and searches for precise suicide methods increased after the series' release."
Koplewicz said this finding proves the "cost-benefit ratio isn't worth it."
It's not known if those who searched for the suicide-related terms had in fact watched "13 Reasons Why."
There's also a fear among experts that a "contagion" factor could cause young adults watching the series to engage in suicidal behaviors.
Suicide contagion occurs when a person is exposed to suicide or suicidal behaviors — whether it is from a person's family, peer group, or through media reports or depictions of suicide — which then causes an increase in suicide and suicidal behaviors.
"Suicide in teenagers is contagious. Period," Koplewicz said.
He added that contagion is even a factor in the show, as other teens become suicidal following the death of Hannah.
"This is really troubling, and this study — while unusual in its format — is another red flag," Koplewicz said.
Koplewicz said Netflix should install "interrupters" during the show, which would ask the viewer if they're feeling depressed or suicidal to reach out to a help line. He said he acknowledges this would make viewing less enjoyable, but said it's the responsible thing to do.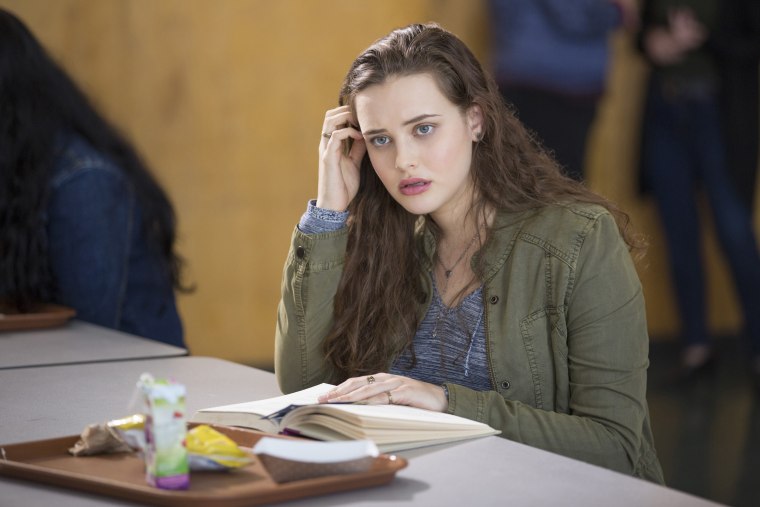 "We always believed this show would increase discussion around this tough subject matter," Netflix said in a statement to NBC News. "This is an interesting quasi experimental study that confirms this. We are looking forward to more research and taking everything we learn to heart as we prepare for season 2."
The show created a behind-the-scenes documentary called "Beyond the Reasons," which discusses mental health and the reasons the producers believe the show should create a positive dialogue. In May, the streaming service told Variety it would improve the warnings prior to the show, and "strengthen messaging and resource language."
"Moving forward, we will add an additional viewer warning card before the first episode as an extra precaution for those about to start the series and have also strengthened the messaging and resource language in the existing cards for episodes that contain graphic subject matter, including the URL 13ReasonsWhy.info — a global resource center that provides information about professional organizations that support help around the serious matters addressed in the show," part of the statement said.
If you or someone you know feels the need to speak with a mental health professional, you can contact the National Suicide Prevention Lifeline at 1-800-273-8255.