Each year thousands of Americans are injured by the chemicals designed to keep swimming pools safe, a new government report finds.
In 2012, 4,876 people landed in the emergency room after being injured by pool chemicals, researchers from the Centers for Disease Control and Prevention estimate.
Nearly half of these preventable injuries were in children under 18 and more than a third occurred at a private home. The most common reason for the ER visit was poisoning, which usually happens when someone inhales chemicals such as chlorine.
"We need these pool chemicals to prevent the spread of germs," Michele Hlavsa, chief of the CDC's Healthy Swimming Program, told NBC News. "We just need to use them more safely. These injuries are preventable."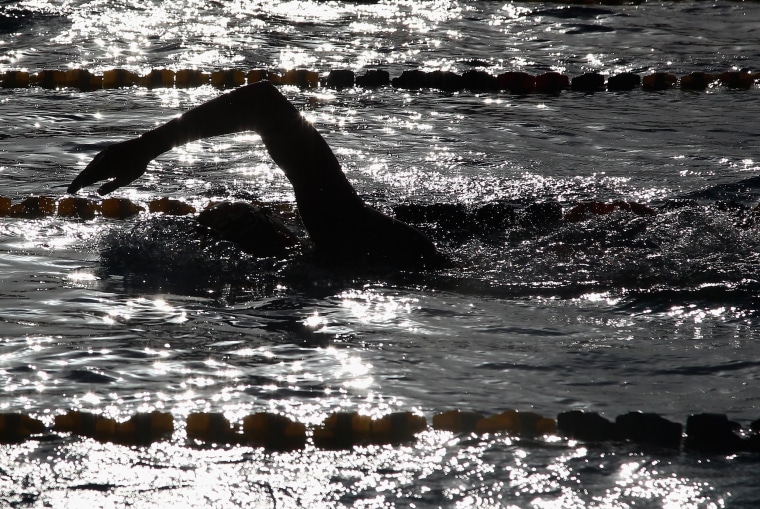 Another common injury is chemical burns that occur when caustic substances are handled without protective equipment, such as goggles and gloves.
While not nearly so common as traumatic injuries, such as bumps and bruises from jumping into the shallow end of the pool, these injuries do happen, said Dr. Jon Rittenberger, an associate professor of emergency medicine at the University of Pittsburgh Medical School.
"Exposure to chlorine and bromine can cause skin burns and also eye injuries," Rittenberger said. "If you do get chlorine on your skin, you need to wash it off. The best way is with copious irrigation. If it's in your eyes, you want to have water running over them for probably 15 minutes. This is a medical emergency. And it can lead to cornea damage."
Part of the problem, Rittenberger said, is that people forget that these commonly used chemicals can be dangerous if not handled properly. Chlorine has been used as a water disinfectant since the 1700s when it was used to clean the water supply after cholera outbreaks.
And the ubiquity of the chemical may have bred a lack of caution. And sometimes people just don't read directions.
If you opt to mix the chlorine with a small amount of water rather than dumping it directly in the pool, you may suffer serious damage to your lungs, Rittenberger cautioned.
"If you add water to the chemical, you can create chlorine gas," he explained. "That can cause respiratory problems and in some cases it can cause the lungs to break down."
Hlavsa suspects that the numbers being reported by the CDC are just the tip of the iceberg. The CDC has simple instructions to prevent the injuries.
"The data are telling us that 5,000 people go to the ER each year," she said. "But there are people who don't go to the ER. They might just go to their doctor. Or they might not even seek health care at all. All these people we aren't picking up. We are seeing the more serious injuries. I think it's very common for people to not use these chemicals safely."