The number of tuberculosis cases has fallen by 18 percent since 2000, but the completely curable infection now kills as least as many every year as the AIDS virus, the World Health Organization said Wednesday.
It's because countries are not spending enough money to treat people infected with the highly infectious disease, which takes weeks or months of daily antibiotics to eradicate.
TB killed 1.5 million people in 2014, WHO said — about the same as in 2013. "HIV's total death toll in 2014 was estimated at 1.2 million, which included the 400,000 TB deaths among HIV-positive people."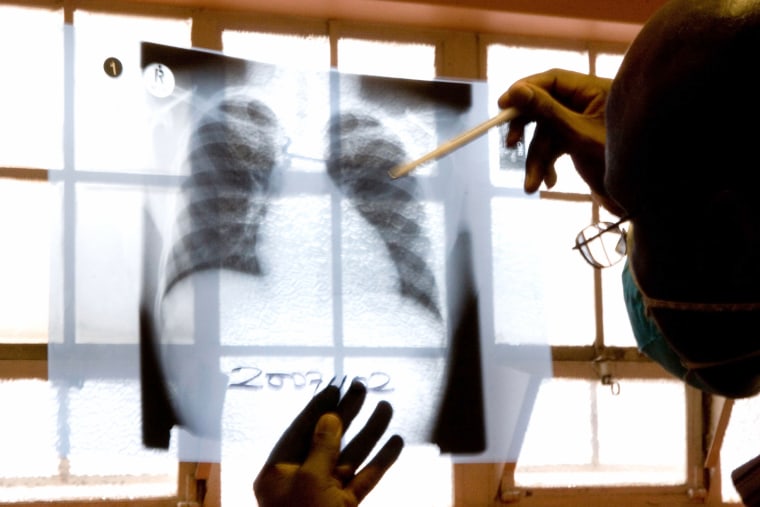 So the estimates for deaths from HIV and TB both include the same 400,000 people, making it difficult to say which infection killed more people. AIDS is caused by the human immunodeficiency virus (HIV), which damages the immune system, making people more susceptible to TB.
"We are still facing a burden of 4,400 people dying every day, which is unacceptable in an era when you can diagnose and cure nearly every person with TB," said Dr. Mario Raviglione, director of WHO's Global TB Program.
More people are infected with TB than anyone knew, WHO said.
"This year's report describes higher global totals for new TB cases (9.6. million) than in previous years," WHO said in a statement.
"However, these figures reflect increased and improved national data and in-depth studies rather than any increase in the spread of the disease. More than half of the world's TB cases (54 percent) occurred in China, India, Indonesia, Nigeria and Pakistan. Among new cases, an estimated 3.3 percent have multidrug-resistant TB (MDR-TB), a level that has remained unchanged in recent years."
HIV cannot be cured, but a careful regimen of antibiotics can cure all but the most extensively drug-resistant strain of tuberculosis. "Effective diagnosis and treatment saved 43 million lives between 2000 and 2015," WHO said.
"Worldwide, TB incidence has fallen 1.5 percent per year since 2000, for a total reduction of 18 percent."
The U.S. has just 9,400 active cases.
WHO says $1.3 billion is needed for research on new tests, drugs and vaccines against TB, and $1.4 billion is needed for existing drugs and treatments.
"A primary reason for detection and treatment gaps is a major shortfall in funding," said Dr. Winnie Mpanju-Shumbusho, WHO Assistant Director-General for HIV, TB, Malaria and Neglected Tropical Diseases.