EpiPens are in short supply in parts of the U.S., but people should still be able to find the emergency treatment for allergic reactions, federal health officials said Wednesday.
The Food and Drug Administration added EpiPens, generic epipens and Adrenaclick autoinjectors to its list of drug shortages. The FDA says there have been supply disruptions even though the maker, Mylan, is still making and distributing EpiPens and a generic version.
The spot shortages don't mean people cannot get EpiPens or generics, but they may have to look harder or turn to a different brand, the FDA said.
"Based on the information provided by the manufacturer, the FDA anticipates the EpiPen shortage to be short-term," an FDA spokespersons aid.
A second supplier of auto-injectors, Impax or Amneal Pharmaceuticals, is also reporting a shortage of its Adrenaclick product, the FDA said. But a company called Kaleo, which makes an injector called Auvi-Q, says its products are available.
Don't wait for an emergency
People who carry Epipens or other auto-injectors should check their supply now, advised Dr. James Baker, a professor emeritus at the University of Michigan and CEO of Food Allergy Research & Education (FARE).
"The first thing they should do is check their own injectors, checking out (expiration) dates, to make sure they have enough time so they're not going to be without the injector," Baker told NBC News.
"The second thing is to look at alternatives," Baker added. Adrenaclick may also be hard to get.
"So right now the only auto-injector that appears to be widely available is the Auvi-Q."
What's most important is for patients to understand how to use a different brand from the one they are used to, the American Academy of Allergy, Asthma and Immunology says.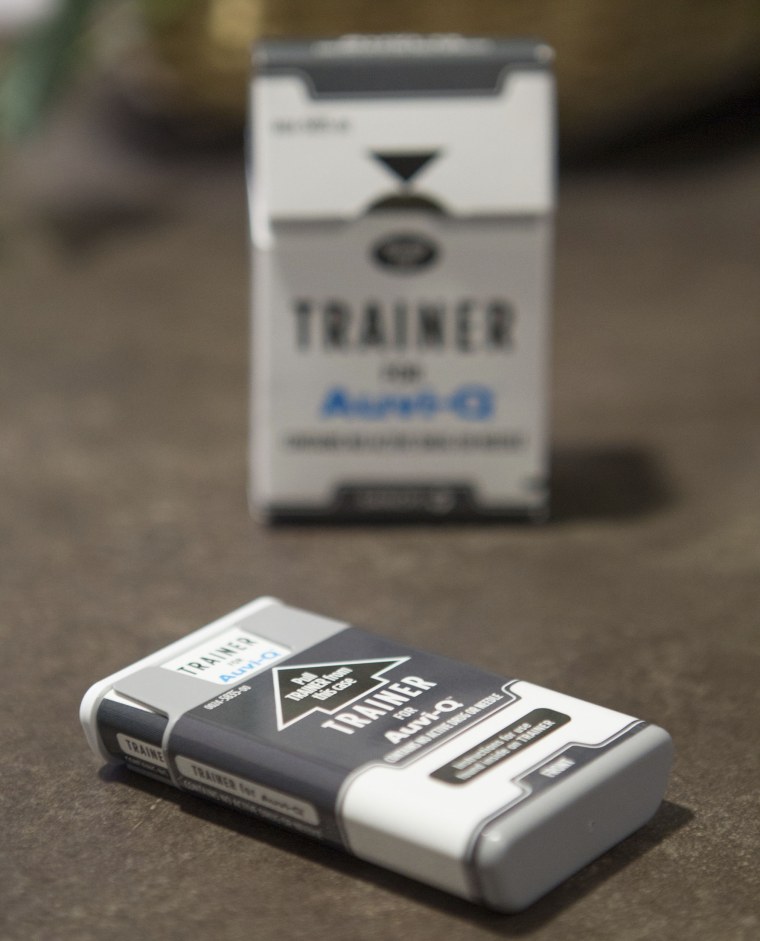 "If you have a severe allergy and carry epinephrine, it is important to know that each brand functions a little differently. The stress of an anaphylactic reaction is not the time to realize you have a different autoinjector than what was demonstrated to you by your allergist," the group, which represents allergy experts, says on its website.
"Although the medication is the same, the method for injecting it is different for each brand," it adds.
"The next time you pick up your prescription, be sure to compare the brand and dose you received with the brand you have been trained to use. If the medication appears to be different than what you expected, find out why a substitution was made. Also, be sure to get a demonstration on how to use the product."
The FDA says it is working to understand and control the shortage.
"Although EpiPens remain available from Mylan, there have been reports of local supply disruptions and Mylan has reported intermittent manufacturing constraints," the FDA said.
There's a number for patients to call if they have trouble finding the injectors. "Patients who are experiencing difficulty accessing product should contact Mylan Customer Relations at 800-796-9526 for assistance in locating alternative pharmacies," the FDA said.
Patient advocates have been calling on the FDA to declare a shortage of Epipens, saying patients have been reporting problems in getting the injectors for weeks.
"Over the past two weeks, patients with food allergies have reported trouble obtaining prescriptions for epinephrine auto-injectors," Food Allergy Research & Education (FARE) said in a statement.
"The only FDA-approved product currently sold in the U.S. that has not reported any shortage or supply issues is Kaleo's Auvi-Q®," it added.
It said patients might not easily understand how to use a product that's different from the one they are used to — and in an emergency, that could make a big difference.
All of the devices contain epinephrine, but the way they're used, and their instructions, are different for each product, FARE said.
The auto-injector devices are designed to make it quick and easy for patients to deliver a dose of epinephrine to stop a life-threatening allergic attack called anaphylaxis. People can go into anaphylactic shock after eating a food they're very allergic to, such as peanuts, or after a bee sting if they are allergic to insect stings.
People who know they have life-threatening allergies, or parents of kids who do, routinely carry the auto-injectors for such emergencies.
Baker said the shortages might end up being good for Kaleo, which makes Auvi-Q.
"It is different to use, but it's easy to learn," he said. For one thing, it's smaller. "It actually talks to you and tells you when it injecting and when it's not. It's more modern."
Baker said he is sending his own patients to the Auvi-Q website.
Drugmaker Mylan, which partners with Pfizer to make EpiPens, has denied there's a shortage in the U.S., although the company has confirmed shortages of EpiPens in Canada and Britain since last year.
Mylan recalled tens of thousands of EpiPens in March 2017 following two reports that the devices failed to work in emergencies.
The FDA issued a warning letter last September, saying the manufacturer failed to adequately investigate problems at a plant in Brentwood, Missouri. It said the company also failed to investigate numerous complaints about EpiPen failures.
"In fact, your own data show that you received hundreds of complaints that your EpiPen products failed to operate during life-threatening emergencies, including some situations in which patients subsequently died," the FDA said in the letter.
The FDA did not immediately say if the shortages were related to this particular issue, but it said the supply problems for both EpiPen and Adrenaclick were related to what's known as good manufacturing practices.
"Drug shortages are most often caused by poor quality manufacturing; not by FDA compliance actions, or by warning letters," the FDA said. "Patients expect and deserve high-quality drug products. It is the manufacturer's responsibility to ensure that its drug products are safe, effective, and of high quality."
The advocacy group FARE said it's been asking FDA to approve more alternatives to EpiPen.
"In Europe there are devices available that are advances on the EpiPen," Baker said. His group asked FDA to speed up review of generic maker Teva Pharmaceuticals' product, which is available in other countries.
It also asked FDA to make it easier for another manufacturer, Adamis Pharmaceuticals, to import its auto-injector, Symjepi.