Two studies published this week show that the Zika virus seems to prefer brain cells — and that it can cause many different types of damage to those cells.
One of the studies shows that Zika — but not its close cousin, the dengue virus — destroys developing nerve cells. Another describes the cases of two Zika patients who developed nerve damage similar to that caused by multiple sclerosis.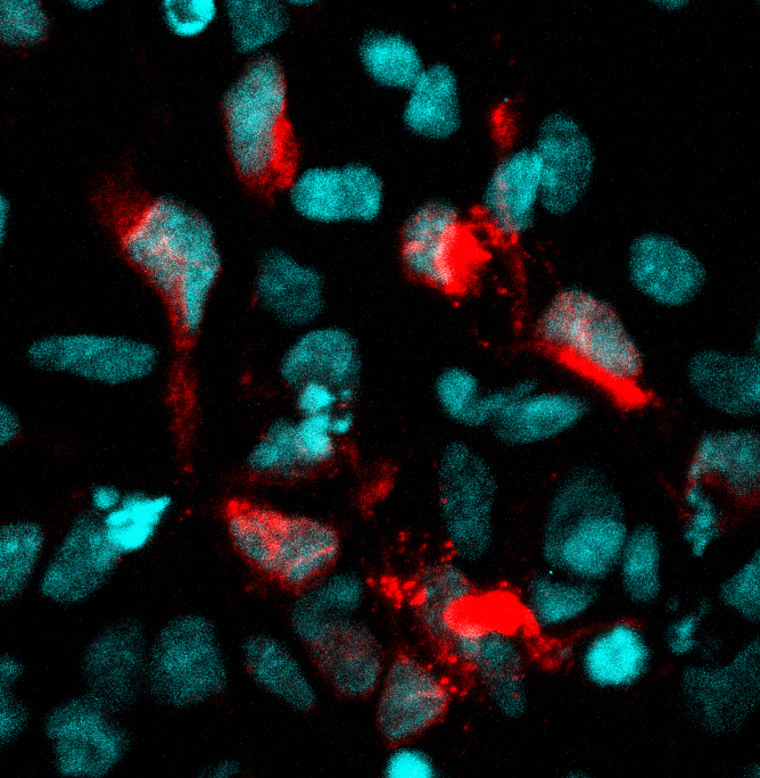 Both add to the growing body of evidence that Zika virus, once virtually ignored as a rather harmless infection, is causing severe and sometimes deadly birth defects and other types of damage to victims of all ages. And because it's spreading so fast among so many people, it's adding up to thousands of victims.
Patricia Garcez of the Federal University of Rio de Janeiro in Brazil and colleagues used human induced pluripotent stem (iPS) cells — lab-created stem cells — which they coaxed into become immature brain cells.
Zika virus infected and killed them, they report in the journal Science.
When they directed these iPS cells to become little batches of brain cells, the virus slowed their growth and development by 40 percent.
But when Garcez's team tried the same thing with dengue virus, they did not see the same effects. The virus, which is very closely related to Zika, infected the nerve and brain cells but did not kill them.
"Though our study is small, itmay provide evidence that in this case the virus has different effects on the brain than those identified in current studies."
This helps explain why Zika's effects were so unexpected. Viruses such as rubella and those in the herpes family are well known to cause birth defects and sometimes severe neurological effects in adults and children. But not so-called flaviviruses such as Zika and its cousin dengue.
Zika was once believed to cause little more than a rash and some achiness – and even then only in a small percentage of people infected. Now it's known it can have serious effects on developing fetuses and adults as well.
A second study shows more startling neurological effects.
Dr. Maria Lucia Brito Ferreira of Restoration Hospital in Recife, Brazil and colleagues described the cases of two Zika patients who developed a condition called acute disseminated encephalomyelitis. It's an inflammation of the brain and spinal cord that damages the protective fatty myelin layer that covers nerve cells.
That's similar to what multiple sclerosis does, but it's usually temporary – although the recovery can take months.
Four more patients developed Guillain-Barre syndrome, a paralyzing condition hat's also caused by nerve damage, Ferreira's team said in remarks released ahead of an annual meeting of the American Academy of Neurology.
"Though our study is small, itmay provide evidence that in this case the virus has different effects on the brain than those identified in current studies," said Ferreira.
When they left the hospital, five of the six people still had problems with movement and coordination and one had memory problems.
"This doesn't mean that all people infected with Zika will experience these brain problems. Of those who have nervous system problems, most do not have brain symptoms," said Ferreira. "However, our study may shed light on possible lingering effects the virus may be associated with in the brain."
Zika's spreading in both Latin America and the South Pacific. The mosquito-borne virus is blamed for thousands of birth defects, notably one called microcephaly, marked by an underdeveloped brain and head.
The World Health Organization and the Centers for Disease Control and Prevention both warn travelers going to Zika-affected regions to do what they can to avoid mosquito bites. They're telling pregnant women to stay away completely if they can.
Both also warn travelers who may bring Zika back home to avoid infecting loved ones sexually and to watch out not to get bitten by mosquitoes at home.
The CDC predicts small, localized outbreaks in the U.S. as warmer weather fuels the breeding of the mosquitoes that spread Zika.