A third of U.S. men say they use condoms at least some of the time when they have sex, a new government survey shows.
But just 19 percent of men reported condom use every time they had sex, the survey from the National Center for Health Statistics found.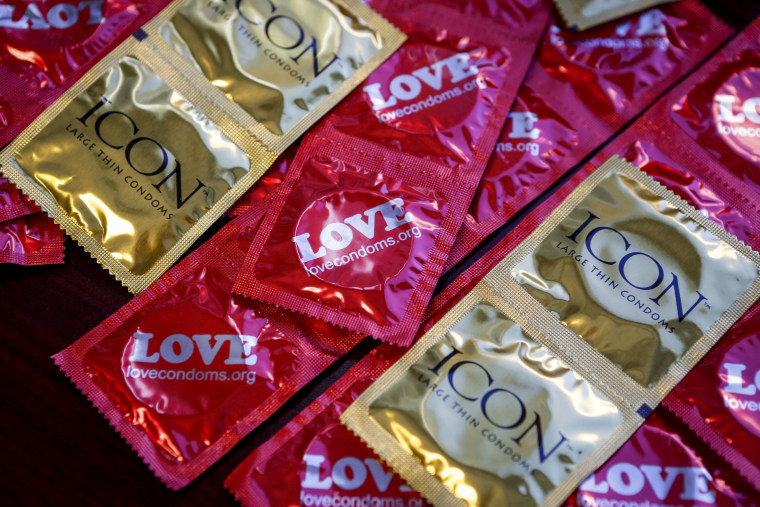 Just under 24 percent of women aged 25 to 44 reported that their male partners used a condom at least some of the time, the NCHS, part of the Centers for Disease Control and Prevention, found.
Condoms are the only way to protect against both sexually transmitted infections and pregnancy during sex. The CDC recommends that people who want to prevent pregnancy and STIs use them every time when having sex.
But it's also clear that most people don't and the latest statistics put a number on it.
"During 2011–2015, 14.8 percent of women and 19 percent of men aged 15–44 reported that they used a condom 'every time' they had intercourse in the past 12 months," the NCHS team wrote in their report.
The report is based on a face-to-face survey of more than 20,000 men and women. It goes into great detail about health and lifestyle habits but does not inquire about why someone did or did not use a condom.
The U.S. has very high rates of unintended pregnancies and sexually transmitted diseases. More than 45 percent of pregnancies in the U.S. are unplanned. The CDC reported a record year for STDs in 2014.
Related: STDs Hit New High in U.S.
Every year, 1.5 million Americans are infected with chlamydia, the most common sexually transmitted disease. Another 400,000 get gonorrhea and nearly 24,000 become infected with syphilis.
One good piece of news — condom failures are becoming less common. But people sometimes inexplicably stop using them during sex.
"Even when condoms are used during sexual intercourse, they are often used incorrectly or inconsistently, which can reduce condom effectiveness," the NCHS team wrote.
"Almost 7 percent of women aged 15–44 who used a condom in the past four weeks said the condom broke or completely fell off during intercourse or withdrawal, and 25.8 percent said the condom was used for only part of the time during intercourse," they added.
"The recent decline in the failure rate of condoms in the first year of use among women aged 15–44 (from 17 percent in 2002 to 13 percent in 2006–2010) may reflect changes in who uses condoms, as well as how consistently they are used."
Most women — 60 percent — had never used a condom in the preceding year. And 47 percent of men never did. Again, the survey did not ask why but people in monogamous relationships, including married couples and those trying to conceive, would be unlikely to use condoms.