A California high school science teacher gave students and colleagues a new lesson in biology Monday, showing up for the first time as a woman a week after her plans to switch genders became suddenly public.
The former Gary Sconce, 56 — an award-winning educator, husband, father and grandfather who has taught at Yosemite High School for 24 years — will now be known as Karen Adell Scot, she said.
"I'm actually going to work as my real 'out' self," Scot told NBC News. "I stand in front of the class and I'm so filled with joy."
Under a long auburn wig and makeup, wearing a blue flowered dress and size 12W open-toed shoes, the transgender teacher said her brain will now match her body after a transition that has been a lifetime in coming.
"I will not return as my male persona ever again," she said.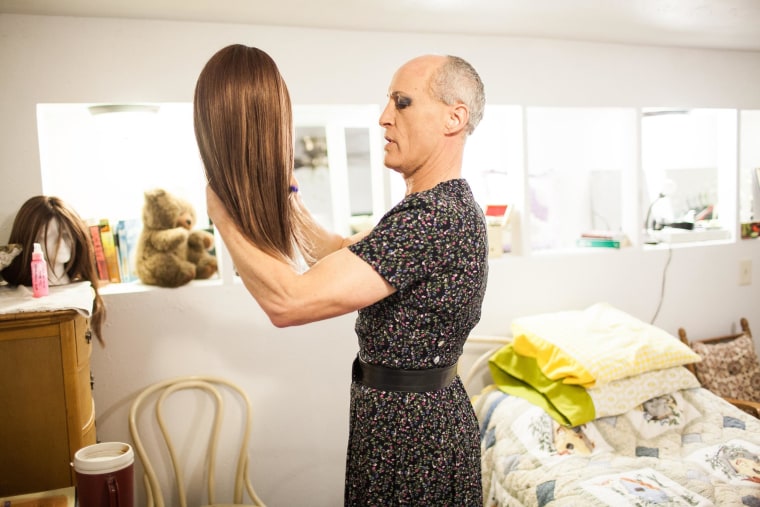 The change has stirred controversy in the small town of Oakhurst, Calif., in the Gold Rush territory just outside Yosemite National Park. One neighbor, Kathi Bales, wrote a letter published in the local newspaper last week telling Scot to quit her job and urging the community to reject her.
"I see this as an assault on the minds and morals of our children," she wrote. "It blurs the lines of what is right and wrong."
Others, however, have rallied to support Scot, saying she's a role model for integrity, courage and authenticity.
"Karen is truly an inspiration to everyone," said Julia Cruz, 34, of nearby Coarsegold, Calif., whose 18-year-old daughter, Erin Asis, was a student of the former Mr. Sconce.
"I never expected it, but I'm very happy for her," Asis said. "She'll still be the same excellent teacher that she is."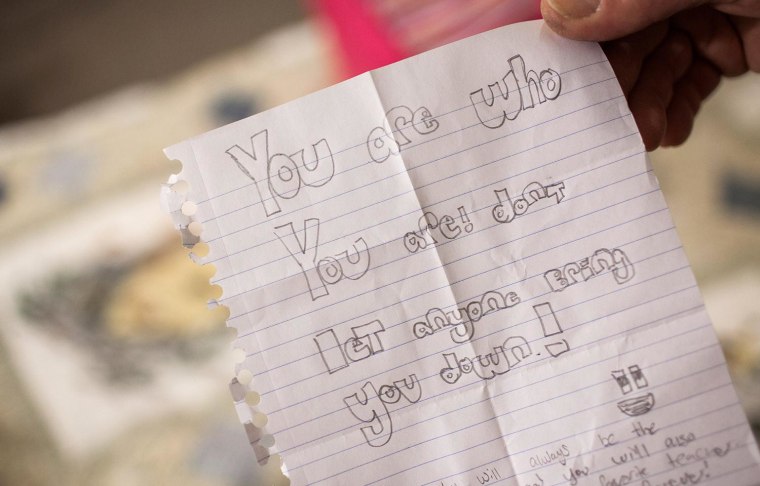 Students presented Scot with a giant card and cookies in class Monday.
"Ms. Scot: No matter what anyone says you are courageous and beautiful for being who you truly are," wrote student Charlotte Smith. "You are my hero."
Scot notified district officials and colleagues earlier this year that she had started the medical and social process to transition from male to female and that she would return after spring break in April as a woman.
"Being transgender is not a choice," she wrote to colleagues.
But someone from the school — a colleague, Scot guessed — leaked her letter to the local paper, sparking a firestorm of reaction.
"Being transgender is not a choice."
Administrators also sent a letter to parents of the school's 650 students advising them that the school district is bound by California law, specifically Education Section Code 220, not to discriminate against Scot because of her gender identity.
"The District recognizes that Mr. Sconce's transition may raise questions among students, parents, guardians and community members," Yosemite Unified School District Superintendent James Sargent wrote. "Counseling staff will be available to discuss any issue with students."
The result was that Scot's private decision was suddenly very public. Instead of waiting until after the break, she decided to adopt her female persona immediately.
"I was outed in a horrible way," Scot said. "That was not the plan. It was supposed to be a quiet transition."
School district officials did not respond to NBC calls and emails about the accelerated timeline.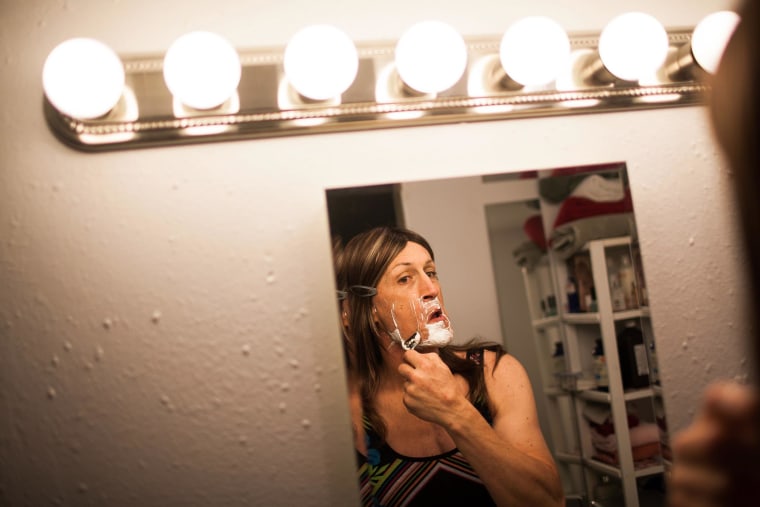 Transgender experts typically advise teachers and other public figures to make the change as quietly and unobtrusively as possible, said Mara Keisling, executive director of the National Center for Transgender Equality in Washington, D.C.
There are about 700,000 transgender people in the United States, according to estimates by Gary Gates, a demographer who specializes in gender research at the Williams Institute at the University of California Los Angeles. That's about 0.3 percent of the adult population.
While it's not common, Keisling said she has counseled several teachers about gender transition. "One of the first things I tell them is not to, under any circumstances, do any media and tell your school not to do any media."
She would have advised the district against notifying parents about what is essentially a private personnel matter.
"School districts can't afford to lose the kind of money they'd lose in a lawsuit if they discriminated against her," Keisling said. "But that's not the underlying reason they're being decent about it. They have a good teacher and they don't want to lose him or her."
Gary Sconce received awards for distinguished teaching, Scot said, and he was a favorite for many of the thousands of students whose lives he touched. But Scot said she had known since early childhood that she was a girl, and tried to sublimate the feelings in typical male behavior.
"I did all the hypermasculine activities," Scot said. "Playing college football, surfing, being a deputy sheriff, a martial arts instructor. I was a hot rodder and and I loved building cars. All of that hypermasculine stuff."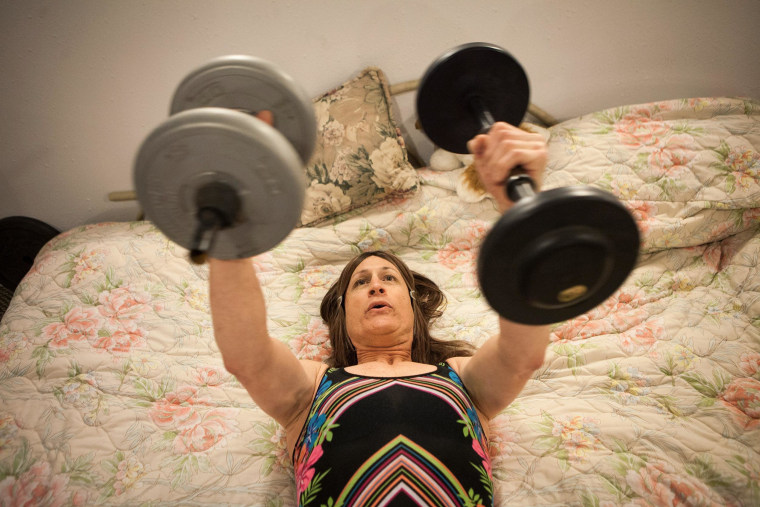 Last year, though, after extensive counseling, Scot said she had to tell the truth to her family, including a wife of 35 years and a grown son and daughter. She was diagnosed with gender dysphoria, a condition in which a person's gender is at odds with the gender he or she identifies with, causing clinically significant distress.
Scot's counselor, Carol Montgomery Brosnac of Fresno, Calif., who specializes in transgender therapy, said the conflict is acute.
"There's always a strong drive to present as the gender they are," she said.
In recent years, scientists have documented that the brain structure in transgender people is actually more like their preferred gender than their biological one.
For some transgender people, like Scot, that difference can cost them their families, their friends and their jobs.
Scot said she's in contact with her son, 32, but not with her daughter, 31. Her wife of 35 years wants a divorce.
She has begun taking drugs to block testosterone and adding female hormones to reshape her body. She practiced living full-time as a woman last fall while recovering from a car crash for several months. She's planning gender reassignment surgery, but not for at least a year.
Already, though, Scot said the change is remarkable. "You're congruent," she said. "Your mind is a female mind and it knows what to do with those hormones."
District officials have been clear that Scot can keep her job, but she's under strict orders not to discuss her gender issues with her students. This morning, the school principal, Randy Seals, emphasized that point to the students, Scot said.
"One of the things I had to push, push, push is that Ms. Scot will be teaching science," she said. "Ms. Scot will not be pushing any social agenda."
Scot will likely face increased scrutiny because of wide attention to her case. If the transition had been made quietly, it could have been different, Keisling said.
"The other school employees and the students will find it interesting for about a minute," said Keisling. "For the first 10 minutes, the kids will say, 'This is unusual,' and then it's just boring old Ms. Scot."
There might be a larger unspoken lesson, however, said Jennifer Levi of Gay and Lesbian Advocates and Defenders, or GLAAD, an advocacy group in Boston.
"To have a teacher be authentic ultimately is good for students and for the community," she said.
"I am totally my own best defense. I may look like I girl, but I can take care of myself."
Scot acknowledged that the change won't be easy. Not everyone will be supportive, she said. Some parents already have threatened to move their children from her classes or to switch schools entirely. She's heard that some students whisper about which bathroom she'll use. (Answer: The faculty bathroom, as always.)
Scot knows that transgender females are frequent victims of threats and violence.
But Scot said with years of law-enforcement and martial arts training under her belt, she feels confident about her ability to protect herself. After retirement in a few years, Scot said she might want to work teaching transgender youth how to defend themselves.
"I am totally my own best defense," she said. "I may look like I girl, but I can take care of myself."