Tuberculosis has hit an all-time low in the U.S., with fewer than 10,000 cases reported last year, federal officials reported Thursday.
Tougher new screening techniques for immigrants may have helped, but foreign-born people are still 13 times more likely to be diagnosed with TB than native-born Americans, the Centers for Disease Control and Prevention found.
"In 2013, a total of 9,588 new tuberculosis (TB) cases were reported in the United States, with an incidence rate of 3.0 cases per 100,000 population, a decrease of 4.2 percent from 2012," a CDC team writes in the agency's weekly report. "Four states (California, Texas, New York, and Florida), home to approximately one-third of the U.S. population, accounted for approximately half the TB cases reported in 2013."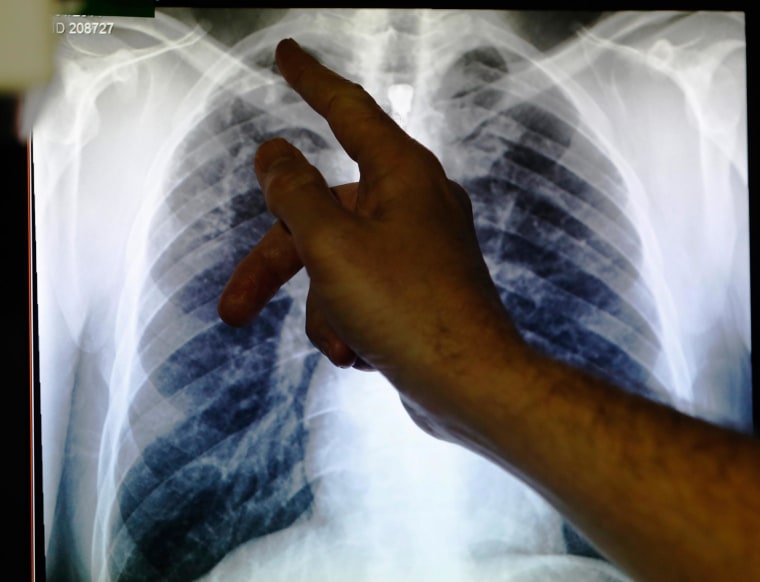 And while multidrug-resistant TB remains unusual in the United States, it's becoming more common in other countries. The average cost of treating multidrug-resistant TB is $134,000, compared to $17,000 for a normal case. That can shoot up to $430,000 for an extensively resistant case.
Although the number of drug-resistant cases was relatively small — 86 cases in 2012, "drug-resistant TB is a concern because it is difficult and costly to treat and more often fatal," the report reads.
"In a shrinking world where diseases know no boundaries, the severe global TB epidemic poses a direct threat to the United States," said Dr. Philip LoBue, acting director of CDC's Division of Tuberculosis Elimination. "The worldwide emergence of extensively drug-resistant TB is creating limited treatment options and in a worse-case scenario could lead to virtually untreatable TB strains."
TB is difficult to cure, requiring months of treatment with antibiotics. Symptoms aren't always obvious, and people can carry what's called a latent infection — one that can activate years later.
New immigrants to the U.S. are screened for TB and a new system was instituted in 2007. A second CDC report shows that new protocol caught more cases.
Now samples are cultured — grown in a lab — before they are tested. "In 2012, the year for which the most recent data are available, 60 percent of the TB cases diagnosed were in persons with smear-negative, but culture-positive, test results," the second report reads.