An American doctor and an aid worker working for two charitable groups fighting Ebola in Liberia have both become infected with the deadly virus, one of the groups confirmed. And Liberia closed some borders to help prevent further spread of the virus.
"All borders of Liberia will be closed with the exception of major entry points," Liberia President Ellen Sirleaf Johnson said in a statement. The airport at Monrovia will remain open.
Dr. Kent Brantly, 33, medical director for the aid group Samaritan's Purse, and his colleague Nancy Writebol, are both being treated at the center in Monrovia where they were working to help Ebola patients. Both are in stable condition, said Melissa Strickland, a spokeswoman for North Carolina-based Samaritan's Purse.
"They have body aches and symptoms typical for Ebola but both are alert," Strickland said.
Their cases show just how difficult it can be to protect against Ebola, a highly contagious virus that's spread by bodily fluids — something hard to avoid when victims vomit, bleed or suffer from diarrhea.
Ebola has infected nearly 1,100 people and killed 660 of them in the current West African outbreak, according to the World Health Organization. It's the worst Ebola outbreak ever recorded. The virus has spread across borders between Liberia, Sierra Leone and Guinea and was taken by airliner for the first time ever when a Liberian citizen, Patrick Sawyer, collapsed a week ago after flying into Lagos. He's since died and two tests came back positive for Ebola.
Nigerian authorities are working to track down everyone Sawyer may have been in contact with. In Liberia, doctors are doing the same for the two Americans, said Strickland. She said it's not clear precisely how Brantly and Writebol were infected. Both used personal protective equipment, which includes a full body coverall, multiple layers of gloves, goggles and face protection.
"Our team has followed to the letter all of the protocols for safety that were developed by the CDC and WHO," Strickland told NBC News. "At this time we have not been able to confirm 100 percent the method of contagion," she added.
Brantly was treating patients; Writebol was working to help doctors and other health workers get in and out of their protective gear, Strickland said. That would include spraying them down with a chlorine solution and then stripping off and disposing of every piece of gear.
"Obviously it is of great concern for us," Strickland said. "We are working closely with CDC and WHO to investigate. It is just an incredibly contagious disease."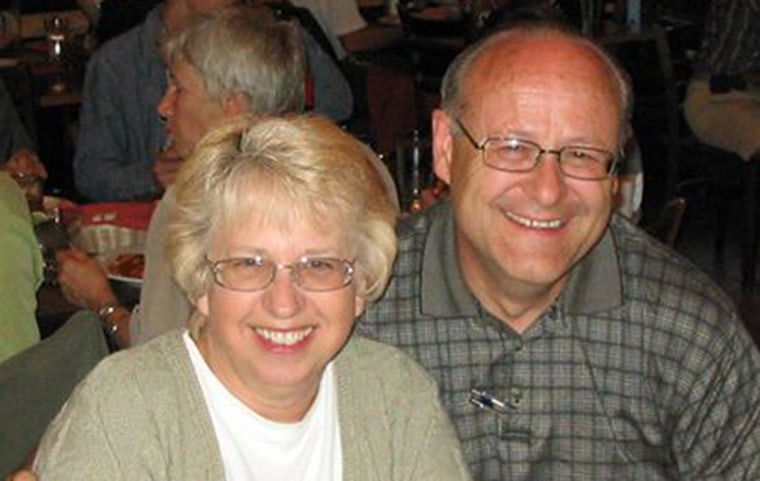 Writebol is in Liberia with her husband David working with the group Serving in Mission, which has a joint project in Liberia with Samaritan's Purse at ELWA Hospital in Monrovia.
David Writebol is being tested for fever several times a day, Strickland said, but so far remains healthy.
They are not the first health workers to become infected. Dozens of nurses have been infected in the current outbreak, as have several doctors, including one of the doctors helping lead the fight in neighboring Sierra Leone.
One bright spot — early treatment seems to help patients survive better, even though there's no specific treatment for Ebola. In some outbreaks, 90 percent of patients have died, but the death rate in this outbreak is closer to 60 percent, and Strickland says it's possibly because patients are being identified earlier and getting supportive care, such as saline solution, to prevent dehydration.
Brantly was well enough to use a computer from his hospital bed, Strickland said, although both Brantly and Writebol have been suffering from high fevers that come and go. Speaking to NBC Dallas-Fort Worth, one of Brantly's colleagues described him as a "humble family man."
Samaritan's Purse and other groups have ongoing outreach efforts to try and tell the population at risk about what Ebola symptoms look like and to urge them to get early medical treatment if they begin to show any. Groups have had mixed success with this. Strickland said her group had to suspend outreach efforts in Lofa, in the north of Liberia, after a crowd attacked a team of health workers who came to collect the body of a person who was suspected of dying from the disease.
"There was a mob that surrounded them," she said. Teams treating patients have stayed in place, she added.
There have been similar problems in Sierra Leone, where rumors have made it hard for some medical teams to work. A woman whose family grabbed her from a treatment center and took her to a traditional healer died Saturday on her way back to the hospital, Reuters quoted a health official there as saying.
In Kenema, the third largest city in Sierra Leone, crowds gathered outside the main treatment center for Ebola, according to Reuters. Thousands had gathered outside the clinic the day before, threatening to burn it down and remove the patients. Residents said police fired tear gas to disperse the crowds and that a 9-year-old boy was shot in the leg by a police bullet.
WHO officials have said they are worried that countries are struggling to control the spread, and they say a lack of coordination and a very bad health infrastructure in all the involved countries are making matters worse.