Top U.S. health officials announced Wednesday that the country plans to start offering Covid-19 booster shots to all Americans beginning the third week of September, citing evidence that protection against infection is waning, as the highly contagious delta variant continues to spread.
"Having reviewed the most current data, it is our clinical judgment that the time to lay out a plan for Covid-19 boosters is now," U.S. Surgeon General Vivek Murthy said Wednesday during a briefing of the White House Covid-19 task force.
Full coverage of the Covid-19 pandemic
Such data, unveiled Wednesday by the Centers for Disease Control and Prevention, stops short of proving that a third dose would be any more effective in preventing severe outcomes than the current two-dose series.
But officials said the plan, backed by heads of the CDC, the National Institutes of Health and the Food and Drug Administration, is designed more as an offensive move against Covid-19 in advance of winter.
"You don't want to find yourself behind, playing catch up," Dr. Anthony Fauci, director of the National Institute of Allergy and Infectious Diseases, said during the briefing. "Better to stay ahead of it than chasing after it."
The booster effort will likely mirror the original vaccine rollout, with health care workers, nursing home residents and people over age 65 first in line. Those shots are expected to be available the week of Sept. 20, assuming the FDA and the CDC sign off on the safety and effectiveness of the doses by that point.
Adults ages 18 and up would be eligible for a third dose of either the Moderna or Pfizer-BioNTech shots eight months after their second dose. The plan does not yet include teenagers, as their vaccinations began in April. Per the eight-month guidance, teens would not be able to get a booster shot until December at the earliest.
The administration is already giving additional shots to people with compromised immune systems, who were unable to mount even a modest response to the first round of vaccinations.
The plan so far only includes those who have received either the Pfizer or Moderna vaccine, not Johnson & Johnson's vaccine, the rollout of which started several months later. Health officials said they anticipate boosters will be needed in that group as well and expect more data on Johnson & Johnson effectiveness in the coming weeks.
What's the evidence for boosters?
The CDC published three studies Wednesday that give a broader view of the current data on vaccine effectiveness, including some research the agency said indicates the vaccines are beginning to show a decrease in the ability to curb infections.
CDC Director Dr. Rochelle Walensky said two of those studies, one from the New York State Department of Health and another from CDC researchers, indicate a need for booster shots.
In the New York study, researchers found the vaccines were 92 percent effective in preventing Covid infections in May, but just 80 percent effective by late July. And the CDC study looked at people living in nursing homes, finding the shots' ability to prevent infections in such patients declined from 75 percent in March to just over 50 percent in early August.
Walensky also cited recent research from the Mayo Clinic, which has not been published in a peer-reviewed journal. That study found that protection against infection as the delta variant overtook the country fell to 76 percent among those who had received the Moderna shots and 42 percent among those who got the Pfizer shots.
"Given this body of evidence," Walensky said, "we are concerned that the current strong protection against severe disease, hospitalization and death could decrease in the months ahead, especially among those who are at higher risk or were vaccinated during the earlier phases of the vaccination rollout."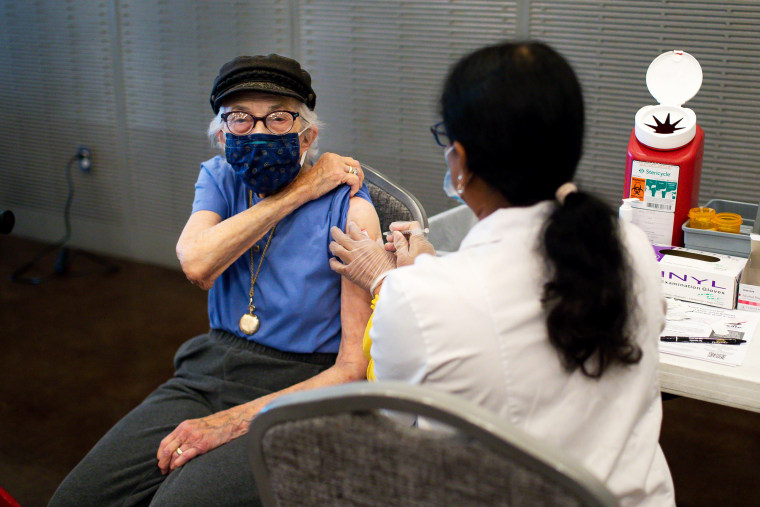 But the studies published by the agency also showed evidence that the vaccines continue to be effective against hospitalization. Preventing hospitalization is considered to be among the most important benefits of vaccination.
The New York data found that overall, vaccine effectiveness against hospitalization held steady between May and the end of July, at more than 90 percent. And a third study published by the CDC on Wednesday found the shots' ability to reduce Covid-19 hospitalizations remained stable from March to July, dropping just 2 percentage points, from 86 percent to 84 percent.
Indeed, some experts say the data presented Wednesday are not strong enough to move forward with plans for booster shots. The key measure of vaccine effectiveness has been the shots' ability to prevent severe illness and death, not simply infections, even among the most vulnerable populations.
"There is nothing here that would be supportive of using boosters, per se," Dr. Aaron Richterman, an infectious diseases expert at the University of Pennsylvania.
Richterman said evidence to support booster shots would need to address at least one of two issues: Is immunity decreasing? That is, are we not as protected against Covid-19 as we once were? Or do the vaccines simply not work as well against the delta variant?
"I think there is some evidence that the vaccine may have a modestly reduced effectiveness against delta, but there is certainly nothing here to suggest waning immunity," he said.
"If we had evidence that severe illness and deaths were rising due to waning immunity, I'd be totally supportive of giving boosters," said Dr. Michael Wasserman, past president of the California Association of Long Term Care Medicine. But "there is no data that is presented here that tells us if there is reduced vaccine effectiveness in preventing severe illness in the elderly."
Dr. Jesse Goodman, a professor of medicine and infectious diseases at Georgetown University Medical Center and former chief scientist with the FDA, said the evidence for booster shots in the general population is "quite limited," adding that more robust data are needed to help guide scientists and physicians moving forward.
Even so, he supports the plan to start boosters: "I do think it's the right move, to stay ahead of the virus. We can't sit back and wait a year for the perfect data and for studies showing vaccine effectiveness of a booster dose."
Download the NBC News app for full coverage of the Covid-19 pandemic
Plans to administer booster shots in high-income countries such as the U.S. have been met with opposition by the World Health Organization. Earlier this month, WHO Director-General Tedros Adhanom Ghebreyesus said more than 80 percent of the world's vaccine supply has gone to the richest countries, even though they account for less than half of the global population.
"We cannot accept countries that have already used most of the global supply of vaccines using even more of it, while the world's most vulnerable people remain unprotected," Tedros said.
Richterman agreed, saying the most important benefits of the Covid-19 vaccines are for people who haven't had a chance to get a single shot.
"When you're looking at low-income countries, that's 99 percent of people," Richterman said. "Literally, millions of lives are at stake."
Follow NBC HEALTH on Twitter & Facebook.