BOSTON — In a historic boardroom at Massachusetts General Hospital this week, the Emergency Preparedness Team assembled in what they say has become an all too frequent occurrence. More than two dozen doctors, nurses, pharmacists, tech specialists and others gathered around a conference table, a "war room" of sorts, to address the shortage of a crucial drug: the blood-thinner Heparin.
"It is simply not possible for us to do heart surgery without Heparin," Dr. Thoralf Sundt, chief of cardiac surgery, emphasized to the room.
The meetings, according to Dr. Paul Biddinger, chief of the division of emergency preparedness, have become part of a new reality — one in which the hospital has to prepare for running short of critical drugs.
"This is the fourth time in the last two years we've had to activate our hospital's emergency operations plan for a major drug shortage," said Biddinger. "It's almost unfathomable in modern medicine. I never thought we would get to a point in the U.S. healthcare system where we wouldn't have essential medicines to be able to treat patients."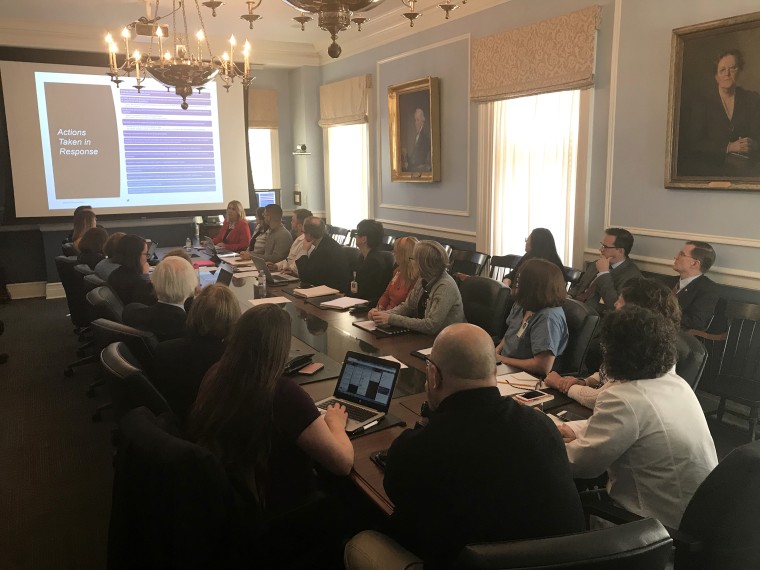 In the case of Heparin, said Biddinger, the hospital got as close as two weeks away from having to cancel lifesaving cardiac surgery.
But Heparin is not the only concern. The Boston hospital has identified more than 100 drugs currently in shortage, said chief of pharmacy Chris Fortier. These drugs include Epinephrine, which is used to treat allergic reactions, and Acyclovir–IV, an antiviral drug used to treat infections.
I think most people don't know how close some hospitals in the U.S. health care system have come to not being able to do lifesaving procedures.
Dr. Paul Biddinger of Massachusetts General Hospital
"Unfortunately, we have shortages that have sort of just become commonplace," Fortier said.
And it's a similar story for hospitals around the country. According to the FDA, there are currently 116 drug shortages, including vincristine, a critical medication for treating children with cancer.
Download the NBC News app for breaking news
The reason behind many of these shortages? Many involve older drugs that cost less, leaving little financial incentive for manufacturers to continue to produce them. As drug makers exit the market, one or two companies may be the only ones left to supply the drugs. In the case of vincristine, for example, the medication was only made by two companies. One of them, Teva Pharmaceutical Industries, ended production in July, leaving Pfizer as the only manufacturer. The FDA calls it a "broken marketplace."
In a statement, Teva said that at the time "there was no indication of a possibility of a shortage," and added, "We are looking any and all options to contribute to the solution now."
In an Oct. 18 letter on the FDA website, Pfizer said it was "expediting shipments" of the drug and expected "to fully meet market need."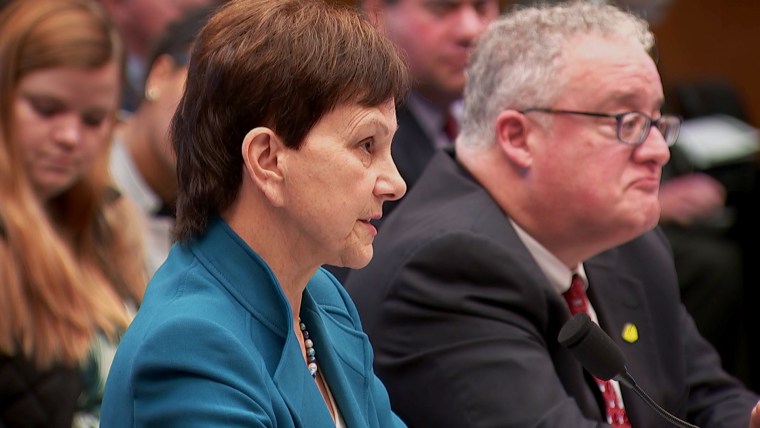 According to a U.S. Food and Drug Administration report published Tuesday, drug shortages are increasing and lasting longer. In an analysis of 163 drugs that went into shortage between 2013 and 2017, the FDA found more than 62 percent were due to manufacturing or product quality problems.
"This should not be happening in the United States," Rep. Anna Eshoo, D-Calif., said at a hearing she chaired on Capitol Hill this Wednesday.
The hearing, held by the House Committee on Energy and Commerce's Subcommittee on Health, examined one factor behind the shortages: what Eshoo calls "an overreliance on foreign production of critical drugs and their ingredients." Two-thirds of the key ingredients in American drugs are now manufactured overseas. That can present quality control problems as well as a security risk.
"If we fail to act, America will continue to be vulnerable to potential foreign adversaries and at the mercy of subpar plants or cutbacks in quality and we cannot allow this to happen," said Eshoo.
The head of the FDA's Center for Drug Evaluation and Research, Janet Woodcock, acknowledged the stakes. "Lack of a reliable supply of critical medicines creates a significant risk for national security," Woodcock told lawmakers. "Not just for our military, but for all our citizens,"
Concern about drug industry giants like China has grown within recent years as experts warn the country could pose a potential security threat to the U.S. drug supply should trade relations between China deteriorate.
"The national security risks of increased Chinese dominance of the global…market cannot be overstated," said a Pentagon official this summer. On NBC News, a former FDA inspector and Rosemary Gibson, author of "China Rx," sounded an alarm about America's growing dependence on drugs manufactured abroad.
"China is deeply embedded and it's a very concerted strategy," Gibson warned lawmakers at Wednesday's hearing.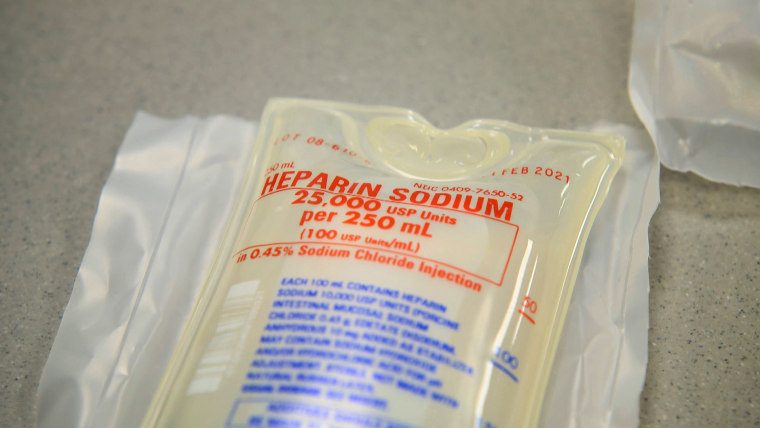 Gibson said that she has "no doubt" that China has the ability to order companies not to send medicines to the U.S. in the event of a global pandemic. And even in a non-emergency, she said, the U.S. dependence on China is counterintuitive to dealing with shortage problems.
"If you narrow the supply chain into a single country, we're going to have shortages," she said. "We wouldn't have all the oil of the world from one country, we'd have shortages, there would be problems."
Michael Wessel, commissioner of the U.S.-China Economic and Security Review Commission, raised another concern: "Our increasing dependence on China poses many risks. Not only due to potentially unsafe medications but because of China's ability to potentially weaponize its supply chains should it so choose."
Meanwhile, there's the real-world impact on patients. Last year marked the beginning of a massive recall of blood pressure medications tainted with a probable carcinogen that left patients and the FDA scrambling for alternatives. The source of the contamination was traced to plants in China and India.
The FDA report cites a survey in which 56 percent of U.S. community hospitals said they had delayed or changed patient care due to drug shortages during 2015-2017.
And Heparin, the drug in short supply at Mass General, also depends on China to supply the U.S. market. Roughly 60 percent of the crude Heparin used to manufacture finished Heparin in the U.S. is sourced to China, according to members of the Committee on Energy and Commerce.
"Heparin, is right now, is on major shortage for us and across the country," said Fortier, MGH's chief of pharmacy.
The unpredictability of shortages has forced his team to continually monitor its current drug supply, he said, evaluating what drugs may be affected and come up with a plan of action. In the case of Heparin, the hospital is reserving the drug for patients who don't have another alternative, said Fortier.
That trickles down to every level of the hospital. "It's like McDonald's running out of ketchup," said Meg McCleary Cole, a nurse working in the cardiac procedures unit.
The FDA's report lays out a set of recommendations to tackle drug shortages, such as introducing a rating system tied to the quality of a facility's manufacturing practices. The agency suggested that this rating could later be used to increase prices or secure a set number of purchases from highly rated facilities.
For now, the hospital is relying on alternative medications and conserving where it can, not knowing how long the shortage will last.
"We can conserve, we try and eliminate waste, we identify safe alternatives…but again there is a wall. There's a point where you run out if you don't have it in your stockroom," said Biddinger.
As healthcare providers across the country continue to monitor their own drug supplies, Biddinger says that acknowledging the impact these shortages can have is essential to tackling the issue.
"I think most people don't know how close some hospitals in the U.S. health care system have come to not being able to do lifesaving procedures," he said. "And the fact that this is happening more often and more severely, I think is not known to almost anybody outside of healthcare."