U.S. Surgeon General Vivek Murthy said Friday he has been replaced, a little more than two years after he was confirmed under President Barack Obama.
In a statement posted to Facebook, the 39-year-old Murthy said he "was blessed to have an extraordinary team of dedicated public servants who became my colleagues and friends" and highlighted the work done by his office to address addiction in the United States.
"Thank you, America, for the privilege of a lifetime," Murthy said. "I have been truly humbled and honored to serve as your Surgeon General."
A spokeswoman for the Department of Health and Human Services told The Associated Press Murthy was asked to resign after "assisting in a smooth transition" under President Donald Trump.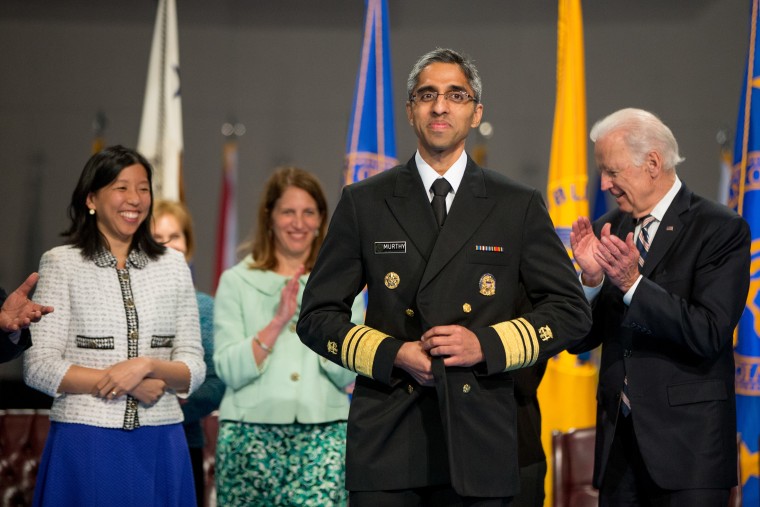 Murthy was the first Indian-American appointed to the nation's top health post when he was confirmed by the Senate in December of 2014, a year after he was nominated.
He said Rear Admiral Sylvia Trent-Adams, the current deputy surgeon general, will serve as acting surgeon general. The official page of the U.S. Surgeon General has been updated with her in that role.
Murthy, in a landmark report on addiction released in November, said dependency on opioids and other substances must not be looked on as a "character flaw," in the first publication from a surgeon general that has addressed drug and alcohol addiction.
"We will only be successful in addressing addiction — and other illnesses — when we recognize the humanity within each of us. People are more than their disease. All of us are more than our worst mistakes," Murthy said in his statement. "We must ensure our nation always reflects a fundamental value: every life matters."
Murthy was nominated by Obama in 2013, and was narrowly confirmed by the Senate after fierce opposition from the National Rifle Association and other gun rights advocates, who argued he would use the office to advocate for changing the nations' firearms laws; Murthy had spoken out for mandatory gun-safety training and an assault weapons ban.
Republicans, and some Democrats, also objected to Murthy for his previous political activism, such as when he co-founded Doctors for Obama in 2008.
Murthy replaced Acting Surgeon General Rear Admiral Boris Lushniak, who took over after Surgeon General Regina Benjamin finished her term in 2013.
Murthy, a former doctor and instructor at Brigham and Women's Hospital at Harvard Medical School and co-founder of president of Doctors for America, in 2011 had been appointed by Obama to serve on an advisory panel on integrative public health that was created under the Affordable Care Act.
Murthy pointed to his background as the grandson of a poor farmer from India in what he called the "humbling" experience of being chosen as the nation's top health official. He called it a "uniquely American story."
"While I had hoped to do more to help our nation tackle its biggest health challenges, I will be forever grateful for the opportunity to have served," Murthy said.