More than half of U.S. adults who should get vaccinated against measles before traveling abroad don't do it, a new study suggests.
The U.S. Centers for Disease Control and Prevention recommends two doses of the measles, mumps and rubella (MMR) vaccine for adults traveling outside the U.S. who were born before 1957 and lack either a documented measles infection, records of adequate vaccination or a positive blood test for immunity to measles.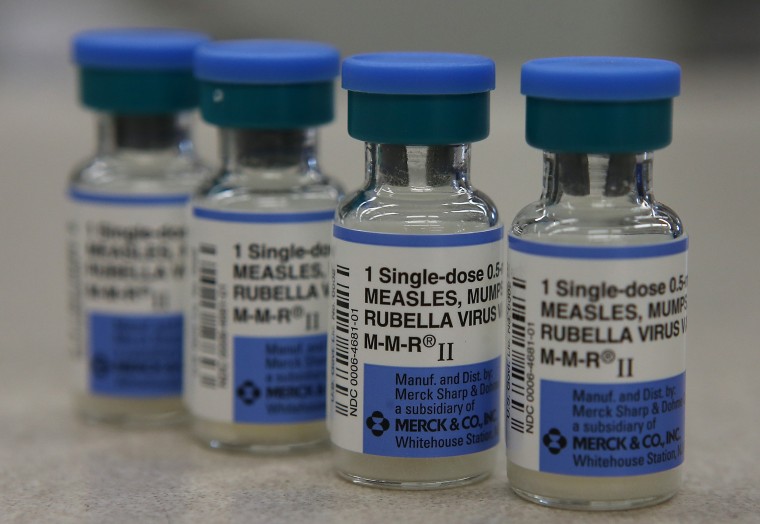 For the study, researchers examined data on adults who went to clinics specializing in travel medicine from 2009 to 2014 and found 53 percent of the travelers who were eligible for the measles vaccine didn't get it.
And almost half of the eligible travelers didn't get the vaccine because they refused it when it was recommended, often because they weren't worried about getting measles, the study found.
Related: Measles Outbreak Sends Kids to Hospital
"Many consider measles to be a mild illness characterized by fever, rash and cough, but measles can also result in severe illness that requires hospitalization," said lead study author Dr. Emily Hyle, of Harvard Medical School and Massachusetts General Hospital in Boston.
"The very young and immunocompromised are at particularly high risk for severe or life-threatening illness with measles," Hyle said by email.
Even if travelers don't get too sick themselves, they can still transmit the illness to other people when they return to the U.S.
Most measles cases in the U.S. result from international travel, according to the CDC.
It's very contagious. Measles lives in mucus in the throat and nose of an infected person and spreads when that person coughs and sneezes. The virus can remain alive and contagious in the air for up to two hours, according to the CDC.
Related: Minnesota Outbreak Caused by Vaccine Skeptics
About 90 percent of unvaccinated people exposed to measles by entering a room where an infected person had been within the previous two hours will be infected by measles, researchers note in the Annals of Internal Medicine.
For the current study, the researchers wanted to see how often clinicians experienced in travel medicine got travelers who needed the vaccine to have the shot.
Out of the 40,810 adult patients included in the study, 6,612, or 16 percent, were eligible for the measles vaccine.
While most of the instances when eligible travelers didn't get the recommended vaccine happened because patients refused to do it, about 28 percent of these cases occurred because clinicians decided against it, the study found. Another 24 percent of cases involved issues with access to care and the main barrier was referrals to another provider for vaccination.
Travelers eligible for the vaccine were less likely to receive it at clinics in the South or at nonacademic medical centers.
Related: Measles Cases Surge, Fueled by Unvaccinated Travelers
One limitation of the study is its reliance on travelers to recall their own vaccination history; another is that clinicians accepted this as evidence of sufficient protection against measles, the authors note.
Still, the findings highlight the need to educate travelers about the importance of vaccination, said Dr. Lori Handy, a physician at the Vaccine Education Center at the Children's Hospital of Philadelphia and co-author of an accompanying editorial.
"Most individuals in the United States have never known an individual who has measles and do not realize that prior to the introduction of a vaccine, 500,000 cases occurred each year in the United States resulting in 500 deaths, 48,000 hospitalizations, and 1,000 cases of permanent brain damage from encephalitis," Handy said by email.
"As there are many people who cannot be vaccinated, such as pregnant women, infants less than 6 months of age and immunocompromised individuals, everyone else who can safely receive the vaccine should receive it," Handy added.