A Michigan mom who lost her daughter to a deadly meningitis infection not covered by U.S. vaccines says she'll take a busload of kids to Canada this weekend to make sure they get the shots that could save their lives.
Alicia Stillman, whose 19-year-old daughter, Emily, died in February 2013, says the trip is aimed at preventing rare meningitis B infections — the same strain responsible for recent outbreaks at Princeton University and the University of California, Santa Barbara.
"I feel like I'm giving them such a gift," said Stillman, 50, of West Bloomfield, Michigan. "I tell them, 'I'm so honored to be able to help you protect your family in a way that I could not protect my daughter.'"
Emily Stillman, a Kalamazoo College sophomore, died within 36 hours after walking into a hospital with a severe headache, Stillman said. The young woman had gotten the vaccines recommended in the U.S. to prevent bacterial meningitis, which causes about 500 infections each year. But those shots protect against just four strains of bacterial meningitis — not strain B.
Since then, a vaccine effective against meningitis B, Novartis' Bexsero, has gained approval in Europe, Australia and Canada. It was given to thousands of U.S. college students starting last fall, when federal health officials decided that the risks of the outbreaks at Princeton and UCSB called for emergency action. At least a dozen infections and a death were tied to those outbreaks.
Federal health officials have said they're working with manufacturers of Bexsero and others to fast-track meningitis B vaccines, but Stillman says it won't come soon enough for her 18-year-old son, Zachary, who plans to head to the University of Michigan in the fall.
"I'm not letting him step foot on that campus without being vaccinated," Stillman said.
"I'm so honored to be able to help you protect your family in a way that I could not protect my daughter."
So Zachary and more than 50 people, mostly college-age students, plan to board a bus in Michigan on Sunday and drive some 40 minutes to Windsor, Ontario, in Canada, where they'll be examined by a doctor and then given a prescription for Bexsero. They'll return in late June for the second dose, Stillman said.
Canadian health officials are used to U.S. residents crossing the border for medications, said pharmacist Robin Chang.
"They don't come in busloads, though," said Chang. Rules require that the patients be seen by a doctor, who then can prescribe the drug or vaccine.
The group will include many of Zachary's high school classmates, including Brad Levin, 18, and his sister, Jody, 16.
Their mom, Karen Levin, 47, of Farmington Hills, Michigan, said the Stillmans' loss left her frantic to protect her own children.
"When this happened to their daughter, it was horrible. I couldn't even imagine going through something like that," she said. "I called Alicia and I said, 'What do I need to do? How do I get this?'"
That call prompted Alicia Stillman to organize the Get Vaccinated Windsor project sponsored by the foundation she created in honor of her daughter. She's already part of the National Meningitis Association's Moms on Meningitis program, which focuses on awareness and action.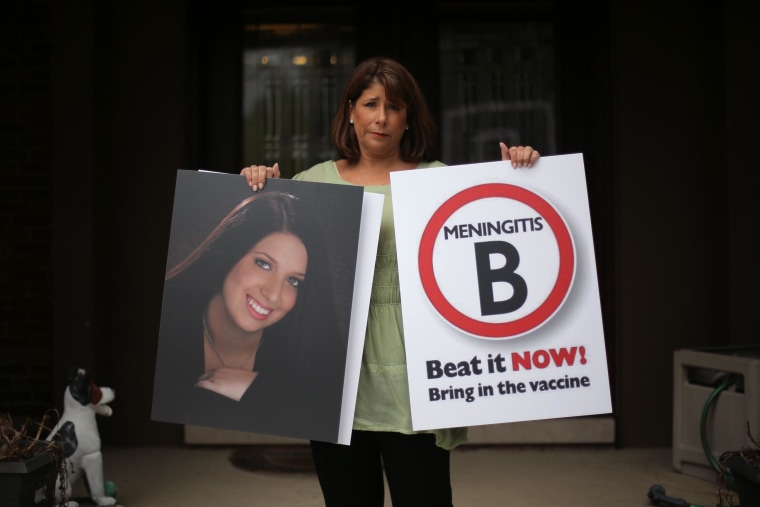 Stillman would like to see the Food and Drug Administration approve a meningitis B vaccine, and she'd like the Centers for Disease Control and Prevention to broaden recommendations for the existing vaccines. Currently the CDC's Advisory Committee on Immunization Practices recommends routine meningitis vaccination for adolescents ages 11 to 18, including a booster dose at age 16. ACIP also recommends vaccination for infants, children and adults older than two months, but only those who are at increased risk for meningitis. That leaves out a lot of people, and it doesn't include the meningitis B vaccine, Stillman said.
"I believe that every person should be vaccinated with both vaccines starting at 2 months of age," she said.
Bacterial meningitis kills at least one in 10 of those infected and leaves one in 20 with severe side effects including deafness, retardation and limb amputations. A UCSB student, Adam Loy, lost both feet after he contracted a meningitis B infection in November. Stephanie Ross, a Drexel University student, died in March after close contact with a Princeton student exposed to the outbreak.
Alicia Stillman said she's determined to ensure that others don't suffer the loss her family has endured.
"This vaccine would have prevented my daughter from getting it," she said. "It would have been a moot point. Meningitis is a vaccine-preventable disease, but you do need to get the vaccine in order to prevent it."