There was no vaccine debate in Vermont this past weekend.
There could have been. Residents of the small ski resort town of Stowe got irritated when a local chiropractor brought in controversial vaccine skeptics and practitioners of unproven medical treatments for autism for a conference at the local high school.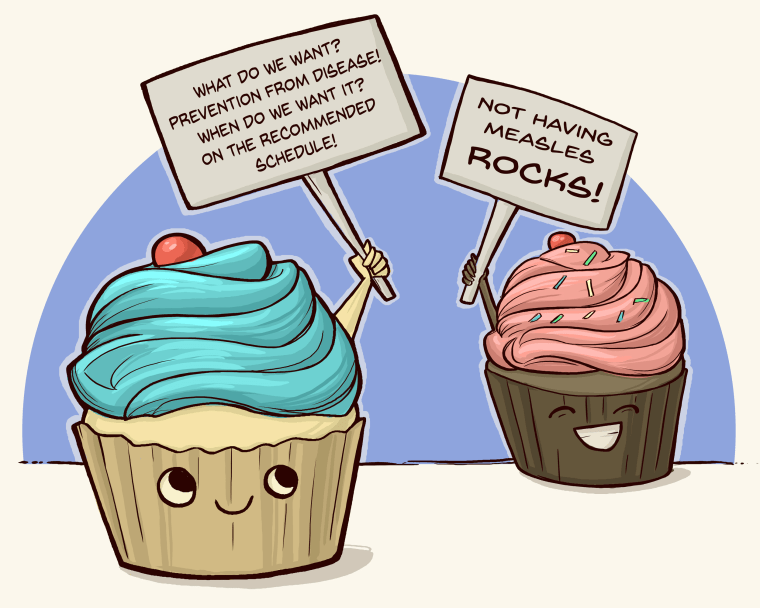 But when petitions and arguments failed to stop the meeting, residents avoided confrontation.
Instead, they held a bake sale.
"Don't give oxygen to someone you disagree with," said Emily Rosenbaum, who helped organize the bake sale at a local brewery. "Bake banana bread. It is about turning toward the light, turning toward the positive, being for something rather than against something."
Dr. Rebecca Bell, a pediatric intensive care specialist at the University of Vermont, agrees. Rather than telling parents they are wrong to worry about vaccines, she takes the time to listen to their concerns.
"It's totally expected and reasonable to have questions about vaccines," Bell told NBC News.
"What we don't want is for parents to be worried about asking because they don't want to be labeled anti-vaccine. We don't want to get into this area where people are really polarized so much that they are reluctant having a conversation."
Related: Experts Have Found the Truth About Vaccines - Over and Over
Rosenbaum and Bell hope that a positive approach will take hold as U.S. communities struggle with a very determined group of advocates, led by disgraced former British doctor Andrew Wakefield, who have taken to the road with a film questioning the safety of vaccines and urging worried parents to delay or even decline vaccinating their children.
"We can't look like idiots and have protests and shut them down," said Dr. Bob Arnot, a Vermont resident and former medical journalist for NBC News. "But I think we have a right to warn the public that if you drop the vaccination rate, there's a real price to be paid."
"We can't look like idiots and have protests and shut them down."
The price in Minnesota: 69 cases of measles, mostly in children, and a dozen kids hospitalized. The Minnesota Department of Health says 65 of the 69 patients were not vaccinated against measles.
Wakefield and his supporters have repeatedly visited the Somali-American community in the Minneapolis area since 2008, arguing that an apparent increase in learning and developmental disabilities among young children was due to the measles vaccine. Vaccination rates plunged to below 50 percent, and the measles outbreak — the largest in the area for 30 years — is the result.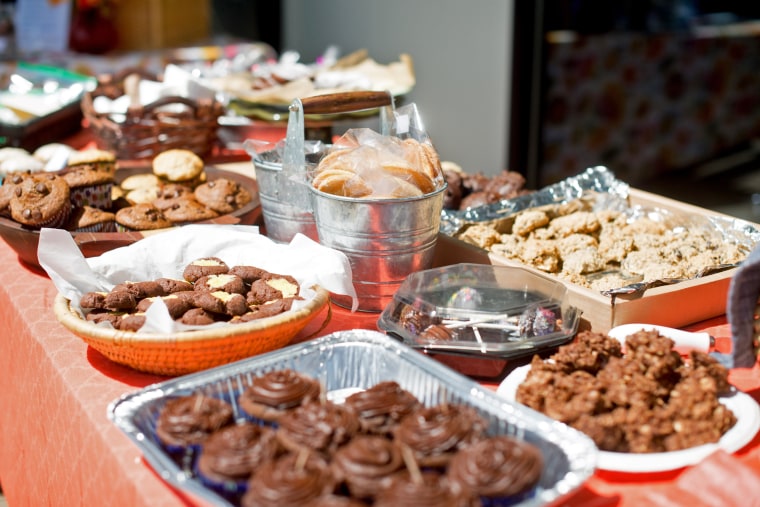 Rosenbaum's goal is to celebrate vaccines and groups that use proven medical science to help others.
The "cupcake protest" bake sale raised $1,980.23 for Doctors Without Borders, the Autistic Self Advocacy Network and Seeds of Change, said Rosenbaum. "Over 40 people baked, and we had a fourth grader and a sixth grader manning the table for much of the time. I am so proud of my community," she added.
Related: It's Normal to Vaccinate
Bell takes on the question on a more day-by-day basis, as she meets the parents of the kids she cares for in the ICU. Often, children are not fully vaccinated and Bell tries to always bring it up.
"It's extremely time-consuming," she said. But, she added, it's important not to brush off parents who express concerns, because they might simply put off vaccinating their kids.
"Infants who get these diseases get really, really sick so not having the conversation can really put the infants at risk," Bell said.
She worries that some of the public health messages being aimed at the vaccine skeptics are making things worse.
"If someone feels like they are being attacked based on a belief they have, they are going to push away," Bell said.
"It's totally expected and reasonable to have questions about vaccines."
One frequent message: Vaccinating kids doesn't just protect them, but it protects the vulnerable who cannot be vaccinated, such as the youngest babies, or cancer patients or kids with immune disorders.
That argument makes parents "defensive and it makes them suspicious," said Bell. They are rightly concerned first about their own child, not someone else's.
"Parents have an obligation to protect their child and to do what's best for their child," Bell said.
"They should never be asked to choose between their child and the public good. And what I find that's so good about vaccines is that they don't need to. What's good for the individual child is the same as what's good for the public. I don't need to discuss the benefits that having their child vaccinated will do for the public."
Related: The measles vaccines's invisible benefits
Bell said she makes it personal, stressing that she vaccinates her own children, too.
"Making it clear that the norm is to vaccinate really can help parents feel better," Bell said.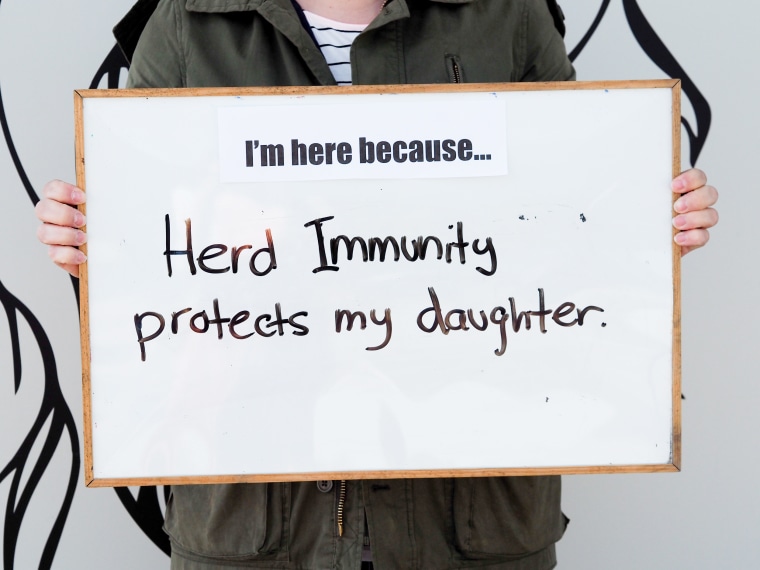 And if parents have worries, she takes the time to find out what they are.
"Sometimes it is about the child's immune system being overwhelmed," she said. "A lot of times parents bring up that they got far fewer shots than their children are getting."
In those cases, Bell points out that vaccines are better designed than they were in the past, and have fewer antigens — the bits and pieces of bacteria and viruses that are used to activate the immune system. So while children now get more vaccinations than people did in the '60s, '70s or '80s, they're getting a 20-fold lower dose of antigens.
And children's bodies deal with many more immune challenges every day than the amount delivered in any vaccines, Bell adds.
Related: What's in a measles vaccine?
"Our immune system sees a lot of antigen, a lot of pathogens on a daily basis," she said.
Another concern: toxins. "There's a lot of concern about the ingredients in the vaccine," Bell said. "People use the word 'toxic' a lot."
In those cases, Bell takes the time to explain that just about any substance can be toxic in a high enough dose, even water.
"When a parent sees a list of ingredients that are in vaccines they get really nervous. Although there are some scary sounding ingredients in a vaccine, there is nothing in a high enough dose that should cause a problem. We already have aluminum in our bodies. We already have formaldehyde in our bodies," she said.
And while the vaccine preservative thimerosal contains mercury, it's in a form that the body clears quickly — and thimerosal was taken out of all U.S. childhood vaccines more than 15 years ago not because it's dangerous, but because it worried people.
Related: 7 Vaccine Myths Debunked
Some parents believe natural is better and believe that letting a child recover from a natural infection will protect them more effectively.
But infections can make children seriously ill. "I have seen infants with bacterial meningitis," Bell said.
"Those children can have uncontrollable seizures. Some children can recover after they receive antibiotics for a long time … but some have permanent brain damage. They might need a feeding tube. They can't do things like sit up and move around and talk. It's very, very serious."
"The more natural intervention is to give them a vaccine."
Even a child with mild illness may need an ibuprofen or Tylenol, which is far from natural. Many kids with measles require intravenous fluids or help breathing.
"I do talk about even when kids recover from these diseases that are preventable, their body goes through a lot more than they would with a vaccine," Bell said.
Related: Don't Call Vaccine Doubters Dumb
"Their stress hormones go up and their white blood count goes up. The more natural intervention is to give them a vaccine," Bell added. Vaccines prime the immune system to naturally recognize and fight off invading bacteria and viruses.
"If you think about the immune system as an army, it's like giving military intelligence information for the heads of the army so they can prep the soldiers and be ready for an attack," she said. Being sick requires all-out war.
And all-out war is not good for kids, or for their parents.