Aerlyn Pfeil knows about rape. She's worked with victims of sexual violence in South Sudan, Somalia and Papua New Guinea.
But Pfeil has never seen anything like the sexual abuse victims in the Rohingya refugee camps in Bangladesh.
"I've never had a population talk so freely about the assault that they were experiencing," said Pfeil, a midwife who is on the board of Medecins Sans Frontieres/Doctors Without Borders-USA.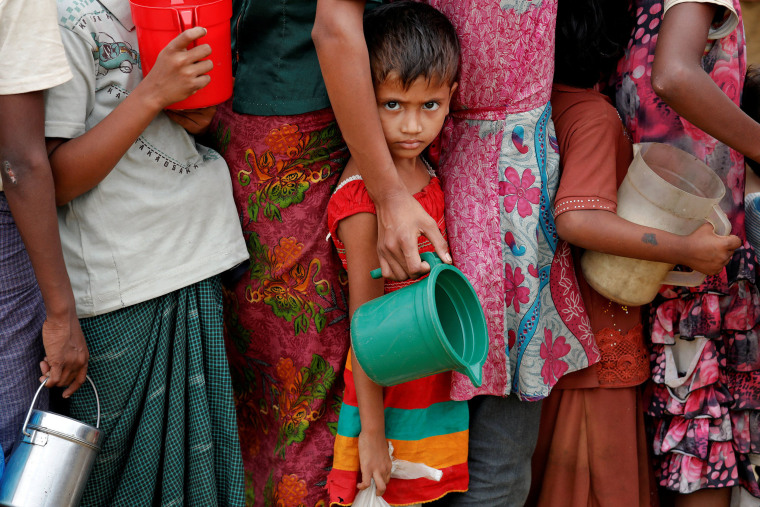 "I have had women come in who were gang-raped or brutally raped and are now recovering from fistulas but I have never heard so many stories of so many women being publicly raped and then killed," she added. Fistulas are among the injuries women can suffer as a result of rape.
International groups say the Burmese military is using systematic rape to help drive away the country's Muslims, known as Rohingya.
About 630,000 Rohingya have fled Buddhist-dominated Myanmar into Bangladesh to escape what the United Nations has called ethnic cleansing. They're living in squalid refugee camps where groups like MSF are trying to keep them fed and cared for.
Related: Rohingya women detail systematic, brutal rape
Pfeil is now home in Oregon after working with women in the Kutupalong refugee camps near the border town of Cox's Bazar.
"This story still really blows me away," said Pfeil. She met a rape survivor who was still wearing the clothes she had on at the time of the assault, two months later.
"The big concerns weren't 'I need mental health services' or 'I need medical care'," Pfeil said.
"The concerns are, 'yes I was raped and I lost my husband and my baby was thrown in the fire and I am here now and I don't have food and I don't have shelter and I don't have clean water'.
The rape was almost an afterthought in the totality of the woman's anguish.
Related: Myanmar carrying out ethnic cleansing
"They are in such survival mode that they don't even have the privilege to grieve the loss of loved ones and they certainly don't have the privilege to heal from their own wounds," Pfeil said.
She recalls one alarming day when she was organizing group discussions among the women in one camp. One grandmother and two younger women started angrily talking about what they had seen.
"Pretty and unmarried girls were taken away and assaulted," Pfeil said. "Women were raped publicly and then killed. And then there were stories about women who were pregnant who were having their bellies cut open."
The stories were hard to hear, but the women wanted to talk about them. Having an empathetic listener helped, Pfeil said.
"I have never heard so many stories of so many women being publicly raped and then killed."
"I was really struck by how easily the women were recounting these acts of violence, which to me just indicates to me how widespread the violence is," she said.
"It's not the normal shame," Pfeil added. Usually women are reluctant to talk about having been raped, or having witnessed a rape, even to a professional.
"These women had no issues talking about what they had witnessed, what they had experienced," Pfeil said.
"What was really striking to me was how this one little corner of the camp had experienced such widespread violence."
Related: At least 6,700 Rohingya killed in Myanmar
Age did not protect them; children and old women alike were raped. "I had a woman and her sister tell me about being kept captive for a couple of days in one of the military camps and one of them was now pregnant," Pfeil said.
She estimates that 65 percent of the refugees in the camps are women and children. Men were much more likely to have been killed than women were.
"We know rape is used as a weapon of war. We know that rape is a used as a method of genocide, of ethnic cleansing. It doesn't surprise me that it's being used to inflict fear and suffering and shame," Pfeil said.
The violence started in August, and the effects of the mass rapes are not over.
"I would imagine the rates of pregnancy are going to be quite high," Pfeil said.
MSF estimates that at least 9,000 Rohingya have died in the Rakhine state of Myanmar (formerly Burma) between August 25 and September 24.
More than 70 percent were killed violently, MSF said. The numbers include at least 730 children under the age of five.
It was on August 25 when the Myanmar military, police, and local militias launched "clearance operations" in Rakhine in response to attacks by the Arakan Rohingya Salvation Army.
Since then, more than 647,000 Rohingya have fled into Bangladesh, according to the Inter Sector Coordination Group, which collates information from aid agencies.
Bangladesh and Myanmar say they have agreed in principle for a way to let the refugees return home voluntarily.
"I can't imagine with the repatriation agreement that women are going to want to return to the conditions that they have experienced in Myanmar," Pfeil said.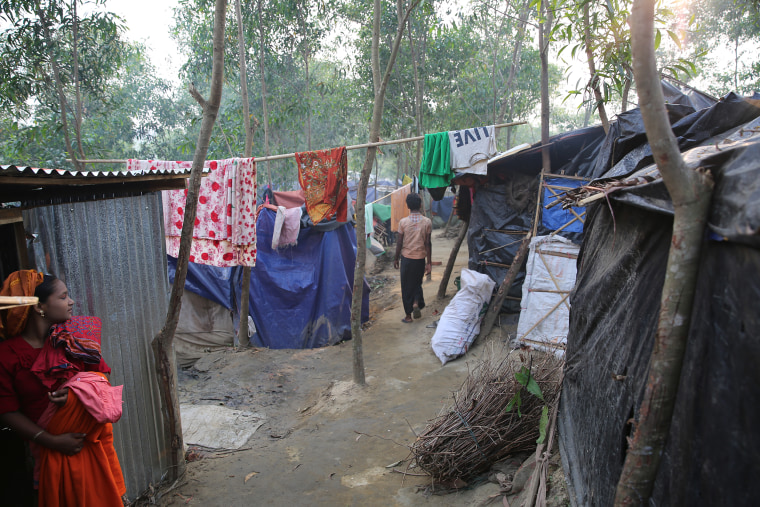 Women who have had children since they have fled will have no way to prove the children are rightfully citizens of Myanmar, Pfeil added.
"Many of the women, I think, also want justice. They would benefit from being provided with some justice. Having their stories heard and witnessed and acknowledged by the international community is important," she added.
And then there's the issue of pregnancy.
"I would say most of these women don't want to give birth to these children," Pfeil said.
"It's hard to imagine how strong you would have to be in order to do that. Many of the women coming in were raped by more than one man. There is definitely a sense of desperation," she added.
"We know rape is used as a weapon of war. We know that rape is a used as a method of genocide, of ethnic cleansing."
"Women talk about if they can't find a way to terminate a pregnancy themselves, and they have to give birth to the child, they will kill this child or they will kill themselves."
Pfeil said some of the women impregnated by their rapists have tried do-it-yourself abortions.
Abortion-inducing drugs are available in local pharmacies – Pfeil is not sure how or why. She treated at least one woman who came in after having induced a miscarriage who died after heavy bleeding.
"Often they present with days and days of bleeding," Pfeil said. The camps are vast, and women are often afraid they'll get lost finding the clinics, or that someone will take their belongings while they are gone.
"For some women, you get them early enough to treat aseptic abortion and for other women it's too late. They have already lost too much blood or the infection is too severe," Pfeil said.
Related: Boko Haram victims detail their abuse
Many are malnourished and unlikely to have a healthy birth, she added. "There is a lot of pre-term labor."
And there are other diseases in the crowded camp.
"We treated more than 2,000 patients for measles. There was a diphtheria outbreak, which was quite scary," Pfeil said.
There are a few relatively happy endings.
"There is a really heartbreaking story of a woman who was pregnant when she fled and gave birth to her child on the way, prematurely," Pfeil recounted.
She was running, and dropped the tiny preemie into a stream. The woman came to the clinic when she reached the refugee camp, afraid for her baby and terrified at the thought she might lose her child, her last surviving relative.
"The baby was fine," Pfeil said.
"It was really wonderful to be able to see the relief on her face," she added.
"We told her, 'Yeah, you were running for your life and you tripped and you dropped your child and the child was fine. Of course you dropped your baby. It's to be expected.'"