Beleaguered passengers finally fled a Royal Caribbean cruise ship Wednesday after a 10-day vacation cut short by a nasty gut bug that sickened nearly 700 people.
One woman aboard the Explorer of the Seas yelled, "We made it!" as the ship docked in Bayonne, N.J., two days ahead of schedule. Other passengers stood on deck wrapped in blankets to watch the ship pull in.
Dave and Danielle Panebianco, two firefighters from Farmingville, N.Y., told NBC News they were both sick on what was supposed to be a romantic honeymoon voyage.
"This is my first and last cruise," said Dave Panebianco, 45. "You can't pay me and I'm not going again."
One person was removed from the Explorer of the Seas on a stretcher and taken away by ambulance. Others walked under their own power after the vessel arrived. They recounted a week full of tension and drama, but professionalism from the cruise line crew.
"Some people were terrible," said Sue Rogutski, 56, of Bloomsford, Pa., who was sick for 10 hours and quarantined for three days on board the ship. "We really feared there would be some riotous activity but the cruise line handled it so well."
"This is my first and last cruise. You can't pay me and I'm not going again."
Still, the ordeal on the 1,020-foot ship — whose relaxing voyage to the U.S. Virgin Islands was thwarted by suspected norovirus — may linger a little longer for people still showing signs of the fast-moving infection, health officials said.
"We have passengers who are still exhibiting active disease," said Burnadette Burden, a spokeswoman for the Centers for Disease Control and Prevention.
People who are still sick may be too ill to travel home — and too contagious to use public transportation like trains and buses, health experts say. Royal Caribbean officials said Wednesday that they'd pay for hotels or make sure that ill passengers get additional medical care.
"Should a guest feel sick enough that they want to go to the hospital, we will arrange for transportation," Royal Caribbean spokeswoman Cynthia Martinez said in an email. "We will work with the small number of guests that still feel ill to make them as comfortable as possible."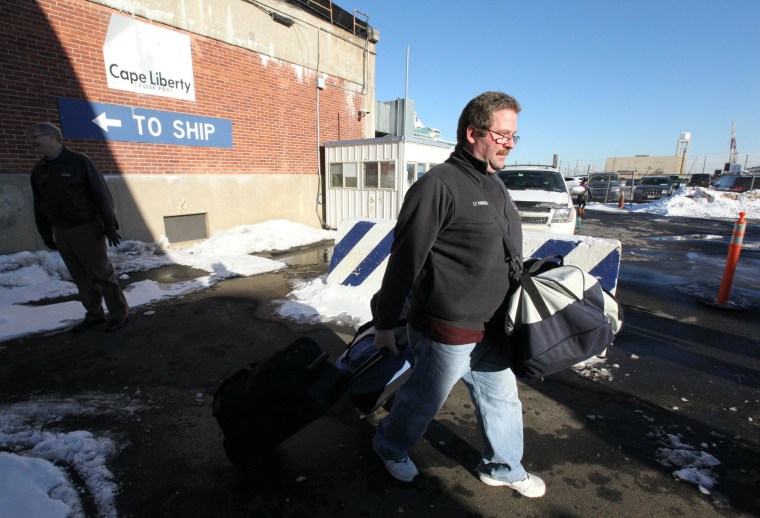 At least 630 of the ship's 3,071 passengers and at least 54 of the 1,166 crew members came down with diarrhea and vomiting — classic signs of norovirus. Most of the cases occurred early in the cruise, which left New Jersey on Jan. 21, and many passengers had already recovered. It's hard to say that the outbreak was the worst on record because of inconsistencies in record-keeping. But it's a bad one, Burden said.
"It would be fair to say this is one of the largest numbers in the last 20 years or so," she said.
One of the closest outbreaks to compare occurred in 2006, when a Carnival Cruise ship, the Carnival Liberty, was hit with an outbreak of norovirus that sickened 679 passengers and crew on aNovember trip to the U.S. Virgin Islands.
CDC officials have not confirmed that norovirus is the culprit on the Explorer of the Seas, though it's a common cause of illness on cruise ships. Officials said testing was delayed by a treacherous winter snowstorm that closed the agency's Atlanta headquarters and results aren't expected until Friday.
But if it is the germ, it's highly contagious for the one to two days when people are actively sick — and for a few days afterward. The virus actually lingers in people's stool for two weeks or more, according to the CDC.
That means that anyone who fell ill — and those who were around them — should pay extra attention to washing their hands and other kinds of cleanliness, said Dr. Ruth Lynfield, outgoing head of the public health committee of the Infectious Diseases Society of America.
"The key will be really good hygiene," she said. "People who have been ill with norovirus shouldn't be preparing food."
Cleanliness will be the key for the cruise line, too. Officials said they plan another scrub, a so-called "barrier sanitation" program to ensure that any remaining traces of illness are removed from the ship. Norovirus is a notoriously difficult bug to eradicate, health experts say.
"It will be the third aggressive sanitizing procedure the ship has undertaken since we became aware of the issue, and will additionally provide a window of more than 24 hours where there are no persons aboard the ship," officials said in a statement.
Explorer of the Seas is set to embark on a nine-day cruise to the eastern Caribbean on Friday.
Rogutski, a veteran of several cruises, said she'd go again on a cruise "lickety-split."
"Yes, I'm already signed up. Next year on the Quantum of the Seas for 12 days. When things like this happen you can't blame everybody, you just have to go on."