Imagine slapping on a bandage that can not only deliver medications to a wound, but light up when it's time to be changed.
A team at the Massachusetts Institute of Technology has come up with a strong, stretchy, wet bandage and have embedded it with tiny electronics, LED lights and microchannels to deliver drugs.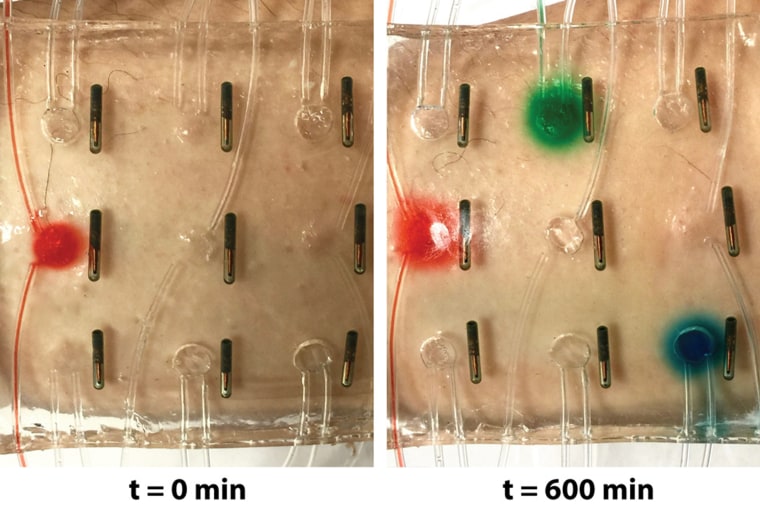 It could carry a thermometer to continuously measure skin temperature, or tiny devices to keep an eye on blood sugar levels for someone with diabetes. And the same technology might work to create devices that work inside the brain or under the skin, they say.
"Electronics are usually hard and dry, but the human body is soft and wet. These two systems have drastically different properties," said Xuanhe Zhao, a professor in MIT's Department of Mechanical Engineering.
"If you want to put electronics in close contact with the human body for applications such as health care monitoring and drug delivery, it is highly desirable to make the electronic devices soft and stretchable to fit the environment of the human body," Zhao said.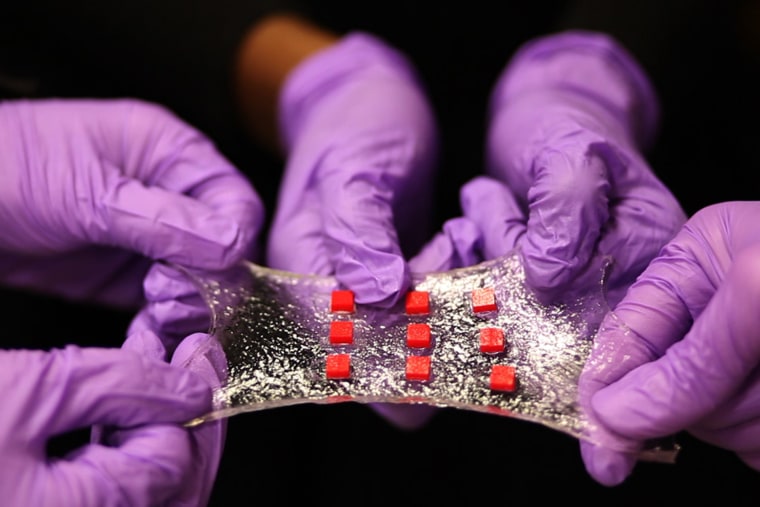 It's similar to the material in a soft contact lens, but stronger. Zhao and his students then set to work to see what they could put in it.
They made an array of LED lights that lit even when stretched across knees and elbows, they reported in the journal Advanced Materials. They used titanium to make a thin, elastic wire that moved with the stretchy gel bandage and held up under repeated movement.
They embedded tiny tubes to deliver drugs and made what they call a "smart wound dressing" to check temperature and deliver antibiotics at the same time.
The gel itself is very sticky and can attach to glass, metal or ceramics. But it's 90 percent water and can also act as an electrical conductor to power the little LED lights.
"Basically, it's tough, bonding water," said Hyunwoo Yuk, a graduate student who's helped lead the work.