TAIPEI, Taiwan — As countries around the world grapple with the coronavirus, Taiwan may offer valuable lessons on how to curb its spread.
The island is just 81 miles and a short flight away from mainland China, where COVID-19 is believed to have originated in the city of Wuhan. As the outbreak took hold in January, many Taiwanese business people and their families based in China were returning to celebrate the Lunar New Year, and up to 2,000 Chinese tourists a day visited the island, potentially bringing the virus with them.
And yet, Taiwan has had only 50 cases of COVID-19 and one death as of Friday night — far fewer than China's 80,824 cases and 3,189 deaths, a stark contrast even when taking into account the enormous population difference: Taiwan's 23 million to China's 1.4 billion. Taiwan's numbers are also much lower than neighboring countries such as South Korea, which has had more than 7,900 cases, and Japan, with 675. It's also faring better than countries much farther away from China, such as Italy, with more than 17,660 cases, and the United States, which had 2,167 cases as of Friday night.
Of the 100-plus countries and territories affected, Taiwan has the lowest incidence rate per capita — around 1 in every 500,000 people — for a place that is located so close to China and with so much travel to and from.
What lessons can Taiwan teach the world so other countries can stem the spread of the virus?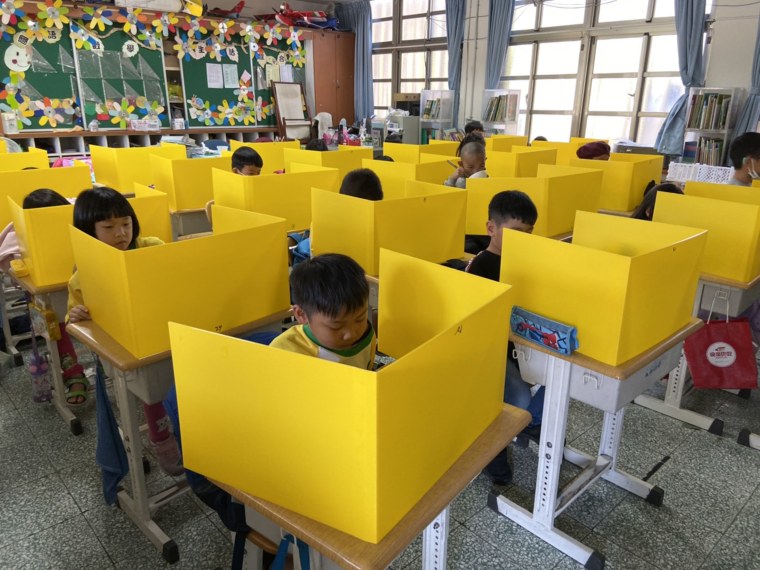 Be alert and proactive
Partly because it's near China and speaks the same language, Taiwan learned early that a "severe pneumonia" was spreading in Wuhan. But it was the proactive measures the island took that helped it avert a major outbreak.
On Dec. 31, the same day China notified the World Health Organization that it had several cases of an unknown pneumonia, Taiwan's Centers for Disease Control immediately ordered inspections of passengers arriving on flights from Wuhan.
And despite poor relations with Beijing, Taiwan asked and received permission to send a team of experts to the mainland on a fact-finding mission Jan. 12.
"They didn't let us see what they didn't want us to see, but our experts sensed the situation was not optimistic," government spokesperson Kolas Yotaka told NBC News.
Shortly after the team returned, Taiwan began requiring hospitals to test for and report cases. That helped the government identify those infected, trace their contacts and isolate everyone involved, preventing the virus from spreading to the community.
All this happened long before Taiwan confirmed its first case Jan. 21 and the rest of the world became alarmed.
Set up a command center
Equally important, Taiwan's CDC activated the Central Epidemic Command Center relatively early on Jan. 20 and that allowed it to quickly roll out a series of epidemic control measures, according to Stanford Health Policy's Jason Wang, a pediatrics professor who also has a doctorate in policy analysis.
"Taiwan has rapidly produced and implemented a list of at least 124 action items in the past five weeks — that's three to four per day — to protect public health," Wang said in an email. "The policies and actions go beyond border control because they recognized that that's not enough."
Headed by Health Minister Chen Shih-chung, the command center not only investigates confirmed and suspected cases, it also works with ministries and local governments to coordinate the response across Taiwan, including allocating funds, mobilizing personnel and advising on the disinfection of schools.
Take quick and decisive action
Taiwan also took tough action early. On Jan. 26, five days after it confirmed its first case, Taiwan banned arrivals from Wuhan, earlier than any other country.
Not long after, it did the same for flights from all but a handful of Chinese cities, and only Taiwanese people were allowed to fly in.
Use technology to detect and track cases
After securing its borders, Taiwan used technology to fight the virus. Temperature monitors were already set up at airports after the 2003 SARS outbreak to detect anyone with a fever, a symptom of coronavirus.
Passengers can also scan a QR code and report their travel history and health symptoms online. That data is then given directly to Taiwan's CDC.
Those coming from badly affected areas are put under mandatory 14-day home quarantine, even if they are not sick, and are tracked using location sharing on their mobile phone. Absconding can lead to heavy fines.
That also goes for not reporting symptoms.
One man who didn't tell the authorities he had symptoms after he returned from Wuhan and went to a dance club the next day was fined $10,000.
The authorities in Taiwan also quickly determine whom the confirmed cases had been in contact with, and then test them, and put them in home quarantine.
"They also proactively find new cases by retesting those who tested negative," Wang said.
Ensure availability of supplies
To ensure a steady supply of masks, the government quickly banned manufacturers from exporting them, implemented a rationing system and set the price at just 16 cents each.
It also set up new production lines and dispatched soldiers to staff factories, significantly increasing production.
These masks are the tools for residents in Taiwan's densely populated cities to protect themselves; they made them feel safe and not panic.
Educate the public
The government also asked television and radio stations to broadcast hourly public service announcements on how the virus is spread, the importance of washing hands properly, and when to wear a mask.
"We think only when information is transparent, and people have sufficient medical knowledge, will their fear be reduced," Kolas, the government spokeswoman, said.
Residents learned that most patients had mild or no symptoms, so the death rate could be lower than what was reported. They also understood that a person's travel history or contact with infected individuals determined their risk level, not their nationality or race. That understanding helped reduce discrimination.
Get public buy-in
The public's cooperation with the government's recommended measures was crucial to prevent the spread of the virus, including among students, school principal Tu Chen-yang said.
"More than 95 percent of our parents take their child's temperature at home and report it to the school before the children arrive," Tu said. "Regardless of what the government does, people have to take responsibility for their own health."
Bank building manager Nature Lin echoed such views, as he checked the temperature of employees arriving for work,on a detection camera set up in the lobby.
"We were already stocking up on alcohol disinfectants and temperature guns during the holiday," he said.
Practically every office building, school and community sports center check temperatures and prevent anyone with a fever from entering. Apartment buildings also place hand sanitizer inside or outside elevators.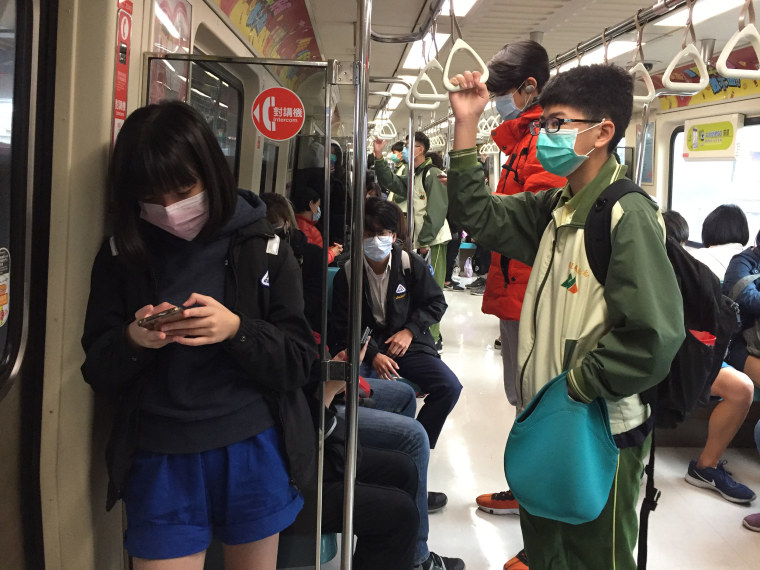 Learn from experience
Taiwan was able to put the lessons it learned during the SARS outbreak in 2003 to good use. That epidemic ended up killing 73 people and hurting the economy.
This time, Taiwan's government and people were prepared, and that readiness has helped push up President Tsai Ing-wen's approval rating.
Last but not the least, Kolas said that she believes the country's health insurance system, which covers 99 percent of the population, has been crucial to fighting the spread of the outbreak.
"Taiwan's health insurance lets everyone not be afraid to go to the hospital. If you suspect you have coronavirus, you won't have to worry that you can't afford the hospital visit to get tested," she said.
"You can get a free test, and if you're forced to be isolated, during the 14 days, we pay for your food, lodging and medical care," Kolas said. "So no one would avoid seeing the doctor because they can't pay for health care."