They live in our guts and digest our food, make some of us love chocolate and may even control mood. They can help turn weeds into fuel and gobble up oil spills.
Anyone who watched "The Martian" learned that crops cannot grow without partner organisms in the soil. Now the White House wants to encourage research into the microbiome: the microbes living in and on animals, the dirt, oceans and the atmosphere.
Dozens of companies, foundations and universities have signed on to the National Microbiome Initiative, pledging millions of dollars to train new scientists, pay for new research and offering prizes for the best new ideas on how to understand how these bacteria, viruses, yeast and fungi function and how they can be put to work for humanity.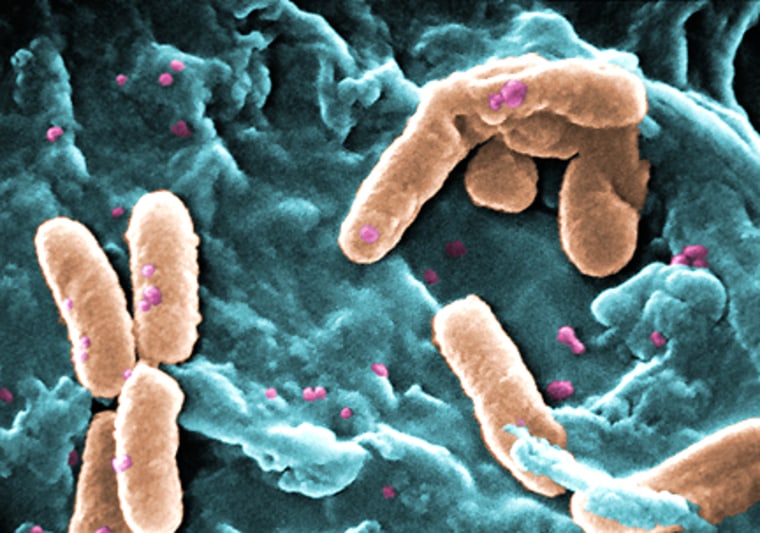 The White House says it will propose more than $121 million in federal spending over the next two years at the Department of Energy, NASA, National Institutes of Health, National Science Foundation and U.S. Department of Agriculture —a plan that would be left up to the next president and Congress to make decisions about.
But the private spending is ready to go sooner, supporters say.
For instance, the Kavli Foundation is putting up $1 million to encourage researchers with new ideas for tools to use in studying microbes.
"We can be more flexible, more nimble," said Miyoung Chun, executive vice president of science programs at The Kavli Foundation.
Related: You Live in Your Own Germ Cloud
So-called probiotic products are already on the market, but researchers are not sure which digestive bacteria are important for various aspects of health, and whether manipulating them even makes a difference.
"We don't really have a definition of what is healthy and that's what we need," Jo Handelsman of the White House Office of Science and Technology Policy said in opening a White House event introducing the initative Friday.
"We'll want to fix dysfunctional microbiomes or protect microbiomes," Handelsman added. "We just don't have the tools to do that."
And while farmers already make use of microscopic helpers — for instance, planting legumes to "fix" nitrogen in the soil — there are big gaps in understanding how to make crops even more productive by using nature's living fertilizers.
One problem: there aren't even any tools for looking at these bugs as they work together to turn switchgrass into biofuel, extract vitamins from food or force out cancer-causing bacterial invaders in the digestive system.
"We need new tools to see these interactions as they happen," said Jeff Miller, director of the California NanoSystems Institute, who is taking part in Friday's White House event.
Related: Yanomami Gut Bacteria Reveal Surprises
Microscopes allow scientists to see tiny organisms out of context, but there's no good way to watch, say, Lactobacillus interact with Candida in the oxygen-free darkness of the human bowel.
That's why engineers as well as biologists and chemists are needed. The American Society for Microbiology (ASM), American Chemical Society and American Physical will jointly administer Kavli's million dollar prize program. The Bill and Melinda Gates Foundation will invest $100 million over four years to find new tools.
"Microbiome research is a high priority for ASM and the result of this challenge could help develop groundbreaking tools to accelerate and enhance our knowledge of microbiomes," said ASM's CEO Stefano Bertuzzi.
Related: Gut Bacteria Affect Malnutrition
Other groups will look directly at disease. The diabetes research advocacy group JDRF will invest $10 million in research aimed at understanding how microbes affect type 1 diabetes.The Valhalla Charitable Foundation is spending $11.8 million on a study to see how digestive microbes affect multiple sclerosis.
The Mayo Clinic Center for Individualized Medicine says it will open a $1.4 million Microbiome Clinic offering whole-genome sequencing, checking patients to see if their bodies harbor antibiotic-resistant "superbugs, and offering fecal transplants — the experimental new way of cleaning out killer Clostridium infections with transplants of "healthy" poop from donors.