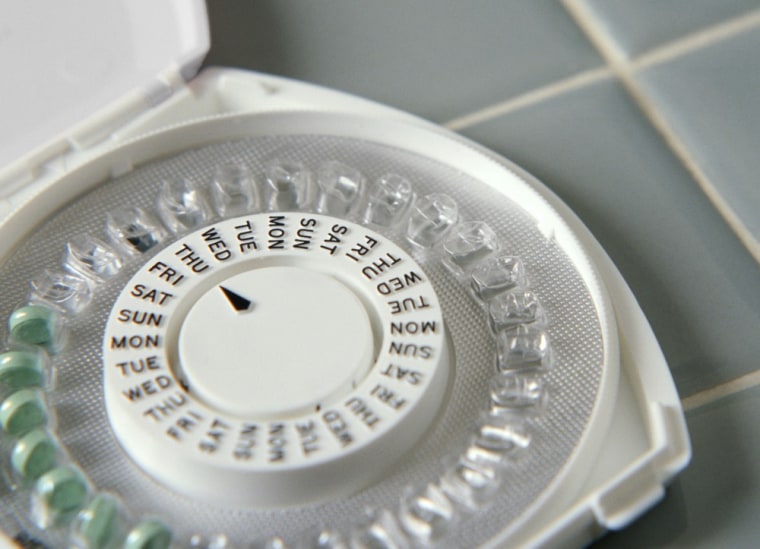 The Obama administration is taking another stab at a compromise over the contentious issue of making employers pay for birth control, offering a way for women to get the coverage without forcing religiously affiliated organizations to pay for it.
The proposed new rule would have insurance companies provide the coverage free of charge through separate, individual health insurance policies. It's not quite clear how much it would cost or who, exactly, would end up paying for it.
"Under the proposed accommodations, the eligible organizations would not have to contract, arrange, pay or refer for any contraceptive coverage to which they object on religious grounds," the Health and Human Services Department said in a statement.
The 2010 Affordable Care Act requires all health insurers to pay for a woman's contraceptive care without charging her anything. Religious organizations such as the Catholic Church, which oppose artificial birth control, have objected strongly. While churches and other overtly religious organizations were always exempted, things were a little fuzzier for religiously affiliated organizations, such as universities, and private employers who said they had their own personal conscientious objections.
Some employers who don't oppose birth control in general oppose the requirement that products such as emergency birth control, which they equate with abortion, be supplied.
At least 44 lawsuits have been filed against the government over the issue, The Becket Fund for Religious Liberty, a legal organization helping oppose the mandate, says. It has been a big thorn in the side for the Obama administration.
A year ago the White House came up with a compromise but it did not settle the matter. The new approach tweaks it a little, leaving almost all the responsibility for covering women whose employers object up to private health insurance companies.
Some employers are self-insured, meaning they pay all the costs of health insurance for their workers. Usually, they employ an insurance company to administer the plan. The new compromise leaves it to these third-party administrators to sort out which insurance company will pay for a woman's birth control through a separate policy.
The insurance company would get a break on user fees that will be charged to join the state health insurance exchanges – the marketplaces where people can go buy health insurance starting in 2014 if they cannot get coverage through an employer, Medicare, Medicaid, Tricare or some other public policy.
The White House argues that it in fact saves money to provide contraception for free. It costs way more to pay for a pregnancy, the administration argues. The Institute of Medicine said in 2011 that it would save the country money and make medical sense to cover birth control for free, so more people would use it.
"Women who work or go to school at these organizations will have free contraceptive coverage and will no longer have to pay hundreds of dollars a year that could go to rent," said Chiquita Brooks-LaSure, of the Health and Human Services Department's Center for Consumer Information and Insurance Oversight.
Brooks admitted the administration doesn't know how much the proposal would cost. "We have not estimated the cost. We certainly welcome comment on that," she told reporters in a conference call.
Health insurers had no immediate comment. A spokesman for America's Health Insurance Plans, which represents the industry, said the group was studying the proposals.
The new rules also say religious organizations will be defined just as they are by the Internal Revenue Service.
Left-leaning and women's health groups welcomed the policy.  "As we go through this, we want to make sure that the details pan out, but it does seem as if it works," Marcia Greenberger, Co-President of the National Women's Law Center, told NBC News in a telephone interview. "Of course, women assume that contraception is part of their health care and it is widely accepted because it is almost universally used."
"Today's draft regulation affirms yet again the Obama administration's commitment to fulfilling the full promise of its historic contraception policy," said Ilyse Hogue, president of NARAL Pro-Choice America.
"We know that Catholics in the pews support this position, as 98 percent of Catholic women use contraception and 58 percent of Catholics support insurance coverage for contraception," said Louise Melling of the American Civil Liberties Union. "The ACLU will defend the health and religious liberty needs of employees and hopes the intense recent debate is now be behind us."
The U.S. Conference of Catholic Bishops said it was studying the proposal. The Susan B. Anthony List, a political action committee that helps campaign for anti-abortion lawmakers, rejected the proposal.
"Once again, President Obama's so-called 'compromise' is unacceptable – religious and moral freedom is not up for negotiation. There must be no religious 'test' by the government as to who, and what type of entities, are entitled to a conscience," said the group's Marjorie Dannenfelser. "The taking of human life is the antithesis of health care."
The Family Research Council agreed. "The mandate continues to force religious non-profit institutions as well as companies guided by a well-articulated and longtime moral code, such as Hobby Lobby, to violate their faith, threatening serious fines in the millions of dollars if they refuse to comply," said Anna Higgins, director of the group's Center for Human Dignity.
"Regardless of whether insurance companies or third party administrators use their dollars for an employee's free abortifacients and contraceptives, the provision of these drugs and devices still necessarily depends on the religious employer's health insurance plan. They remain the gateway for drugs and services to which they object."
 HHS says 90 percent of American women use or have used birth control. The Centers for Disease Control and Prevention estimates that 10.7 million U.S. women use birth control pills. Despite this, CDC says nearly half of all pregnancies are unintended, which in turn can often lead to poor health for the mother and baby.
The proposals will be open for public comment for 60 days before they take effect.
Related: