The U.S. government's latest eating guidelines came out Thursday — only to be greeted with the usual accusations that they go too far, or don't go far enough, or leave out something important.
But this time some of the hottest criticism comes from cancer researchers. And other experts are upset that the guidelines don't say more about eating less meat.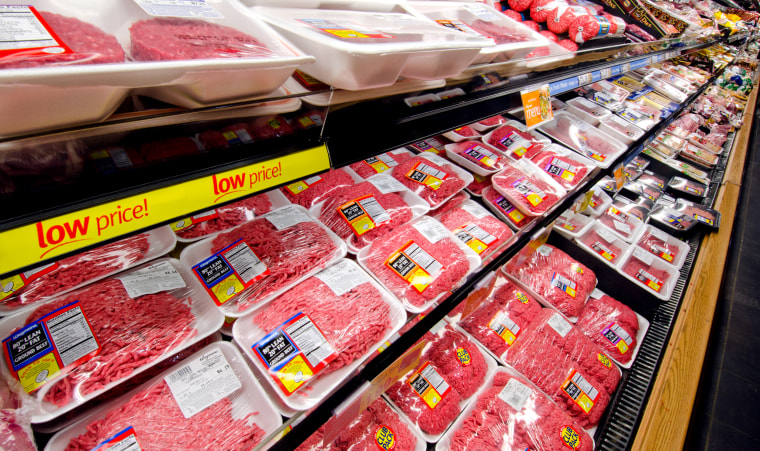 "We are pretty disappointed the report doesn't recommend limiting red and processed meat because of the link to cancer," said Katie McMahon of the American Cancer Society Cancer Action Network.
Evidence goes back decades linking diets high in red and processed meats (like bacon and sausage) to cancer, McMahon told NBC News.
The guidelines do, in fact, mention this — but don't blame meat specifically. "Strong evidence from mostly prospective cohort studies but also randomized controlled trials has shown that eating patterns that include lower intake of meats as well as processed meats and processed poultry are associated with reduced risk of cardiovascular disease in adults," they say.
"From my standpoint, Congress has caved in to the will of special interest food groups."
"Moderate evidence indicates that these eating patterns are associated with reduced risk of obesity, type 2 diabetes, and some types of cancer in adults."
The American Institute for Cancer Research (AICR), which studies the links between food and cancer, says it's clear the Health and Human Services Department and U.S. Department of Agriculture came under pressure to downplay any risks of eating meat.
"As an organization dedicated to cancer prevention, we are dismayed to see that the Dietary Guidelines have allowed lobbying efforts to supersede the scientific evidence, when it comes to meat and cancer risk," said AICR's Susan Higginbotham.
"The Dietary Guidelines have a profound and positive health impact on so many children, older adults and families in the U.S.; this failure to embrace decades of research with the potential to save thousands of American lives represents a missed opportunity."
Some nutritionists also said the federal government was pressured by the meat industry and by other lobby groups. "From my standpoint, Congress has caved in to the will of special interest food groups," said Marion Nestle, a nutrition professor at New York University.
Dr. Walter Willett, who heads the nutrition department at the Harvard School of Public Health, agreed. "Unfortunately, the USDA has censored the recommendation of the Scientific Advisory Committee to consume less red meat," Willett said.
"In fact, the dietary guidelines promote consumption of red meat as long as it is lean, which is not what the science supports. There is strong evidence that red meat consumption increases risk of diabetes, heart attacks, stroke, and some cancers (especially processed meat), and there is not good evidence that this simply due to the fat content," Willett added.
"This appears to reflect the powerful influences of the beef industry. Unfortunately, the public is being misled."
Health and Human Services Secretary Sylvia Burwell says the report actually stands up to some very strong lobbying groups, especially in its recommendations to cut sugar, salt and saturated fat. These are all found in processed food or soft drinks, and some very powerful interest groups fought back hard on recommendations to limit those.
"In terms of that lobby, those aren't necessarily things they would support," Burwell told NBC News. "I think we have a strong set of recommendations."
The sugar industry was indeed unhappy. "The Committee's conclusions on 'added sugars' intake are not based on the established evidence-based review process of the full body of science, which raises serious concerns the Committee bypassed this process and hand-picked science to support their pre-determined conclusions," it said in a statement.
And Burwell noted that there are reasons besides cancer to limit processed meats. They're high in salt and unhealthful fats, for one. "You should be looking at those things and certainly processed meat does contain a lot of sodium," she said.
And Alice Lichtenstein, a nutrition professor at Tufts University who sat on the advisory committee, said that cancer wasn't a major focus of the group's deliberations. They were more concerned about heart disease, the No. 1 killer of Americans, and diabetes, she said.
"We wanted to focus on chronic disease," she told NBC News.
One high-profile recommendation that was dropped from consideration in the year-long process of drawing up the report was that people be advised to eat a "sustainable" diet that would limit bad impacts on the environment. That would include eating less meat, since producing meat uses far more water than producing crops that people eat directly.
The Center for Science in the Public Interest says some of the carefully worded language in the guidelines shows there was some attempt to resist meat industry lobbying. "Though the final Guidelines does not address environmental sustainability, the overall advice on eating less meat indicates USDA and HHS partially resisted the political pressure," it said.
The meat industry didn't seem unhappy with the guidelines. "Consumers who choose to eat meat and poultry, as 95 percent of Americans do, can continue to enjoy our products as they have in the past," said Meat Institute President and CEO Barry Carpenter.
When advisers on the guidelines issued their report a year ago, it made headlines because it said eggs and other food sources of cholesterol might not be as harmful as believed in years past.
The new report notes that it's fat in food and not cholesterol itself that raises blood cholesterol when people eat it, but also recommends limiting cholesterol-rich foods such as eggs.
"The dropping of the guideline for cholesterol is of concern because so much of the research on eggs and cholesterol (eggs are the single greatest source of dietary cholesterol) was sponsored by the egg industry," said Nestle.
"The problem is that the food industry has continued to pressure and tempt us to eat a diet of burgers, pizzas, burritos, cookies, doughnuts, sodas, shakes, and other foods loaded with white flour, red and processed meat."
And the Physicians Committee for Responsible Medicine, which promotes a vegan diet, said it was filing suit against the government in California federal district court over the new guidelines.
"The Dietary Guidelines Advisory Committee's recommendations are part of a twenty-year attempt at a cholesterol image makeover based on research funded by USDA's egg promotion program and designed specifically to increase egg consumption regardless of the health risks that may result from unlimited cholesterol ingestion," the suit reads.
Nonetheless, even critics said the report has some positive points. It aims to reduce obesity by guiding people to eat more fruits and vegetables and less sugar, white flour and other processed food.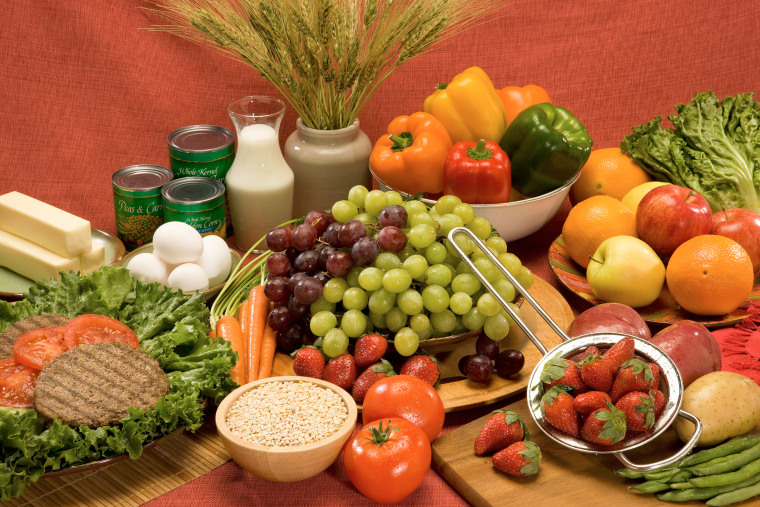 "We estimate that avoiding obesity could prevent almost 122,000 U.S. cases of cancer every year," said AICR's nutrition expert Alice Bender.
CSPI president Michael Jacobson said the real issue is what's on store shelves.
"The problem is that the food industry has continued to pressure and tempt us to eat a diet of burgers, pizzas, burritos, cookies, doughnuts, sodas, shakes, and other foods loaded with white flour, red and processed meat, salt, saturated fat, and added sugars, and not enough vegetables, fruit, and whole grains," he said.