Drug-resistant germs that caused horrible wound infections among soldiers in the Vietnam War, and bloodstream infections among military patients in Iraq and Afghanistan, top a new list of superbug enemies put out by the World Health Organization Monday.
It's the first-ever priority list written up by WHO, which wants to push drug companies and governments to put money and effort into developing new and better antibiotics.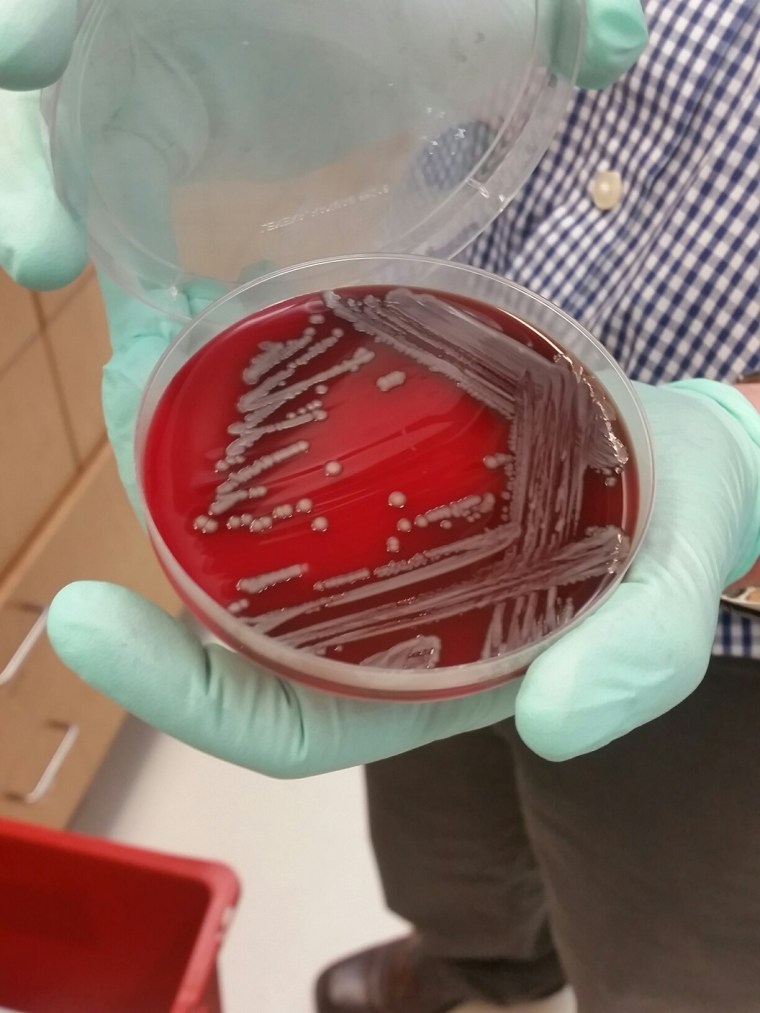 "This is truly urgent," WHO's Dr. Marie-Paule Kieny told a news conference. "These bacteria are responsible for severe infections and high mortality rates mostly in hospitalized patients, transplant recipients, those receiving chemotherapy or patients in intensive care units."
Related: WHO Labels Superbugs a Fundamental Threat
At the top of the list are carbapenem-resistant Acinetobacter baumannii and two other bacteria that resist the effects of carbapenem antibiotics — the big guns in the medical arsenal. They are not common among healthy people, but are extremely resistant to drugs and lethal to infected patients.
The list also includes carbapenem-resistant enterobacteriaceae or CRE — the germs that former Centers for Disease Control and Prevention Director Dr. Thomas Frieden called "nightmare bacteria."
"Certainly Acinetobacter are something that we have seen in our returning military service people," said Dr. Helen Boucher of the Infectious Diseases Society of America.
Related: Rare Superbug Jumps to the U.S.
"We see it in hospitals here, too," she said. While the bacteria aren't a big threat to most healthy people, they can infect children and young adults with cystic fibrosis, people undergoing chemotherapy and organ transplant patients, Boucher added.
Germs from CREs to MRSA — methicillin-resistant Staphylococcus aureus — are becoming more common around the world. The CDC estimates that 23,000 Americans die every year from drug-resistant infections.
Related: Here's Why Doctors Are Worried About Superbugs
"Antibiotic resistance is growing, and we are fast running out of treatment options," Kieny said. "If we leave it to market forces alone, the new antibiotics we most urgently need are not going to be developed in time."
The germs develop resistance through a variety of tricks. They can swap cassettes of DNA, even to different species in a process that allows even faster spread of antibiotic resistance.
Among the most notorious are extended-spectrum beta-lactamases (ESBL) enzymes that allow bacteria to scoff at penicillins, cephalosporins and other commonly used antibiotics. Others carry a mutation called NDM-1 — named after New Delhi — which helps them resist a variety of drugs.
Here's the WHO list of superbugs:
Priority 1: CRITICAL
Carbapenem-resistant Acinetobacter baumannii
Carbapenem-resistantPseudomonas aeruginosa
Carbapenem-resistant, ESBL- producingEnterobacteriaceae
Priority 2: HIGH
Vancomycin-resistant Enterococcus faecium
Methicillin-resistant, vancomycin-intermediate and resistant Staphylococcus aureus
Clarithromycin-resistant Helicobacter pylori
Fluoroquinolone-resistant Campylobacter and Salmonellae
Cephalosporin and fluoroquinolone-resistant Neisseria gonorrhoeae
Priority 3: MEDIUM
Penicillin resistant-Streptococcus pneumoniae
Ampicillin-resistant Haemophilus influenzae
Fluoroquinolone-resistant Shigella
The priority 2 and 3 bacteria don't usually kill people, but they are very common, Kieny said.
Boucher said IDSA and other groups will work to keep the issue at the top of the agenda for the new Trump administration. Former president Barack Obama had made it a priority during his administration. The Food and Drug Administration has been working on ways to make it easier and faster for drug companies to develop antibiotics.
"Antibiotic resistance is growing, and we are fast running out of treatment options."
There aren't any groundbreaking new antibiotics in development, and companies have little incentive to look for them. One way to make these drugs work better is to use them less, and to target them to specific infections. "The pipeline is practically dry," Kieny said.
Related: Superbugs Kill 23,000 People a Year
One possible carrot would be tax credits for companies that develop drugs for the most threatening infections, Boucher said. Kieny called for governments to pony up bonuses for companies to help make it more appealing to develop drugs that would have limited use.
"We are now looking at … public-private partnerships as ways to develop these drugs," Boucher added.
Dr. Rupa Kanapathipillai of Doctors Without Borders, also known as Médecins Sans Frontières or MSF, said drug-resistant infections are a big problem in developing countries and especially in areas of conflict.
"We see—with alarming regularity—the critical-listed bacterial infections in people we treat in the field, including babies and children, burn victims and conflict and trauma injuries," Kanapathipillai said in a statement.
Related: Startling New Superbug Found in US for the First Time
"It's getting harder to treat people for drug-resistant infections in the resource-limited settings in which we work. With the priority pathogen list, we need to urgently see new antibiotics developed that are affordable, appropriate and accessible to fill a depleted drug pipeline."
Not on the list is tuberculosis, which killed 1.8 million people a year. Drug-resistant TB is a growing problem but it has its own dedicated program, Kieny said.