Calvin Lambert recalls entering an empty lecture hall as a first-year medical student, feeling overwhelmed and ill-equipped to handle the rigors of medical school and assimilation to a new environment.
Lambert, 31, who grew up in Roosevelt, New York, an ethnically and racially diverse community, wondered if he would ever fit in.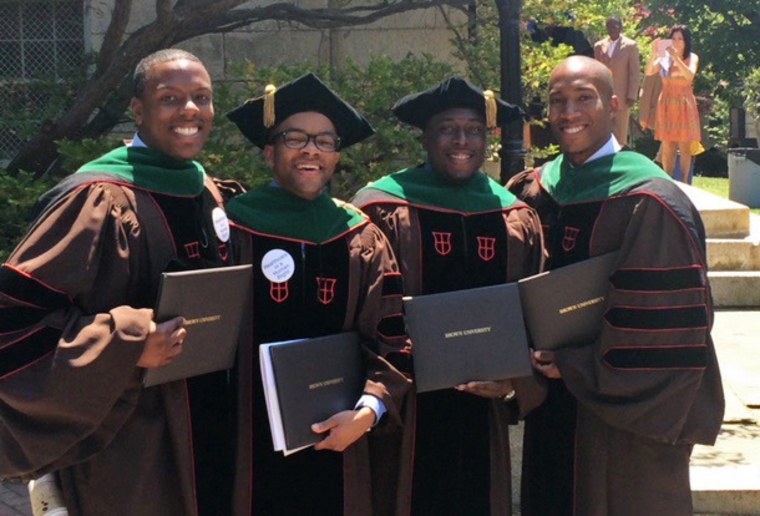 "I was concerned about how people would accept me; how much of my 'blackness' or 'black experience' did I need to suppress in order to build a social network," Lambert wrote in an email to NBC News. "Would I ever feel like myself in this environment?"
He waited anxiously to see if he would be the only black student in the class — an all-too-familiar experience as a pre-med student at New York University — but sighed in relief when he saw four other black men walk into the lecture hall.
"I was unnerved by the idea of 'forcing' myself to fit in to a culture that was seemingly the antithesis of who I am," said Lambert. "So I was relieved to find people whom I could share this experience with … people who looked like me, talked like me, and could understand me."
"Many black men don't have examples of black doctors in their lives. You can't imagine being what you don't see."
Lambert was one of eight black men to join the 2015 class at Brown University medical school — the men made up just under 7 percent of the student body that year, slightly above the national average of 6.5 percent, according to the Association of American Medical Colleges. He is now a fourth-year obstetrics and gynecology resident at the Howard University College of Medicine.
Even with efforts to increase the number of minority ethnic groups in science and medicine, the proportion of black men pursuing and obtaining degrees in these fields has reached a historic low. In 1986, 57 percent of black medical school graduates were men — but by 2015 that number had dropped to just 35 percent, even as the total number of black graduates in all fields had increased. And that downward trend is expected to continue. In fact, fewer black men entered medical school in 2014 than in 1978.
According to a report released earlier this year by the National Academies of Sciences, Engineering and Medicine and the Cobb Institute, a nonprofit organization that works to eliminate health disparities among racial and ethnic groups and racism in medicine, more African-American students attend medical schools today compared with 30 years ago, but the increase is due to greater numbers of black women training to be physicians. The proportion of men among African-American medical students decreased by more than 38 percent over the same period.
And while some believe that more black women are in medical school today because the women are outpacing the men academically, the data does not necessarily support that theory.
Black men men on average have higher scores on the medical college admission test, said Dr. Marc Nivet, Executive Vice President at UT Southwestern Medical Center, but fewer men are getting into medical school. "So we have to ask ourselves, what are some of the additional barriers that black men face to get into medical school?" said Nivet.
Why are so few black men matriculating into medical school?
Dr. Louis Sullivan, president emeritus and founding dean of the Morehouse School of Medicine and the secretary of health under President George H.W. Bush, believes that history plays a big role in the current shortage of male African-American physicians.
"Blacks, and especially black males, have always been underrepresented in medicine," Sullivan told NBC News. "This stems from slavery and legally enforced segregation."
But, he added, "cost is as much an issue as anything. Given that many black men come from low-income families," the cost of attending medical school "is too high a burden to put on their families."
Nivet believes that schools with a history of accepting greater numbers of black students are underfunded.
"The majority of black doctors come from only three or four historically black colleges and universities — Spelman, Howard, Xavier and Morehouse," Nivet said. "Those institutions need more resources, both federal and philanthropic, based on their great and historic track record of sending African-Americans to medical school."
Black students often attend underperforming schools in urban areas or come from low-income families, or both. Even those who are successful in math and science or come from higher-income families are often discouraged from applying by misguided college counselors who cite the high cost of attendance and the perceived lack of preparedness they would encounter if accepted as reasons why.
What are some of the obstacles black men face?
"The obstacles start early and it's hard not to appreciate the interplay between socioeconomic status and race," Nivet told NBC News. "To make matters worse, many black men don't have examples of black doctors in their lives. You can't imagine being what you don't see," he added.
Sullivan, 84, recounts the story of how he was introduced to medicine to highlight the importance of early exposure to the field.
"There was only one black physician in southwest Georgia when I grew up," Sullivan said. "His name was Dr. Griffin and he was 44 miles away, in Bainbridge, Georgia. This was during the days of segregation, when black people were seen in separate hospitals or waiting rooms. Black people resented that. My father was an undertaker and operated a funeral home. As a side job he provided ambulance services in the black community. So I met Dr. Griffin with my father when he would bring him patients. I knew early on that I wanted to be like Dr. Griffin."
Dayle Hodge, 34, of Buffalo, New York, an M.D./Ph.D. candidate at the Albert Einstein College of Medicine in New York, believes that stark barriers to entry in medicine exist at every level.
"As students, one of the primary obstacles is a lack of mentorship. Getting through medical training is difficult as it is, but it's even harder when so few people who have endured similar challenges are available to provide advice and support," Hodge said in an email.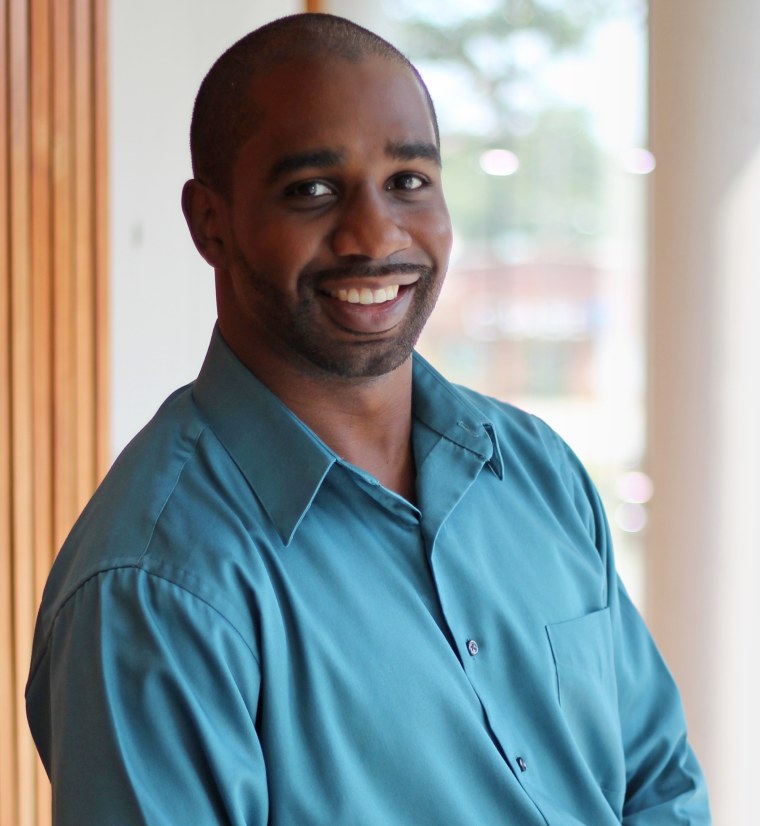 Hodge, who also served as chairman of a subcommittee for diversity and inclusion at Einstein — an assignment ordinarily reserved for faculty — also notes that minority faculty members must often endure a 'minority tax', which includes taking on additional administrative tasks.
"These responsibilities are often disproportionately borne by underrepresented minority faculty in an attempt to advance diversity and inclusion initiatives, but these activities redirect valuable time away from duties required for academic promotion such as research and grant writing. Unfortunately these additional tasks are often not considered within the metrics for career advancement," Hodge said.
Why is the involvement of black men so important?
Black patients are more likely to feel comfortable with black doctors and more likely to adhere to certain preventive measures delivered by black doctors, research shows. And black doctors are more likely to practice in underserved communities.
This is especially important given that black men have the lowest life expectancy of any ethnic group in the United States because of higher rates of incarceration, lower socioeconomic status, and greater barriers to health care, resulting in higher rates of chronic disease.
"More black physicians in the system establishes trust in the system," said Dr. Alvin Poussaint, professor of psychiatry and dean of students at Harvard Medical School. An entirely white staff "discourages black people from using those facilities," he said.
Hodge believes that reshaping academic medicine to make diversity and inclusion an integral part of the institutional fabric is essential to addressing this issue.
"Identifying high-achieving black men is critical," he said. "This is easier when there is increased minority representation on admissions committees, in administrative leadership and in teaching positions."
FOLLOW NBC HEALTH ON TWITTER & FACEBOOK