New Orleans is on track to become a coronavirus epicenter.
The city's rich cultural history that prizes large social gatherings, combined with its higher than average rates of obesity and chronic disease, put its population at particular risk.
Full coverage of the coronavirus outbreak
Thursday afternoon, the Louisiana Department of Health reported more than 2,300 cases of COVID-19, the illness caused by the coronavirus. Statewide, 83 people have died, putting Louisiana's death toll among the highest in the country.
While anyone is susceptible to contracting the virus, doctors in New Orleans have noted certain populations appear to be more likely to suffer the most dire complications: those with obesity, high blood pressure and type 2 diabetes.
Louisiana consistently ranks near the bottom on state-by-state studies of those chronic diseases.
"Unfortunately, we're a very unhealthy population," Dr. James Diaz, professor of public health and preventive medicine at Louisiana State University Health Sciences Center, said.
Diaz, born and raised in New Orleans with deep Louisiana family roots and the accent to prove it, told NBC News his home state is particularly susceptible to chronic illness.
February's monthlong Carnival celebration likely brought the coronavirus to the region, but it's also likely no one will ever know exactly how the virus was introduced.
More than 1 million people converged in southern Louisiana for the culmination of Carnival, Mardi Gras, the ultimate annual display of celebration, lack of inhibition, and lots of close contact. It's the antithesis of the nation's new catchphrase: social distancing.
The result is eerily reminiscent of what happened during the 1918 influenza pandemic. Cases and fatalities rose dramatically in Philadelphia after local officials ignored warnings of a brewing outbreak, and allowed a citywide parade to go on as planned.
By the time the city changed course and started limiting large crowds, it was too late. The virus had spread unchecked through the city, and its hospitals were inundated with nearly 50,000 cases.
There is one major difference between 1918 Philadelphia and 2020 New Orleans. This year, there was no indication coronavirus was spreading in New Orleans during Carnival. The first case in Louisiana wasn't reported publicly until March 9 — 13 days after Mardi Gras.
During the monthlong celebration, no one in Louisiana was aware the virus was probably spreading quiety, other than a few people whose radars were tuned to viral diseases.
Download the NBC News app for full coverage of the coronavirus outbreak
Joel Baines, a virologist and professor of pathobiological sciences at LSU School of Veterinary Medicine, recalls attending a Mardi Gras party and being the only one there who seemed apprehensive about the large social gathering.
He said testing is critical to finding asymptomatic spreaders: those who have been infected, and are unknowingly transmitting the virus to others, despite being perfectly healthy.
"They're really the danger for the rest of the population," Baines said. "It's not their fault, but they're shedding virus to people who are more vulnerable."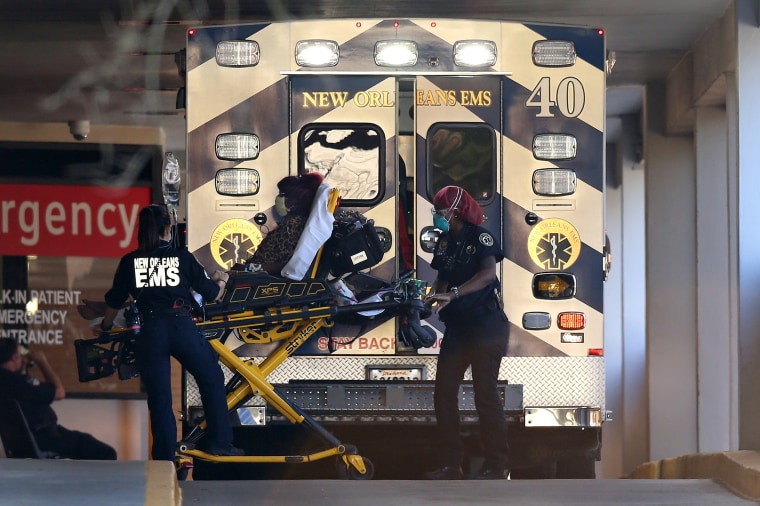 New Orleans Mayor LaToya Cantrell agreed testing is necessary to stop the spread of the coronavirus.
"The more we're testing, the more we're able to see how things are trending in our city, and where that curve is so we can focus heavily on flattening that curve," she said.
For now, Cantrell suggests assuming "everyone has coronavirus" and to stay away from others as much as possible.
Meanwhile, local hospitals are steadily being inundated with severe COVID-19 cases.
Dr. Joshua Denson, a critical care pulmonologist at Tulane Medical Center in New Orleans, estimated he has double the number of patients on ventilators than usual.
"The real issue is getting people off" the ventilators, he said. He estimates half of the COVID-19 patients who require mechanical breathing end up dying.
"New Orleans needs help," Denson said, "or the next week may be disastrous."
Erika Edwards
Erika Edwards is a health and medical news writer and reporter for NBC News and "TODAY."
Blayne Alexander contributed.