This year's flu season is on track to be as bad as the 2009 H1N1 swine flu pandemic, federal health officials said Friday.
Influenza is still at elevated levels across the entire country, with just three states — Montana, Maine and Florida — reporting minimal flu activity.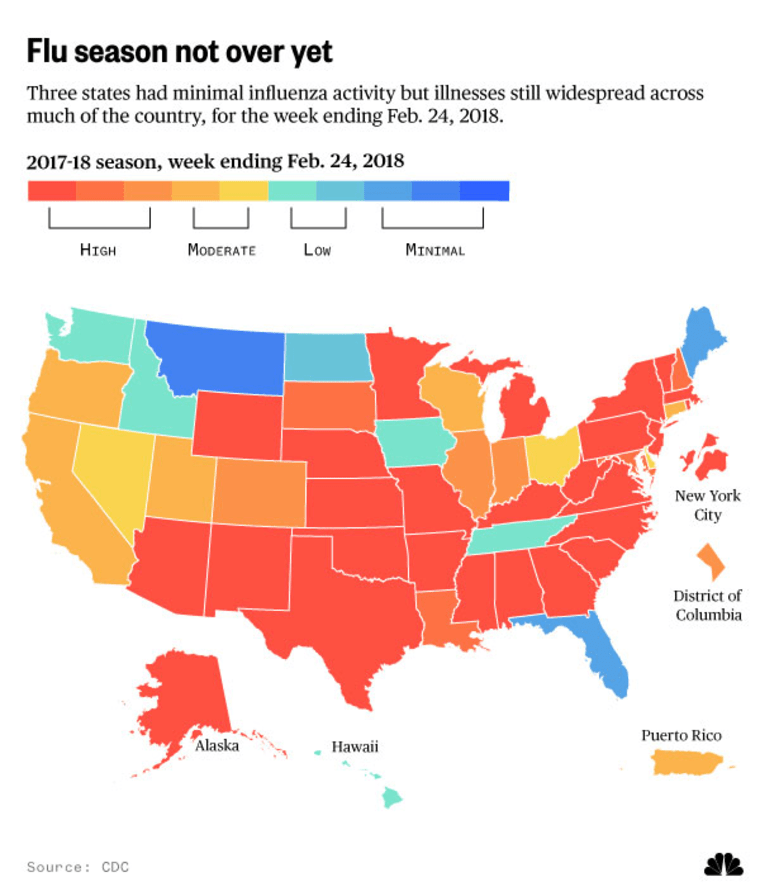 And reports have come in on 17 more children who have died from flu, making a total of 114 pediatric deaths so far this season.
"This has been a really difficult season and it's not over yet," Centers for Disease Control and Prevention director Dr. Anne Schuchat said.
"I think the end of this season will end up being a bigger toll of disease than during that 2009 pandemic."
2009 was the year of the H1N1 swine flu pandemic. That year was especially bad for children and young adults and this year, as in most flu seasons, the elderly are suffering the most.
The H1N1 flu virus killed 282 U.S. children in 2009-2010 and influenza killed 148 children in 2014-2015.
"This year we have quite a lot of disease in the elderly and middle-aged adults," Schuchat said.
It takes a few weeks for all the data to come in on flu deaths and hospitalizations, but the last year that looked even close to being this bad was 2014-2015, the CDC says.
It's still not entirely clear why this season has been such a bad one in the U.S., Schuchat said. The H3N2 virus had predominated, and when that happens, there is usually a worse than usual epidemic, she said.
"It's just one of those continuing questions with influenza," Schuchat said.
"Every year is different." Factors such as humidity and travel patterns can affect the spread of influenza, and it's not fully understood.
Earlier this week, the National Institute of Allergy and Infectious Diseases released a strategic plan for developing a better flu vaccine that points out that scientists still really don't know a lot about how influenza spreads.
"Our understanding of transmission of both seasonal and pandemic influenza is inadequate," it says.
There's growing evidence that age matters a lot. The first flu virus that someone is exposed to whether through infection of vaccination, may shape their immune system response to future infections.
"The vaccine worked pretty well in children so there are probably other factors at play. Some people wonder whether prior immune experience plays a role," Schuchat said.
Having a less-than-optimal flu vaccine doesn't help. This season's vaccine has only provided about 36 percent protection against flu. However, since fewer than half of Americans usually get a flu vaccine, it's difficult to blame a bad flu year on a mediocre vaccine.
"We do know that the vaccine is worth getting," Schuchat said. "Any protection is better than none."
And federal officials are looking for more details on whether one vaccine type is better than another, but Schuchat said there is not enough information yet to make recommendations.
People are getting sick with various strains of flu. This week's CDC flu report shows that about half of people tested for influenza had an influenza B strain.
Schuchat said there's been greater demand for antiviral drugs to treat flu this year. Three drugs on the market — oseltamivir, zanamivir and peramivir — can reduce the severity and length of illness if people get them fast enough.