For the few dozen patients around the world who have received full or partial face transplants, blending in may be on the horizon.
That's according to a report published Wednesday in the New England Journal of Medicine.
The report describes six face transplant recipients, noting how much the patients' faces can move and feel five years, on average, after the transplant.
"Finally, nobody is paying attention to them," said the report's senior author, Dr. Bohdan Pomahac, director of plastic surgery transplantation at Brigham and Women's Hospital in Boston. An expert in the field, Pomahac has performed eight face transplants at the hospital.
Take Carmen Tarleton, who will celebrate her 51st birthday this Friday by hanging out at the house of her boyfriend, Jeff.
They like to cook together, though Tarleton admits that Jeff prepares more of the meals than she does. "He's cooked me salmon!" she recalled, giggling easily because it's still a budding romance. They've been dating for only about a month and a half.
It's little anecdotes like this that makes a person forget that Tarleton is famous for being one of a handful of people who have received face transplants in this country.
And that's kind of the point.
"The only reason my face transplant is the focus of people getting to know me is because it's right there on my face," Tarleton told NBC News. "But when I get to know people, we don't talk about it anymore."
In 2007, Tarleton's estranged husband attacked her, dousing her with industrial-strength lye. She suffered burns over more than 80 percent of her body and endured more than 50 surgeries. And she made national news in 2013 when she received a face transplant at Brigham and Women's Hospital — just the sixth person in the U.S. to undergo such an operation.
But over time, she's less "Carmen, the woman who somehow lived through a horrific tragedy and had a face transplant," Tarleton said, and more simply … "Carmen."
Indeed, that seems to be the growing trend among other some of the other face transplant recipients.
"Patients have a little over 60 percent of normal facial movement. So it's not perfect, but it's in line with what you'd expect after severing a nerve," Pomahac told NBC News.
It's not perfect, but it means many of the patients can now eat normally and speak clearly.
"We have seen better social reintegration," Pomahac said. One patient went to get married, while another was able to enjoy a child's college graduation simply by remaining anonymous in the crowd.
"That anonymity is something that no one with facial deformity experiences," Pomahac said. "Your eyes get glued to a face that doesn't look normal."
Pomahac said overall facial function is unlikely to improve much beyond that 60 percent mark. But other doctors involved in these cases are now studying whether physical therapy could make a bigger difference.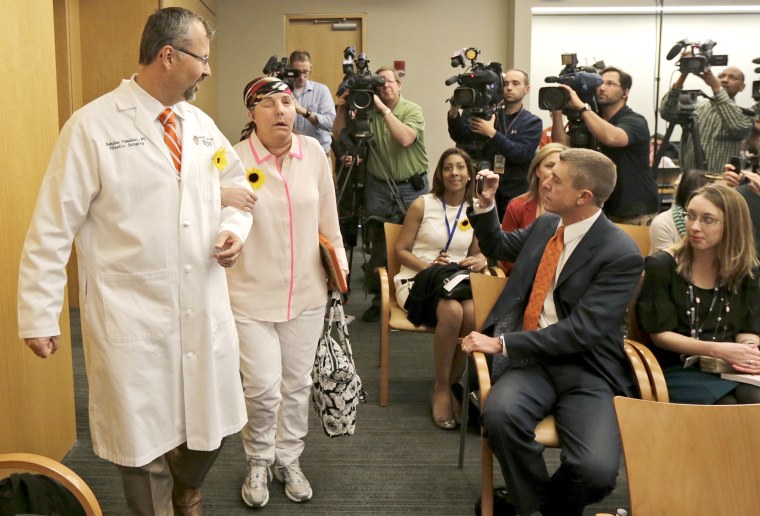 The ability to feel sensations like touch, heat and cold on the face has diminished in some patients, but improved greatly in others.
"I remember the day I could feel my boyfriend, his hairy chest on my face. I could feel kisses," Tarleton said of a former boyfriend. "Now it's second nature to me."
One of the biggest positive changes in many of the face transplant patients, Pomahac said, is the ability to express emotion through facial expressions.
Tarleton said she used to become frustrated because people couldn't tell whether she was laughing or crying. "I'd have to tell people: 'I am crying.' It made being upset or sad even harder because people couldn't just look at you and see tears running down your cheeks."
Tarleton said it's becoming easier for people to follow along with what she's saying and how she's feeling.
But patients have had some physical setbacks, including when their bodies start to reject their new faces. That required even more medication to suppress their immune systems, which put them at risk for kidney failure. Some have developed bacterial infections. Tarleton got an infection in one eye and lost her vision.
She's now regained a small portion of her eyesight, but is extremely sensitive to light.
Tarleton has no problem talking about the attack that lead to her transplant, often speaking publicly about the experience. But there's much more to her now.
Having a face transplant is "a big part of my story, a big part of my purpose in the world," Tarleton said. "But I can also enjoy my long-term friends, my family. We just get together and do what everybody else does."