An executive order pausing immigration and other travel by people from seven mostly Muslim countries is scaring away scientists, doctors and would-be entrepreneurs, biotechnology executives said Tuesday.
The letter from 165 chief executives and other top leaders at biopharma companies joins an unusual onslaught from the medical and scientific community appalled at actions being taken by the new administration of President Donald Trump.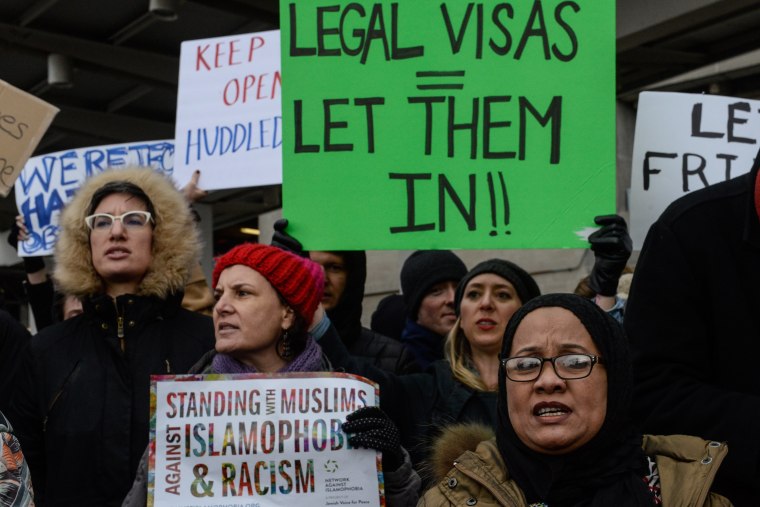 The ban — currently suspended by federal court order — stopped refugees and other legal migrants from Iraq, Syria, Sudan and other countries deemed at high risk of terrorist activity.
"Though the ban from the Trump administration is aimed at seven countries, our global employees interpret the underlying message as, 'America is no longer welcoming of any immigrants, whatsoever,'" the executives wrote in their letter, which was published in Nature Biotechnology.
"They fear similar orders could be issued for other countries at a moment's notice. They fear being stigmatized and discriminated against, simply because of their religion, irrespective of the nation they come from."
Related: Scientists Are Mad About Trump's Policies
In one high-profile case, Dr. Suha Abushamma, a Sudanese citizen who is a resident at the Cleveland Clinic, was stopped from coming back to the United States but then rushed onto a flight and into the country Monday when a federal judge in Washington state stayed the executive order.
"Our residency program alone has people from all over," said Eileen Sheil, a spokeswoman for the clinic.
"We want all of them," she said. "We want the best and the brightest, no matter where they are from."
"They fear being stigmatized and discriminated against, simply because of their religion, irrespective of the nation they come from."
But the order and the publicity around it make people doubt that they truly are welcome in America, the biotech executives said.
Staff are canceling vacation plans, they said, and some may seek to move away permanently if they cannot feel free to travel.
"Several among us have heard from employees about their deportation fears, how they do not feel comfortable leaving the country on business or how they now feel cut off from their family abroad," they wrote.
Related: Respect Science, Scientists Urge Trump
They are not questioning the right of the United States to secure its borders, the letter reads.
"The actions taken by the Trump administration, however, were poorly conceived and implemented; they have raised deep fears and concerns across the biotech industry, in which diversity and the free flow of ideas and people have created an American powerhouse of medicine," they said.
"The actions taken by the Trump administration, however, were poorly conceived and implemented."
The biotech industry depends heavily on foreign-born workers and investors, they said, citing a 2014 study that found that more than half of the 69,000 biomedical researchers in the United States were born in other countries.
In the end, it could cost jobs, they said, describing "an industry dominated by smaller companies and startups, the very kind of industry the administration has said it wants to support."
Signers include John Maraganore, chief executive of Massachusetts-based Alnylam Pharmaceuticals, which focuses on making treatments for rare diseases such as hemophilia; Kleanthis Xanthopoulo of California-based Cerus, which is working on technologies to get viruses, bacteria and parasites out of blood transfusions; and executives at Delaware-based Incyte, which makes Jakafi, which has been approved to treat myelofibrosis — an unusual type of chronic leukemia.
"At a stroke, the new administration has compromised years of investment in this national treasure," they wrote. "Scientists based in other countries and employed by our companies are afraid to come to the United States or are canceling trips."
Related: Big Tech Companies File Amicus Brief in Immigration Ban Case
Separately, Rush Holt, a physicist, former member of Congress and chief executive of the American Association for the Advancement of Science, accused Congress and the Trump administration of seeking to gag climate scientists.
"Scientists — whether in industry, academia or the government — must have confidence that they can conduct their work in an atmosphere free of intimidation or undue influence," Holt said in testimony Tuesday before the House Science, Space and Technology Committee.
"We urge caution in setting laws that would make science a combat zone," Holt told his former colleagues.
"Policy-makers should never dictate the conclusions of a scientific study, and they should base policy on a review of relevant research and the provisions of relevant statutes. In other words, the integrity of the process must be upheld," he said
The title of the committee hearing: "Making the EPA Great Again."