Tom Brady's father may have been right all along.
The New England quarterback, who'll play in a record sixth Super Bowl start Sunday, was barred from football until high school by a dad who feared the game's violence might cause serious, orthopedic injuries.
A new study suggests there might have been another benefit to his starting tackle football at a later age: it possibly protected the younger Brady's brain.
Former NFL players who played tackle football before age 12 showed greater declines in their memories and cognitive functions when compared to peers who entered the game in their teens, Boston University researchers reported Wednesday.
"It makes common sense that children, at a time of important brain development, should not be exposed to hundreds of hits to their heads," said Robert Stern, the study's senior investigator and a professor of neurology, neurosurgery, anatomy and neurobiology at the BU School of Medicine.
The study was published in Neurology.
Stern and colleagues examined 42 former NFL players who were part of a larger study, dubbed DETECT, designed to find ways to diagnose in living patients chronic traumatic encephalopathy (CTE), a degenerative brain disease that has been linked to repeated jolts to the head. To be eligible for DETECT, participants had to have already started to experience problems with thinking, memory, or both.
The researchers divided the DETECT participants into two age-matched groups: those who played tackle football before age 12 and those who began playing later.
The scientists evaluated those 42 retired players with a battery of neuropsychological tests, such as recalling words that had been learned 15 minutes earlier.
Ultimately, ex-pros who started playing football before age 12 performed about 20 percent worse on some tests, displaying poorer memories and less mental flexibility than peers who joined tackle football teams in their teens.
"And that is above and beyond the effect of the total number of years played — a statistic we controlled for," said Stern, who also serves as director of the Clinical Core of the Alzheimer's Disease and CTE Center at BU.
The research team had a clear reason for choosing the age 12 cut-off: In a child, that's when "there is a huge amount of rapid brain growth and development of different areas of the brain," Stern said.
It's also the age when the protective coating for nerve fibers, also known as axons, begins developing, Stern said.
Still, the BU researcher isn't ready to say this lone study proves participating in tackle football before age 12 is especially damaging to young brains.
"I'm afraid of a knee-jerk response to this study, which has its limitations," Stern said. "I would hate for there to be policy or rule changes or personal decision making based on this one study. This study is just the beginning and more research is needed."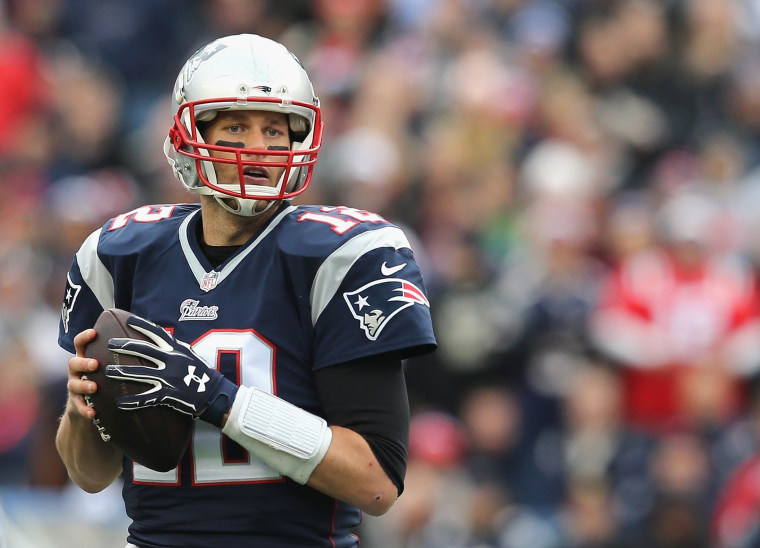 For Dr. Robert Cantu, the study provides more evidence to bolster a recommendation he made three years ago: Children should not play contact sports until age 14.
"The bottom line is that the findings are not a surprise because there have been studies in boxers and those who participate in mixed martial arts, showing that those who started under age 15 had more brain atrophy," said Cantu, medical director of the Sports Legacy Institute near Boston, and author of "Concussions and Our Kids: America's Leading Expert on How to Protect Young Athletes and Keep Sports Safe."
In his book, Cantu discusses why Tom Brady's dad opted not to let his son play football before high school.
"It would have been wonderful if he had said he was worried about concussions," Cantu told NBC News. "But nobody was [worried about concussions] at that time."
Regardless, the quarterback serves as a prime example of how players can excel even if they get a later start at football, said Cantu, who is also a clinical professor of neurology and neurosurgery at the BU School of Medicine. He is unaffiliated with the study.
"Ultimately, if you damage your knee and the injury is permanent, it's a bummer. But if you damage your brain, that affects who you are."
But one doctor who is deeply affiliated with youth football sees no value in putting off tackle football until the teen years.
"The study has a very small sample size, which means you have to be very cautious in drawing conclusions," said Dr. Julian Bailes, the medical director for Pop Warner Football, which accepts children as small as 5 years old or 35 pounds.
Beyond that, Bailes said, the BU researchers had no information on the number of hits that any of the participating players received during their years in the game.
Bailes fears "unintended consequences" if sports organizations like Pop Warner were to set an age limit for tackle football.
"I worry that if we said kids could only play flag football, it would drive parents, coaches and kids to join rogue leagues," said Bailes, who also serves as a clinical professor of neurosurgery at the University of Chicago Pritzker School of Medicine.
And "rogue" leagues might have fewer rules protecting the brains of youngsters, Bailes said. "We outlawed head contact in practices three years ago and head-to-head hits in games as well."
But even without the latest study of ex-NFL players, there's plenty of science suggesting younger kids' brains are more vulnerable to damage, said Dr. Douglas Smith, a professor of neurosurgery and director of the Center for Brain Injury and Repair at the University of Pennsylvania Medical Center.
In childhood, "the brain is undergoing remodeling, connecting one region to another," Smith said. "There is great concern that exposing the brain, over and over, to brutal hits is not a good thing and one of the worst times to expose a kid's brain to a concussion is when it is under construction.
"Ultimately, if you damage your knee and the injury is permanent, it's a bummer," Smith said. "But if you damage your brain, that affects who you are."