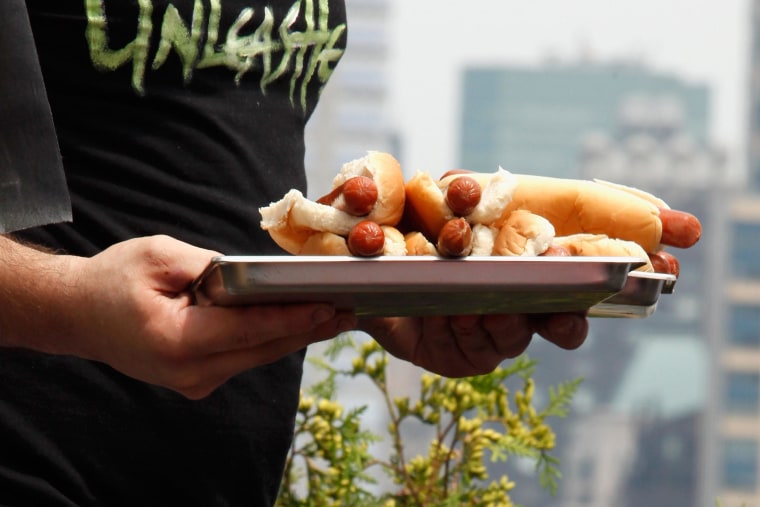 Just in time for those Father's Day cookouts, researchers have released a study linking serious disease risk with processed meats.
This study, done in Sweden, shows that mean who ate the most processed red meat had a 28 percent higher risk of heart failure and twice the risk of dying over a 12-year period compared to men who ate the least. The highest intake in this case was equivalent to a 75-gram jumbo frank.
The findings, published in the American Heart Association journal Circulation: Heart Failure, add to a body of studies that implicate both processed meat and red meat with a higher risk of heart disease and cancer — the top two killers of people in most developed countries. Earlier this week, researchers found more evidence linking red meat and breast cancer.
Sign up for top Health news delivered direct to your inbox.
Dr. Alicja Wolk of the Karolinska Institutet in Stockholm, Sweden, and colleagues studied 37,035 men 45-79 years old who had no history of heart disease or cancer at the start.
The men filled out a questionnaire on what they ate and how often. For the Swedish study, processed meats included sausages, cold cuts and liver pate — foods that, like U.S. favorites such as hot dogs and bacon, can be high in sodium, nitrates, phosphates and other food additives.
When these foods are grilled they can also contain polycyclic aromatic hydrocarbons, which can damage DNA and cause both heart disease and cancer.
For each 50 grams of this meat the men ate daily, the incidence of heart failure rose by 8 percent. Unprocessed red meat, such as steaks and burgers, did not raise this risk.
The American Heart Association and the American Cancer Society both recommend limiting red meat. The U.S. government says people should eat a plant-based diet, keeping meat portions small.