In the first part of an NBC News investigation into the Recovery blood-clot filter, we revealed that the device, which is implanted in thousands of people, was associated with 27 deaths and hundreds of other non-fatal problems after it received FDA clearance. In the second part of the report, a former insider at medical giant C.R. Bard raises questions about how the device got that clearance.
In 2002, medical giant C.R. Bard recruited Kay Fuller, a veteran regulatory specialist, to help secure FDA clearance for its Recovery blood clot filter, after the agency had turned down a previous application.
The Recovery, a one-and-a-half-inch metal trap, was designed to sit inside a major vein, the vena cava, and block blood clots from traveling to the heart or lungs, where they could be deadly.
In an exclusive interview with NBC News, Fuller said that she had serious concerns about the Recovery. A small human clinical trial raised red flags, and the company did not give her important safety performance test results, she said.
But when she voiced her concerns, she said, Bard officials didn't seem to want to hear them.
"It was basically, you know, if you continue to pursue these questions, that I was going to be asked not to be on the team," Fuller said. "And I was shocked."
Fuller says she told her boss she would not sign the application until the issues were resolved. Bard submitted its application to the FDA with what appears to be Fuller's signature on it.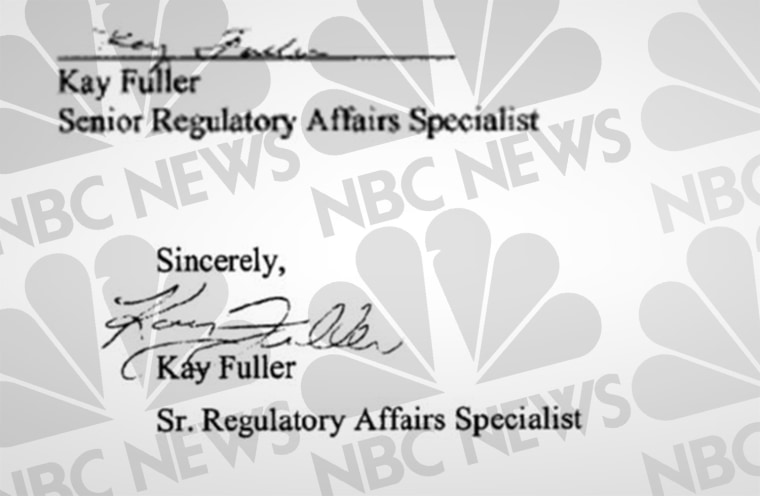 "That's not my signature," Fuller told NBC News when shown a copy of the paperwork. A sample of her signature from that time is markedly different from the one on the application.
Was her signature forged?
"I will tell you I did not sign it," Fuller said, adding that her name was signed on the application without her knowledge.
Fuller said she resigned from Bard, but not before reporting her safety concerns to the FDA. "I never knew what they did after that," she said.
The FDA won't say if it acted on Fuller's tip and denied requests for an interview. In a statement, it said it "takes very seriously" any complaints about "forgeries and device issues."
Bard executives also declined to be interviewed but said any suggestion the New Jersey-based company submitted forged documents to the FDA is "flatly untrue."
About a quarter of a million blood clot filters are implanted in patients like Gloria Adams and Dodi Froehlich each year, most without incident. Eleven companies sell them in the U.S., but Bard's Recovery filter stood out early as a risky device.
After receiving FDA clearance, Bard sold about 34,000 patients Recovery filters. Records show that over the course of a decade, the filter was associated with 27 deaths and several hundred non-fatal problems.
Froehlich had a Recovery filter implanted after a life-threatening car accident in 2004. Four months later, she was nearly killed when a piece of her filter broke off and pierced her heart.
Adams, who got one of the Bard filters after a brain aneurysm, did die after a clot pushed the filter into her heart.
Fuller said she has a message for Adams' son, Kevin Keech.
"I'm so sorry," she said. "It failed catastrophically. His mother should never have died because of this product failing."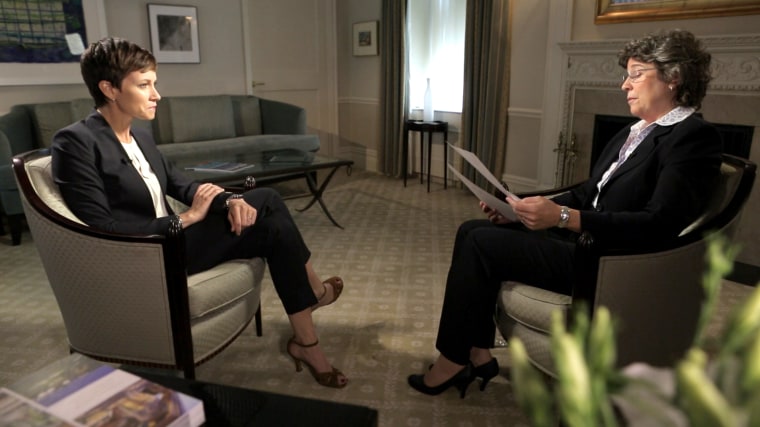 As reports of deaths and injury were growing, Bard decided not to recall the Recovery. It hired a public relations firm to develop a crisis management plan that warned "unfavorable press" could damage stock prices and ruin reputations.
Click here to read a redacted version of the crisis management plan
It also commissioned an outside doctor to conduct a confidential study, which was obtained by NBC News. The result: the filter had higher rates of relative risk for death, filter fracture and movement than all its competitors. The doctor concluded: "Further investigation...is urgently warranted."
Bard sold the Recovery until 2005 and then replaced it with a modified version with a new name. As of 2006, Bard's own confidential records estimated there were more than 20,000 people still walking around with them.
If you believe you have a filter implanted, health officials say you should check with your doctor to determine what brand of filter you have and whether it should be removed.