While many forms of e-cigarette advertising increase the odds that teens will try the devices, a new U.S. study suggests that this generation of digital natives is most enticed by promotions they see online.
Big U.S. tobacco companies are all developing e-cigarettes. The battery-powered gadgets feature a glowing tip and a heating element that turns liquid nicotine and other flavorings into a cloud of vapor that users inhale.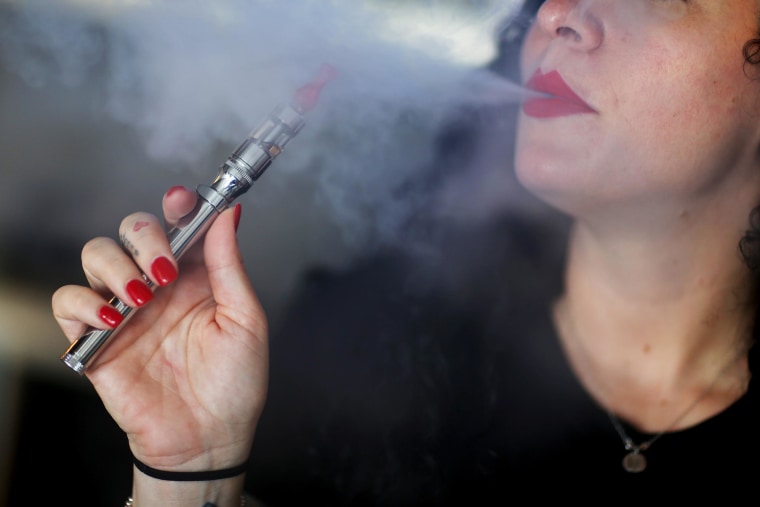 To see which e-cigarette ad formats were most persuasive to teens, researchers analyzed data from a recent nationwide survey of about 22,000 middle school and high school students from grades 6 through 12, when youth are typically about 12 to 18 years old.
When middle school kids said they routinely viewed e-cigarette ads online, they were almost three times more likely to use the devices than their peers who never saw ads. High schoolers who frequently watched online ads were about two times more likely to use e-cigarettes, they reported in the journal Pediatrics.
"E-cigarette ads use many of the same themes used to sell cigarettes and other conventional tobacco products, such as independence, rebellion and sex," said lead study author Dr. Tushar Singh of the Office on Smoking and Health at the U.S. Centers for Disease Control and Prevention in Atlanta.
"The situation is compounded by the fact that e-cigarette online vendors are using social network services to market their products – and many online vendor websites are very easy for youth to enter and make purchases," Singh added by email.
Related: E-Cigarettes Deliver Harmful Chemicals
Three million middle and high school students said they were current users of e-cigarettes in a CDC survey last year, up from about 2.5 million in 2014, according to a report released this month.
Adolescents who try e-cigarettes may be more than twice as likely to move on to smoking conventional cigarettes than teens who have never tried the devices, previous research has found.
For the current study, Singh and colleagues analyzed data from the 2014 National Youth Tobacco Survey, which asked teens about how often they used different types of tobacco products as well as how frequently they encountered ads for these items.
Compared with youth who never viewed ads, middle school students who said they saw newspaper ads for e-cigarettes "most of the time" or "always" were 87 percent more likely to use e-cigarettes. High school students that routinely saw newspaper ads were 71 percent more likely to use the devices.
Always seeing e-cigarette promotions on television shows and movies was associated with 80 percent greater odds that middle school students used e-cigarettes and 54 percent higher likelihood for high school students, when compared with teens who never saw these ads.
Related: What's So Bad About E-Cigarettes?
Advertisements in retail settings were more effective than print or movie promotions.
The findings from this e-cigarette study mirror previous research showing how ads for traditional cigarettes encourage smoking, said William Shadel, a senior behavioral scientist at RAND in Pittsburgh, who wasn't involved in the study.
"Advertising is thought to make product use seem more normative and acceptable, and to convey the impression that positive outcomes like having fun or feeling attractive will result from use," Shadel said by email.