When Mark and Amy Hefestay rescued Misty two years ago, they immediately fell in love.
Misty, a Great Pyrenees mix, was special not only for her sloppy kisses but also because she was born with a heart defect.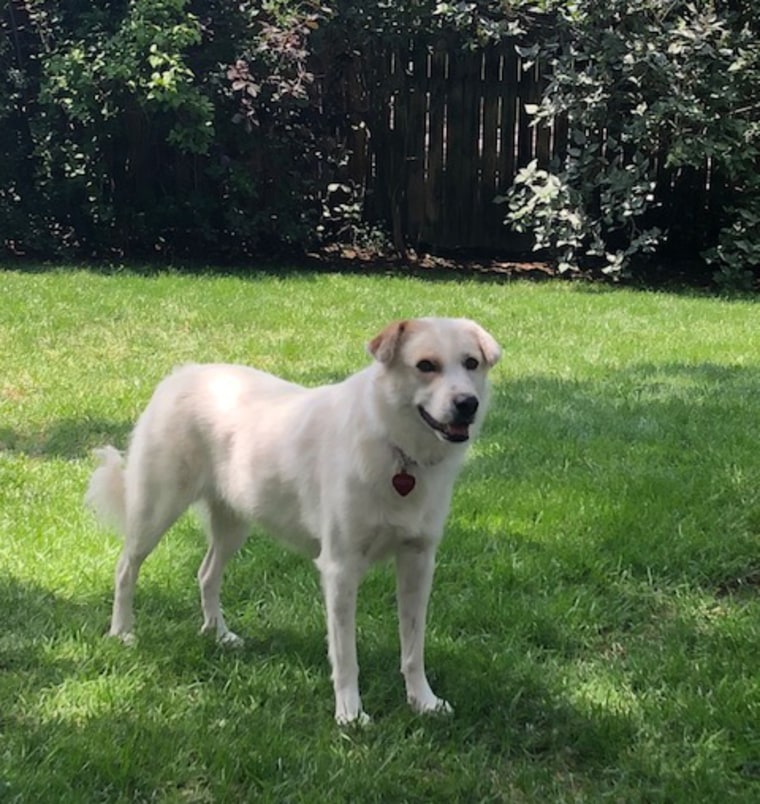 "For a really long time, she seemed like she was doing really well," Amy said in a recent interview with NBC at her home in the Denver suburb of Centennial, Colorado, where she and Mark live with five other rescue dogs and a big yard. "She'd be out of breath once in a while, but that was about the only thing you could tell was wrong with her."
A few months ago, Misty, 3, collapsed.
"The vet came in and said that she might die," Mark said. "Nobody is ever prepared for that."
Canine heart disease is surprisingly common, affecting about 8 million dogs in the U.S., or 10 percent of the population, experts say. Yet many dog owners may not be aware that their companions could be at risk for heart failure.
And the number continues to grow as dogs get older, with up to 75 percent of senior dogs, over 8 years old, experiencing some form of heart disease in their lifetime.
But Misty was lucky. Her life was saved by cutting-edge technology used in human procedures that veterinarians are just starting to borrow to save canine lives.
Misty was rushed to the Veterinary Teaching Hospital at Colorado State University and underwent minimally invasive surgery to repair a hole in her heart. The procedure is similar to human heart valve replacement surgeries performed in some of the country's top hospitals. Colorado State's vet hospital is the one of the few surgical centers in the world that performs this type of surgery.
"These procedures are done exactly as they are on a human. The anatomy is just a little bit different," said Dr. Brian Scansen, assistant professor of cardiology and interventional medicine at the Veterinary Teaching Hospital. "We're able to give them treatment that either cures or dramatically improves their heart condition. And that means they have more energy, they have more time with their family."
Heart disease is almost as common in dogs as it is in humans, but smoking and a fatty diet are not risk factors for dogs, as they are for people. Many dogs, like Misty, are born with heart defects that worsen over time.
Valvular disease, which primarily affects small-breed dogs over 5 years old, makes up 70 to 75 percent of cases, experts say. Heartworm disease and diseases that affect the heart muscle, such as dilated cardiomyopathy, make up the rest and primarily affect large-breed dogs of all ages.
Signs of heart disease depend on the type of disease and severity. Early on, there may be mild symptoms such as cough, or none at all. If the disease progresses and the heart is unable to meet the body's demands, more obvious symptoms such as fatigue, weight loss, difficulty breathing, loss of appetite or excessive panting may present.
"At 8, 9, 10 years of age, dogs get degenerative diseases of their heart valves, they get heart muscle disease, all things that we have to deal with," Scansen said.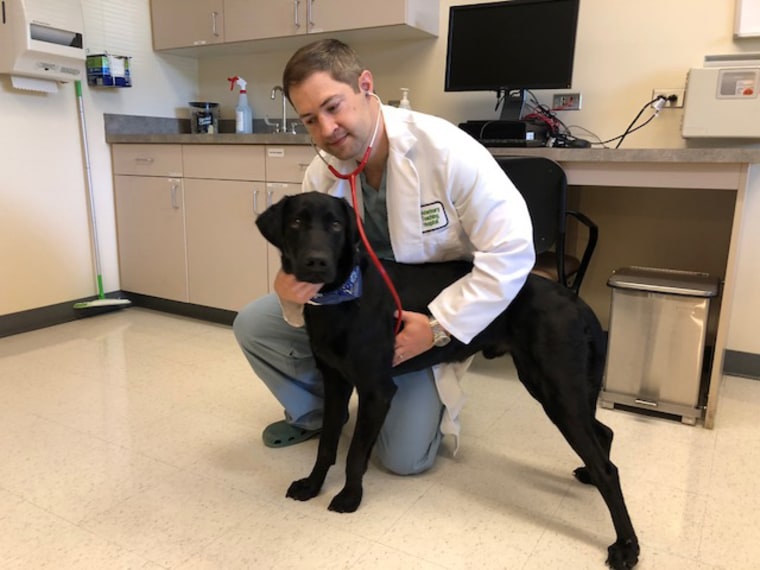 Cole, an 18-month-old black Lab, is the Colorado hospital's greatest achievement so far — Scansen said he is the only dog in the world to have two heart valves replaced, a procedure so risky that it could not have been done with traditional surgery.
Now Cole takes the same medications as human heart patients and so far, he's back to being a playful puppy.
Likewise, Misty's recovery was almost instantaneous.
"She was jumping on us and it was wonderful," Amy said. "She's the Misty she was always meant to be."