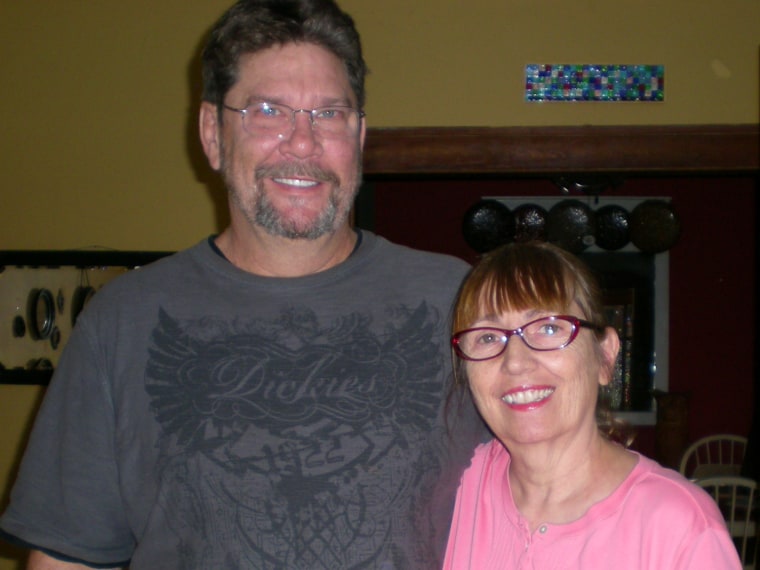 It took two months, weekly visits to the jammed-up federal website and a half-dozen phone calls, but JoAnn Smith finally got health insurance Monday. It'll only cost her $3.19 a month to cover herself and her husband.

"I just instantly burst into tears," she says.
Smith started working on getting insurance even before the federal website, HealthCare.gov, opened Oct. 1, pre-registering to get a headstart on the process. But, like millions of other Americans who tried, she was stymied by the website's glitches.
She told NBC News her story last week, and as of Friday, a week after the federal website was supposed to have been much improved, Smith still could not get all the way through the process.
Smith, a 60-year-old medical transcriptionist in Clearwater, Fla., must use the federal website to buy health insurance because Florida opted not to run its own. She's been without health insurance for years and had been looking forward to getting subsidized coverage for herself and her husband Eric, 56, who's unemployed.

The 2010 Affordable Care Act aims to get health insurance to the 16 percent of Americans who don't have any by helping some buy health insurance on new websites, and by widening Medicaid benefits to others. People have until Dec. 23 to sign up for health insurance that starts on the first possible day, Jan. 1. They have until March 31 to sign up and avoid paying a tax.
Smith's employer doesn't provide health insurance. "They took a vote at the company and people wanted more money in their pockets," she says. And business has been thin. "I have had four paycuts in one year," says Smith, who estimates she will earn $23,000 this year for her 40-hour a week job.
This makes her eligible for a hefty federal subsidy.
It wasn't easy to arrange. Smith says she called the federal call center several times over the weekend, trying to get signed up. "Every day last week I called them," she says. "Yesterday morning I called early and there was like a 20-minute wait."
So she waited until Monday morning.
"This morning the most loveliest of helpers answered the phone," Smith told NBC News later Monday. "She said there was a mistake on original application, in that it said I was eligible for workplace insurance. She re-did the whole thing in record time and I don't have to copy my paystubs and get a letter from work."
Smith chose a silver-level plan from Humana, and said it was "totally mind-blowing" to see the $3.19 monthly premium, after a federal subsidy. "So we were just about good to go and the system went down again," she says.
She called back an hour or so later, and her application took just seconds to complete. All she has to do now is confirm her payment and eligibility with Humana, her new insurance provider.
"I am kind of afraid to call them because I feel like it's a trick," Smith confesses. "I am afraid I will call and they will say 'JoAnn who?'"
Federal health officials say they'll report sometime in mid-December on how many people were able to sign up for health insurance in November. One source has estimated it was only about 100,000. 
Smith isn't the only one struggling to get signed up. On Tuesday morning, Alaska Sen. Lisa Murkowski said she got enrolled. "After 3 days, on and off, of browser glitches & frustration, I believe I'm enrolled in the DC healthcare exchange," Murkowski, a Republican, tweeted. 
· Follow NBCNewsHealth on Facebook and on Twitter 
· Follow Maggie Fox on Facebook and on Twitter
Related: