The latest look at autism in the U.S. shows a startling 30 percent jump among 8-year-olds diagnosed with the disorder in a two-year period, to one in every 68 children.
The Centers for Disease Control and Prevention, which did the survey, says the numbers almost certainly reflect more awareness and diagnosis of kids who would have been missed in years past. The new estimate for 2010 was a jump from one in 88 children in 2008, the last year for which numbers had been available.
"The number of children diagnosed with autism continues to rise," the agency's Dr. Coleen Boyle told reporters.
But the CDC noted that the numbers vary greatly from state to state, and it did not use a nationally representative sample, but a look at groups of children in 11 states.
"The number of children identified with ASD (autism spectrum disorder) ranged from 1 in 175 children in Alabama to 1 in 45 children in New Jersey," CDC says in its report, based on a survey taken in 2010. The numbers from 2008 were first reported in 2012.
This would work out to about 1.2 million children under 18, Boyle says.
Dr. Max Wiznitzer, a child neurologist at Rainbow Babies & Children's Hospital in Cleveland, who was not involved in the study, said he believed the numbers, but thought they reflected a rise in diagnosis, not "the true prevalence of autism."
"I'm not convinced that the true numbers of autism are rising, rising, rising every time we survey them," Wiznitzer told NBC News in an interview.
"Over time, more children are being identified," agreed Dr. Lisa Shulman, a specialist in autism at the Albert Einstein College of Medicine at Yeshiva University in New York.
Boyle said the biggest rise in diagnoses is among children with normal intelligence. "It could be that doctors are getting better at identifying these children," she said.
Nonetheless, the findings show autism is far more common than people once believed and show it's important to get kids diagnosed and into therapy as early as possible.
Autism spectrum disorder can range from the relatively mild social awkwardness of Asperger's syndrome to profound mental retardation, debilitating repetitive behaviors and an inability to communicate. There's no cure, but experiments with early treatment suggest it might be possible to help children overcome some difficulties.
Genetics are a large factor. Autism runs strongly in families, but genes don't explain it all. Better diagnosis doesn't explain all of it, either, and many scientists are looking at what happens in pregnancy. Some studies suggest that infections such as influenza during pregnancy may play a role.
"In the past if a child was bright, able to do the material of a given grade, they would not be referred for evaluation. No one would have considered they were autistic until the past decade or so."
So why are the numbers rising so sharply? Shulman, Wiznitzer and others believe parents, teachers and doctors are more aware of autism and realize there's a benefit to getting kids diagnosed and into special programs.
"In the past we were giving a diagnosis of autism to families who had never heard that term. They didn't come seeking that diagnosis, certainly. Now the pendulum has swung – families either on their own or on the advice of others are seeking out diagnoses of autism and it may or may not be," Shulman said.
"We are seeing some groups that weren't having access to evaluation or…diagnosis (are now) more likely to get identified," Shulman added. These groups include Hispanics, African-Americans – and kids who may do well in school.
"Someone can be severely autistic and they can have any cognitive level," Shulman said. "In the past if a child was bright, able to do the material of a given grade, they would not be referred for evaluation. No one would have considered they were autistic until the past decade or so. You can be quite bright but have a significant social impairment."
Taken together with findings released Wednesday that show autism almost certainly starts in the womb, experts say the data demonstrate that you need to start trying to help kids as early as possible, even as babies, when their brains are still developing and might be able to rewire themselves around the damage.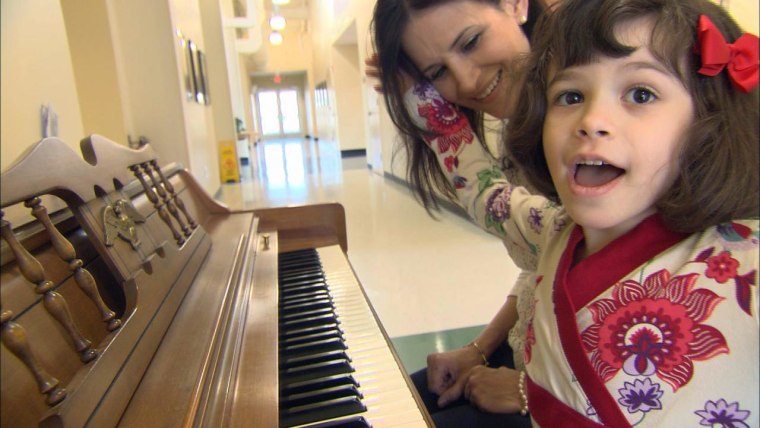 Ava Cristo was diagnosed when she was 18 months old. Her mom, Kim Cristo, believes early intervention has helped her.
"Other people said, 'Oh, I think she's fine. Oh, she'll get around to talking'," Cristo told NBC News. "But I knew something was wrong. There was no interaction whatsoever. And she had a few words at about a year. By the time she was 15 months, they were all gone."
Now 6, Ava's been at Reed Academy in Oakland, N.J. for three years. It's a school that specializes in kids with autism, tailoring education to each child.
"Ava when she entered Reed Academy was nonverbal," Kim Cristo said. "She really didn't pay much attention to the world around her…And within three months, Ava said 'Hi, Mommy,' to me. And I never heard her say 'Mommy' before."
"I never heard her say 'Mommy' before."
CDC said autism is almost five times more common among boys than girls. It's diagnosed in one in 42 boys versus one in 189 girls. The report also shows most children with ASD are diagnosed after age 4, although it can be diagnosed much earlier.
"The most important thing for parents to do is to act early when there is a concern about a child's development," said Dr. Marshalyn Yeargin-Allsopp, chief of CDC's Developmental Disabilities Branch. "If you have a concern about how your child plays, learns, speaks, acts, or moves, take action. Don't wait."
Shulman said it's not always easy. "We tell pediatricians that if you are waiting for a child to start flapping and spinning before you diagnose autism, you are going to miss all the infants and toddlers," she said.
Cristo believes early diagnosis helped Ava. It also helped that help was available – and help paying for it, also. "In the state of New Jersey we have an insurance mandate that covers autism," she said. The 2010 Affordable Care Act requires all insurers to pay for care.
"We have an entire generation of children with autism that are going to have to be taken care of," Cristo said.
NBC's Jane Derenowski, Erika Edwards and Kit Hunter contributed to this story.