Josh Hardy is very sick. At 7, he has survived kidney cancer, heart failure and a bone marrow transplant.
And that may not be his biggest fight.
Josh's family is pleading with the makers of an experimental drug to get him access. The company that makes it, Chimerix, has turned down Josh's request.
Despite this rejection, will he get the drug he needs? Maybe.
Josh was cancer free for two years but had to undergo more chemotherapy and a bone marrow transplant when his cancer returned this past January. Tests now show that he is infected with an adenovirus that often kills people who are immunosuppressed after bone marrow transplants. There is no known drug that can beat back this infection — but there is an experimental one called Brincidofovir that has shown some success against the virus.
Josh's mom, Aimee Hardy, has launched a social media campaign, #SaveJosh, to push the company to change its mind."This medicine is Josh's only hope, and he literally has days, and maybe even hours to live," his uncle William R. Burns wrote on the #SaveJoshHardy Facebook page. "The drug company claims not to be able to help. But this is not the case. There are humanitarian exceptions under which they could make the drug available to Josh's physicians at St. Jude's Hospital, who have also pleaded with the company to help. So far, the company has refused."
Josh is cute as can be. He owns a puppy. He is getting his care at a famous hospital, St. Jude's Children's, where the doctors know all about what is in the drug pipeline. His parents are young, vocal and good on television. Already many news outlets have reported on the case of this poor little boy and the nay-saying drug company.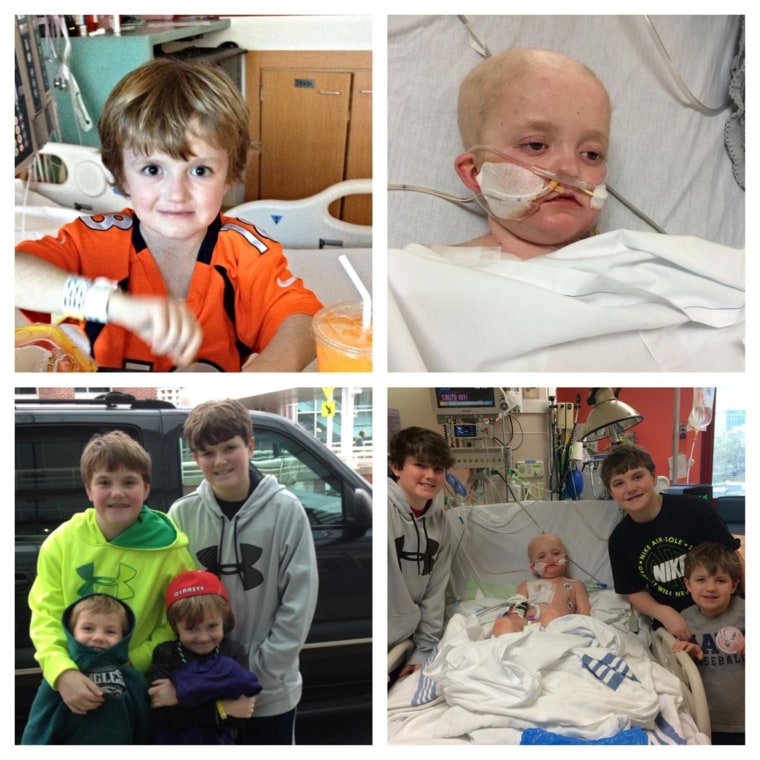 If Josh were 67 instead of 7, he would already be out of luck. Those who are not very cute get less attention in their pursuit of unproven drugs. If Josh had parents who did not understand how to use social media, he would already be out of luck. If Josh did not have sharp, well-connected doctors, he would already be out of luck. But he is not in any of these categories, so he may yet get the drug.
All of which is to say, this is no way to handle requests from desperate patients, parents or families to try to save themselves or their loved ones from imminent death by giving them access to unproven, experimental drugs. We need an equitable compassionate use policy for everyone in this country.
Why is Chimerix not giving the drug to Josh? They are a tiny company made up mainly of scientists, with all of their effort tied up in trying to clear their drug through the FDA approval process. They want to help a lot of Joshes down the road and make money doing so. They fear being overwhelmed by compassionate use requests and diverted from getting their drug approved, so they can treat many Joshes to come.
Chimerix says it has received hundreds of requests for the drug.
"There are no words to express our compassion for what this young boy and his family are going through. Making an experimental drug available outside of controlled clinical trials, however, has the potential to slow or derail the approval of that drug," the company said in a statement.
The FDA does not want to look mean so they say sure, give Josh the experimental drug. But there is a catch. If Josh dies, which he might since the drug may not work or because he is very sick, then that will be held against the drug and the company until they can show the drug did not kill him. You can be sure the risk of an adverse event has the management and board of this little startup company hesitating about compassion given the risk that Josh's death could sink them, whether the drug caused a death or not.
Where is the country's national compassionate use fund to pay for experimental drugs for all — rich and poor, cute and not, young and old, media-savvy and not? Josh and those like him don't need more than speeches, they need money. Where is compassionate use in the current debate about health reform? Nowhere.
So if you want to help Josh and others like him, don't just point a finger at a tiny biotech company. Let's see some action from the FDA and from Congress.
Josh needs a shot at his drug, but he also needs a nation that has a program with the financial and regulatory resources to systematically respond to those facing his horrible situation.