In the growing, online market for breast milk — sold by nursing moms to other parents to feed their babies — more than one in 10 tested samples contained cow's milk, researchers reported Monday.
The findings are hard proof, researchers said, of the profit motives compelling some women to peddle their breast milk on web exchanges where it's often called "liquid gold." What's worse: The contamination could harm babies with dairy intolerance, especially preemies, doctors say.
Nearly all of the adulterated samples carried enough bovine DNA to reveal they'd been mixed, before shipping, with at least 10 percent cow's milk. Some selling moms use that method to covertly amplify their supply, which typically fetches $1-$2 per ounce.
"The levels of cow's milk were high enough that we don't think it was just an accident," said Sarah Keim, a principal investigator in the Center for Biobehavioral Health at the Research Institute at Nationwide Children's Hospital. She wrote the report, published in the journal Pediatrics.
"When people are selling their milk online, they may have an incentive financially to top off their milk with cow's milk or baby formula to increase the volume and make more money," Keim told NBC News. "It really looks like evidence of deception."
Four of the 102 examined samples also contained cotinine, a chemical compound present in the breast milk of active smokers — and two of those four sellers promised on exchanges that they were non-smokers.
Previous tests conducted on the same 102 specimens found more than three-quarters had bacteria, including E.coli, staphylococcus, and streptococcus.
But, for now, it's the cow's milk that has doctors most concerned.
Depending on a newborn's chronological or gestational age, drinking donor milk tainted with cow's milk could cause the baby's body to react badly to "foreign antigens," said Dr. Lori Feldman-Winter, a pediatrician at Cooper University Hospital in Camden, N.J.
Past studies found that in infants whose exclusive food source was human milk, any interference in that nutritional routine altered the gut microbiome, "and this leads to changes in the development of the infant's immune system and ability to process foods," Feldman-Winter said.
But for babies with dairy allergies or sensitivities, drinking bottles filled with a blend of human and animal milk could cause far more frightening outcomes, Feldman-Winter said.
"Clinically, in susceptible babies, this may lead to problems such as feeding intolerance ... and possibly inflammatory bowel disease or, in the premature newborn, necrotizing enterocolitis" — during which lining of the intestinal wall dies and falls off. About one in four infants who get necrotizing enterocolitis die from it, says the National Institutes of Health.
The Food and Drug Administration recommends against feeding babies breast milk acquired through the Internet. The reason: Donors are unlikely to have been properly screened for infectious diseases like HIV or chemical contaminants such as illegal drugs. The agency also warns that if human milk isn't collected or stored safely, germs could grow in the supply.
"Many women have extra milk and they want to help out another family. But the way to do it is not by selling it online. You may do everything you can make to make your milk is safe, but you can't know for sure," Keim said.
"I think it's quite clear from this study that it's not safe to feed your baby milk that you've purchased on the Internet."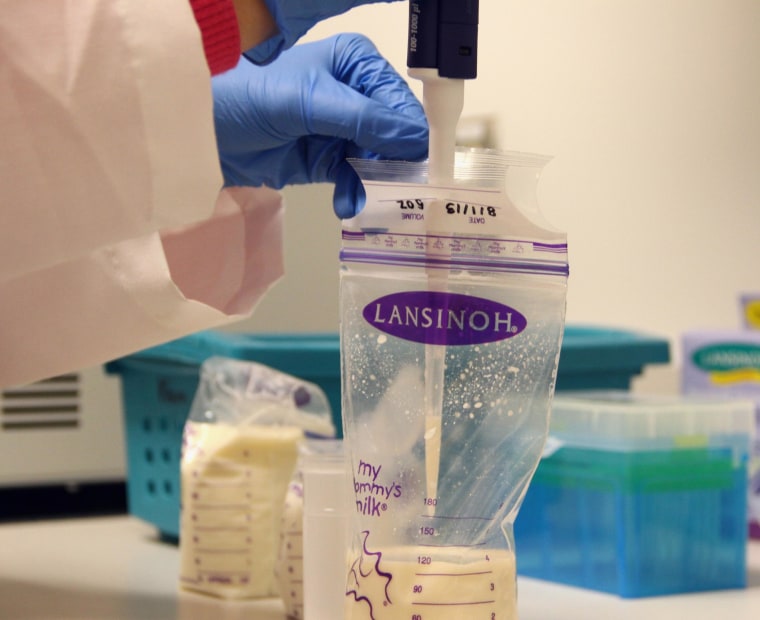 But the breast-milk market is booming. Keim estimated that more than 55,000 people are participating in online sales of human milk.
Some moms, like Mallory Ratliff, 30, chose that route after much careful thought.
About a week ago, Ratliff posted a request for supplemental breast milk at one of the largest websites where you can buy it. Her son, Blaine, born prematurely, turned 1 on Saturday. An occupational therapist in eastern Kentucky, Ratliff works two jobs to maintain her family's income, and is studying for a doctorate degree. That leaves her little time for nursing.
At the same time, Ratliff's natural supply is waning. Her stash of frozen milk, pumped months ago, is almost gone. She believes breast milk is the best and only option for feeding her son, and she hopes to keep Blaine on human milk for as long as he remains interested. He is not allergic to dairy.
Her post led Ratliff to another Kentucky mom, about three hours away, who uses the same website to sell her breast milk. They may meet as soon as this weekend to discuss the arrangement.
"Even that mom told me she was apprehensive about selling her milk because [after posting her offer to sell] she got so many creepy emails from men who were trying to buy it. She said she'd feel better to meet with me to make sure it was going for a baby, not some creepy, old guy," Ratliff said.
Ratliff hopes that when she speaks in person to the other nursing mom, and sees that mom's own baby, she can ensure the seller is a healthy non-smoker and fastidious about milk collections and bottle sterilization.
"I would never do this if somebody had to ship it to me and I could never see them," Ratliff said. "From what I can tell, some women make a pretty lucrative business off of this."