KANSAS CITY, Mo. — Aislinn Johnson wanted to work at Clarinda Academy to help kids.
Instead, she said, she is haunted by the memory of failing to help one.
"I feel like I wronged him," Johnson, 32, said. "I didn't do enough."
In the fall of 2015, Johnson was a nurse at Clarinda, a residential facility in Iowa for at-risk youth. She was on duty the night that the staff restrained Jesus Lopez, then a 17-year-old foster child from Washington, so severely that he lost consciousness and woke up covered in bruises.
In an exclusive interview with NBC News, Johnson said she watched in shock as staff members picked Lopez up, dropped him back down, and pushed him forward until his head hit the floor.
"They were abusing him," Johnson said.
But Johnson, worried that the staff would force her out of the room, didn't try to stop it. It's a decision, she said, that haunts her to this day.
"He didn't hear me tell them to stop," she said. "He didn't hear an adult in the room, fighting for him."
Sequel Youth & Family Services, Clarinda's for-profit parent company, provides behavioral health treatment to children in 44 facilities across the country. In a previous report on allegations of abuse and improper use of restraints at the facility, NBC News detailed the incident and the state investigation that followed. (Lopez first described his experiences to Investigate West.)
Since then, parents, and former students and employees have reached out to NBC News to share their stories. Johnson is one of them.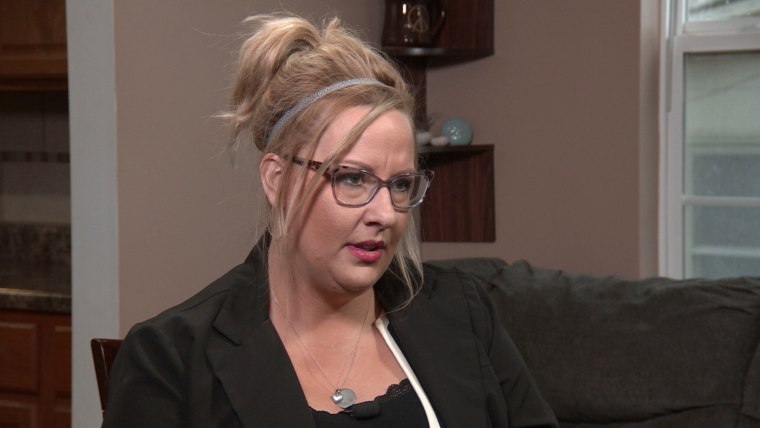 Johnson said she witnessed multiple incidents of Clarinda staff using improper and physically abusive restraints on children throughout the approximately seven months she worked at the facility.
"It happened daily," Johnson said. "It was routine practice to do restraints that are more painful than what they should be."
She also said that paperwork that the workers were required to fill out after the use of physical restraints was often amended to make the students' behavior seem more severe.
"I have seen restraint paperwork that I have written up and then what the doctor has signed was not what I wrote," Johnson said. "It's all a play on words when you put your hands on a kid. As long as you can make it sound like the kid was doing something aggressive ... that makes it okay."
In a statement provided to NBC News, a spokesperson for Sequel wrote that Clarinda's staff believed that Lopez was a threat to himself, and that a restraint was necessary. However, the spokesperson said, the staff did not use proper restraint technique.
Do you have a story to share? Click here to email us
Sequel then "conducted a comprehensive internal review, contacted regulatory authorities, suspended employees, and implemented additional training."
"The safety of our students is our highest priority," the statement said. "Sadly, there are times when our failure to follow procedures has impacted a student. This is both heartbreaking and unacceptable. Therefore, we have created a transparent culture of self-reporting and continuous improvement. We review every issue brought forward by students or staff, and report all findings to oversight authorities, family members, and referral partners."
Last month, Sequel announced it will be implementing a crisis-management program that minimizes the use of restraints at all of its facilities.
'I'm not going to tell on you'
Johnson was thrilled to work at Clarinda Academy. Like Lopez, she grew up in foster care. She wanted to help kids.
On the night of the incident, Lopez — who had just arrived at Clarinda days before — tried to run away. Johnson said many staff on duty — including herself — were working a double shift.
The staff that supervised children were often asked to work double shifts, Johnson said.
"We were low on staff and people would be working 16 hours or more," she said. "Sixteen hours is a long amount of time to be in control of the welfare of so many children's lives. You can't stay alert and on point for 16 hours. Your patience runs down."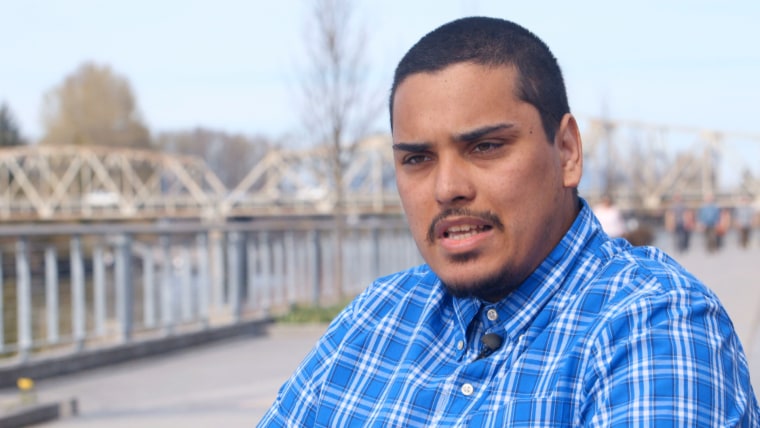 After intercepting Lopez, the staff carried him by his wrists and ankles into a closet.
She watched as they pressed Lopez into the ground.
"He's on the ground, his arms are above his head and his hands are held together either by one or by two people," she said. "And somebody's lying on his legs. And somebody has his feet."
Eventually, the staff brought Lopez to his bedroom. Lopez told NBC News he begged them to stop.
"I told them, 'Whatever you do right here, right then, I forgive you guys,'" Lopez said, as he choked back tears. "You don't have to do this. I told them, I'm not going to tell on you."
Johnson said the staff asked if Lopez was ready to go to bed. When he said no, they lifted Lopez up, dropped him to the ground, and pushed him forward so that his head hit the floor.
This happened at least 10 times, she said.
The restraint was so severe it left bruises on Lopez's legs, arms and back. Photographs provided to NBC News by Lopez show red and purple bruises on his body.
Johnson wanted to tell the staff to stop. But she didn't.
There was a "code of silence" at Clarinda, she said, that she felt pressured to follow.
"If and when you speak, you get bullied out of there," she said.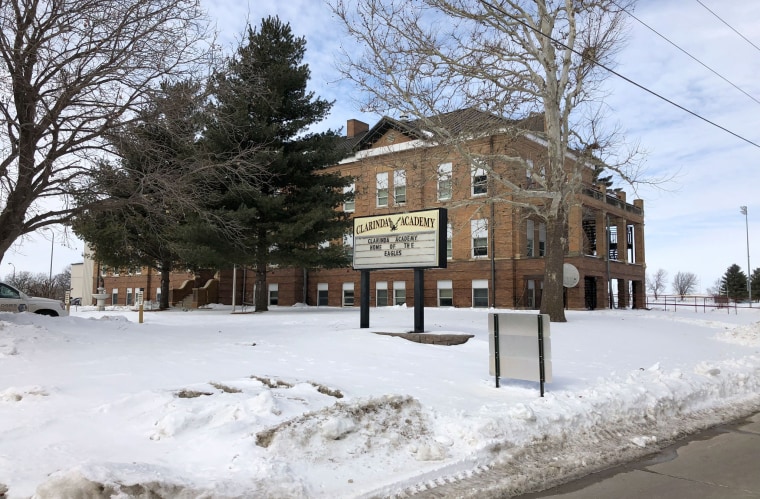 There are many caring staff at Clarinda Academy, Johnson said, and they are thoroughly trained in de-escalation techniques. But in practice, long hours, stress and frustration sometimes caused staff members to lose control.
That's not an excuse, she said.
"I understand how it's hard," Johnson said. "Either right then you know, you need a break for whatever reason, or you need to not be there at all if you have the capability to abuse a child. Because it doesn't matter if they are violent or if they come from a gang or if they whatever. They're a child first. And we are adults. And never is child abuse acceptable."
An investigation by Iowa's Department of Human Services found that at least two of the staff had worked 16-hour shifts that night. One staff member told investigators that Lopez was "limp as a noodle" during the incident.
The state's investigation determined that abuse did occur, but that "the injury resulting from the abuse was minor, and isolated, and unlikely to reoccur."
In a statement, a representative from Sequel wrote that double shifts are sometimes necessary. "Sequel works with our facilities to ensure that staffing levels are appropriate."
'A deaf ear'
Sequel is facing additional legal troubles. Last week, attorneys in Washington filed a tort claim against Clarinda Academy, Sequel, and Washington's Department of Children, Youth and Families on behalf of a 17-year-old former student. The claim is a required first step before filing a civil suit.
Like Lopez, the teenager named in the claim, identified by his initials M.D.J., is a foster child from the state of Washington. He alleges he was mentally and physically abused by staff and students during his enrollment at Clarinda in 2017.
"On a near-daily basis, Clarinda Academy staff would force M.D.J. into a physical restraint by placing his hands behind his back and folding him in half with his head between his legs and chest on his thighs," according to the claim. "Clarinda staff would then sit on his back, pressing down to exert pressure and pain. This would last for hours."
According to the claim, he reported the alleged abuse to his caseworkers back in Washington, often twice a week. But his allegations were never investigated. No caseworker ever visited him at Clarinda.
"The Washington social workers turned a deaf ear to M.D.J.'s reports," according to the claim.
A spokesperson from Washington's DCYF said the agency could not comment on pending litigation. Sequel also declined to comment, but a representative said that the "letter is designed to have Sequel come forward with a financial settlement to avoid a lawsuit."
'A broken kid'
Shortly after Johnson reported her concerns about the restraint to her supervisors, she said, she was fired.
A student alleged that Johnson allowed her to use her cellphone to access Facebook. That was untrue, Johnson said.
She alleges that Sequel retaliated against her for speaking up about what happened to Lopez.
"I was fired because I was a threat to Sequel's reputation," she said.
In a statement, Sequel wrote that Johnson was terminated for "behavior unrelated to the restraint incident" and "serious professional infractions," including the allegation that she allowed a student to use her cellphone.
The staff who restrained Lopez were disciplined, according to Sequel. All four still work for Sequel.
Johnson continues to work as a nurse. She thinks often about Lopez. She hopes he forgives her.
"He was a broken kid that needed some care," she said. "Some love. Somebody to sit down with him when he doesn't want to go to bed at night, and talk through what's going on. Not shut the door in his room and physically abuse him."