First lady Michelle Obama stepped up the pressure Tuesday against companies selling junk food to students, announcing a new government proposal that would ban advertising of sodas and unhealthy snacks in public schools.
The new USDA rules would phase out the advertising of sugary drinks and junk foods on vending machines and around campuses during the school day and set guidelines for other in-school promotions, from banners hung in hallways to sponsored scoreboards on school football fields.
"Our classrooms should be healthy places where kids are not bombarded with ads for junk food," Mrs. Obama said at a White House event.
U.S. Agriculture Secretary Tom Vilsack said the new rules would eliminate marketing for products that cannot be sold in schools. "If you can't sell it, you ought not to be able to market it," Vilsack said. He said companies spend $149 million a year marketing food and drinks to kids in schools.
Mrs. Obama made physical fitness and healthier eating her signature policies when her husband took office in 2009. She announced the proposed rules on the fourth anniversary of her "Let's Move" childhood obesity program.
The hope is to normalize healthy eating and regular exercise for kids, she said.
"So for them the norm will be fruits and vegetables and not chips and candy," she said. "So hopefully in the grocery market they will be begging us for items from the produce aisle instead of from the snack aisle."
It's the next step in a process started back in 2006 by former president Bill Clinton's foundation, which worked with beverage companies to limit school drink sales to water, unsweetened juice and low-fat and nonfat milk, flavored and unflavored, in elementary and middle schools, with the addition of diet and sports drinks in middle schools.
Advocacy groups have been pushing to limit unhealthy snacks and the ads promoting them for years.
"Given the high rates of childhood obesity and children's poor diets, it doesn't make sense to advertise and market unhealthy food to children at all, much less in schools," said Center for Science in the Public Interest nutrition policy director Margo Wootan.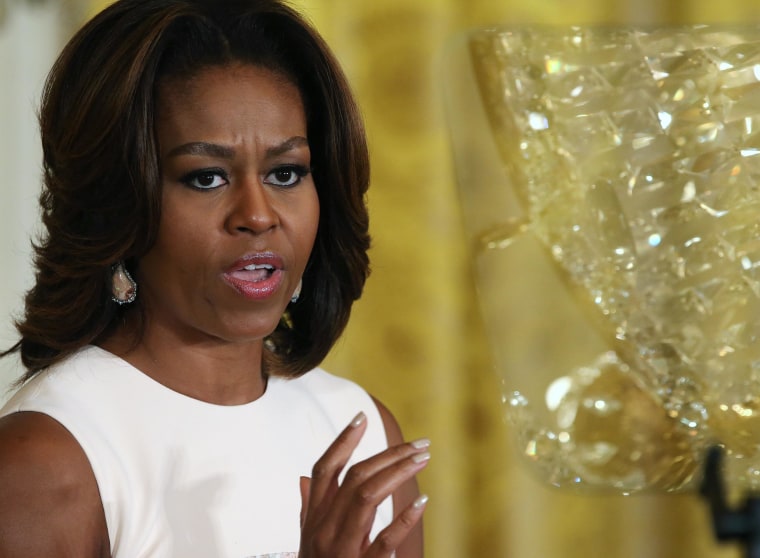 CSPI says that in 2012, 70 percent of elementary and middle school students and 90 percent of high school students attended schools that allowed food marketing, most of it for unhealthy food.
The Federal Trade Commission says the heaviest marketers are candy and snack food manufacturers, beverage companies, and fast-food restaurants, which make use of posters and scoreboards.
They also give students coupons, for instance offering pizza as a prize for students who read a certain number of books, and they place advertisements in school television programs and other educational materials.
California banned sodas and junk food from public schools in 2005 and Connecticut did in 2006, but most states don't have policies.
"Our priority is supporting the health of kids and they shouldn't be targeted for the marketing of junk foods and drinks," said Sam Kass, executive director of Let's Move.
"Our priority is supporting the health of kids and they shouldn't be targeted for the marketing of junk foods and drinks."
Ads for junk foods such as candy bars, potato chips and other treats that don't conform to the U.S. Department of Agriculture's Smart Snacks in School guidelines would be banned under the proposed rules. Those recent USDA guidelines limit calories, sugar, and fat content in food sold to students at 100,000 schools. Concessions sold at after-school sports games would be exempt.
Under the proposal, beverage companies could market their branded lines of bottled water, but not sugary soft drinks.
The beverage industry — led by companies Coca-Cola Co., Dr Pepper Snapple Group and PepsiCo — is on board with the move. American Beverage Association President and CEO Susan Neely said in a statement that the changes are is the "logical next step."
"Mrs. Obama's efforts to continue to strengthen school wellness make sense for the well-being of our schoolchildren," Neely said.
The new proposed rules also include a plan to extend the free lunch and breakfast program. Schools that already have a large number of students eligible for free lunch or breakfast will be encouraged to expand it to all students.
"Millions of children showing up to school hungry every day," Mrs. Obama said. "They feel like there's a stigma with participating in the school breakfast program." The new approach would let all kids get the meals without their parents having to enroll them.
Studies show children perform better academically and have fewer discipline problems if they aren't hungry during the day.
The Associated Press contributed to this article