Backyard fire pits have become more common, but along with their popularity is a growing risk of injuries — especially for children — experts warn.
Fire pits are nearly ubiquitous in backyards across the country, rated recently as the most popular outdoor design feature by the American Society of Landscape Architects. But the trend comes with a price — at least 5,300 injuries related to fire pits or outdoor heaters were treated at emergency rooms in the U.S. in 2017, according to the Consumer Products Safety Commission. That's nearly triple the 1,900 injuries reported in 2008.
A quarter of the victims are under the age of 5. Many are burned the next day, when abandoned coals are still hot.
"Families, especially with young children, need to be aware of the risks," said Lisa Braxton, public education specialist at the National Fire Prevention Association. "It's parents' responsibility to teach safe behavior, but they also must supervise at all times."
"Most parents say, 'it happened so fast. I only turned my back for a second and next thing I knew he was screaming.'"
Even if a parent is nearby, it can take just a few seconds for a serious accident to happen.
On Memorial Day in 2017, John Rippey was roasting s'mores with his two young sons and their friends around a backyard fire pit. As he turned away briefly — for only a moment — he heard his 6-year-old son, Jackson, scream. The boy lost his balance and fell backwards into the open fire pit. Rippey immediately ran over as Jackson rolled around in the fire pit, shrieking in pain, "I'm dying, I'm dying!"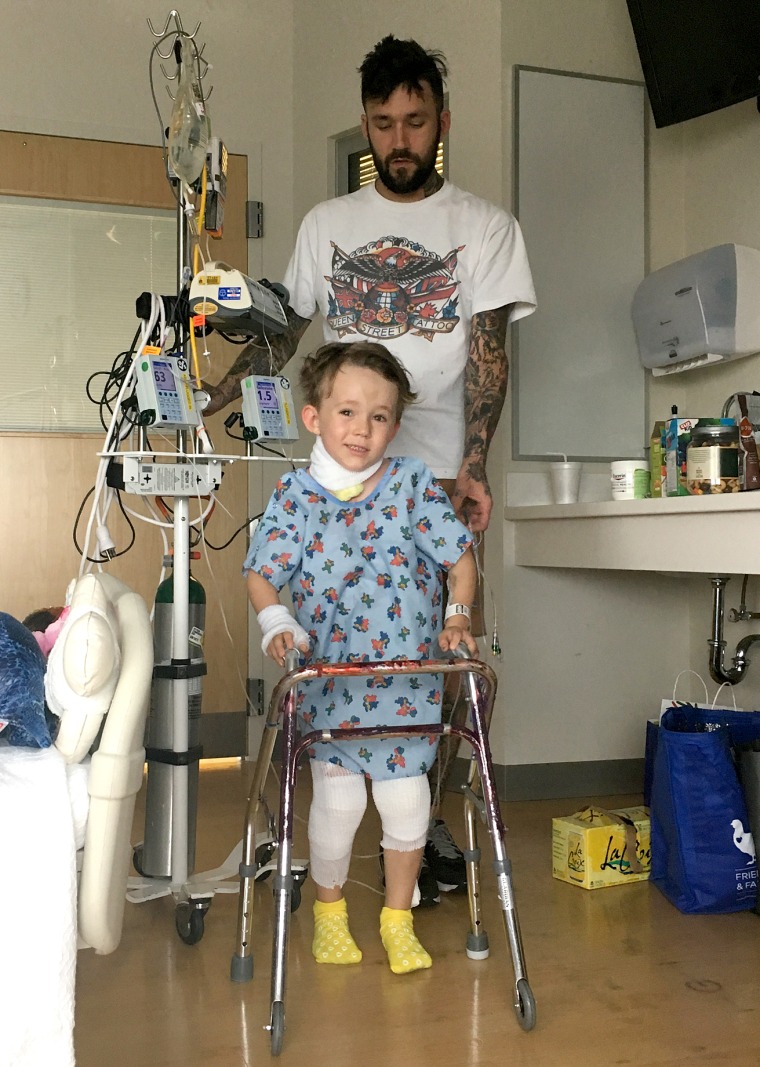 The frantic father pulled Jackson from the fire pit and saw that his skin was peeling off.
"[Jackson] thought he was going to die, it was very emotional," said Rippey.
They rushed to their hospital in Fredrick, Maryland, but Jackson's burns were too severe to be treated there. He was transferred to the burn ward at Johns Hopkins Children's Center in Baltimore, where he stayed for eight days and underwent a skin graft. He had a third degree burn near his collar bone and second degree burns on his chest and hands, about 10 percent of his body in total.
'It happened so fast'
Luckily, Jackson made a full recovery, except for permanent scarring near his collar bone. He's undergoing painful cosmetic laser surgeries, but evidence of the serious burn will always be visible.
Dr. Dylan Stewart, who treated Jackson's burns, told NBC News he sees more and more burns on children caused by fire pit accidents.
"Most parents say 'it happened so fast. I only turned my back for a second and next thing I knew he was screaming,'" said Stewart, director of the pediatric burn unit at Johns Hopkins. "That's a pretty common story."
The National Fire Prevention Association offered tips for fire pit safety:
Check with your local fire department or municipality to make sure fire pits are allowed in your area. Rules can change on a seasonal basis, as dry or windy conditions can affect safety.
Children and pets must be supervised at all times. Instruct children to stay back 10 feet from the fire.
Make sure to alert children of the fire every time it's lit and remind them of the safety rules.
Check manufacturer guidelines for properly extinguishing the fire and be sure to have all of the necessary tools.
Fire pits can remain extremely hot into the next day. Be sure children are aware of this and supervised until all embers are burned and the temperature returns to normal.
If someone suffers a moderate burn, use cool, not cold, water on the burn for 3-5 minutes, then cover with a clean dry cloth. For serious burns, go to the hospital right away.
Jackson, who was happily dancing around with his friends when he slipped and fell into the fire pit, wants kids to stay safe this July 4th fire season.
"Think before your actions around the fire," the boy said. "And keep safe distances."