Facing a crackdown from federal regulators, e-cigarette maker Juul announced Tuesday that it will stop selling most of its flavored products from retail stores.
The move — which includes mango, fruit, crème and cucumber pods — was revealed as part of a new plan the company says is designed to snuff out e-cigarette use among young people.
Those flavors will still be available online, but Juul said it's adding age-verification measures by the end of the year to ensure that no one under 21 can buy the products.
The plan also includes increasing Juul's "secret shopper program" to identify problem retailers and shutting down its Facebook and Instagram accounts.
Critics said Juul's new proposals come too late and don't go far enough.
"Juul's announcement is too little, too late, and it's not a substitute for comprehensive FDA regulation of e-cigarettes," said Matthew Myers, president of the Campaign for Tobacco-Free Kids. "Now that it has become so popular with kids and captured 75 percent of the e-cigarette market, Juul can pull back on social media because its young customers are doing the social media marketing themselves."
Food and Drug Administration Commissioner Scott Gottlieb responded to the plan in a Twitter post.
"We're deeply concerned about the epidemic of youth use of e-cigs," it read. "Voluntary action is no substitute for regulatory steps #FDA will soon take. But we want to recognize actions by Juul today and urge all manufacturers to immediately implement steps to start reversing these trends. "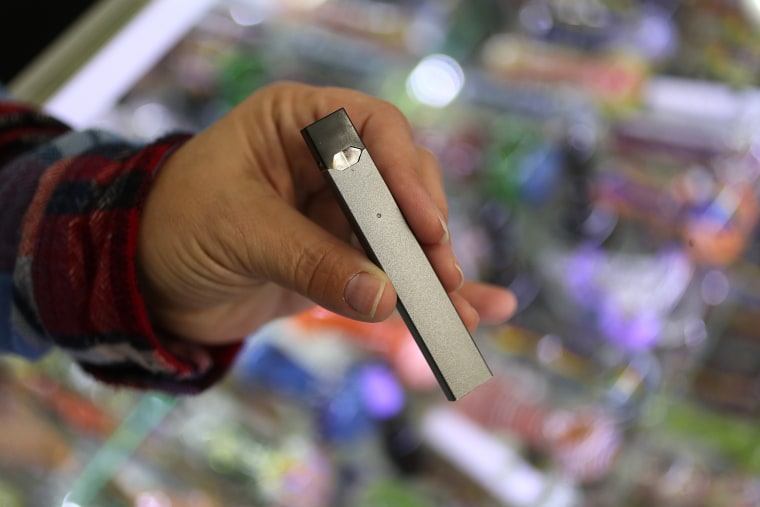 To buy Juul products online, customers were already asked to provide their name, date of birth, home address and social security number. The information was verified by a third party, according to Juul.
By the end of the year, the system will include two-factor authentication, forcing buyers to use a code sent to their cell phone to create an account. Juul said it's also adding a "real-time photo requirement to match a user's face against an uploaded ID."
In announcing the plan, Juul Labs CEO Kevin Burns insisted that its products are designed for adults trying to kick their cigarette habits.
"Our intent was never to have youth use Juul," Burns said. "But intent is not enough, the numbers are what matter, and the numbers tell us underage use of e-cigarette products is a problem. We must solve it."
Juul's announcement comes on the heels of reports that the FDA is preparing to restrict sales of flavored cartridge-based e-cigarettes at convenience stores. Last Thursday, a senior FDA official told NBC News, "The fruity flavored products will only be able to be sold in adult stores, so tobacco shops, vaping shops, of which there are 10,000 in the country."
Sen. Richard Blumenthal (D-Conn.) sharply criticized Juul's plan.
"E-cigarette use is an epidemic in this country and belated, loophole-riddled half-measures like those rolled out today by Juul are simply not enough to save children from lifetimes of addiction and disease," Blumenthal said. "If anything, todays announcement proves why FDA must move forward immediately and decisively to ban all flavors regardless of where or how they are sold and begin aggressively regulating the sale of these e-cigarettes."
As NBC News reported earlier this month, e-cigarette use among teenagers has skyrocketed in the three years since Juul first hit the market in mid-2015.
The Centers for Disease Control is expected to report this year that the number of high schoolers who were using an e-cigarette in 2018 is roughly 3 million, up more than 75 percent since last year's National Youth Tobacco Survey by the CDC.
Juul has grown to dominate the rapidly expanding e-cigarette market, with over 74 percent market share and a roughly $16 billion valuation.
FDA Commissioner Scott Gottlieb announced in September that he was giving Juul and four other e-cigarette manufacturers 60 days to present their plans to prevent youth access to e-cigarettes, or face regulatory consequences. That deadline arrived this week.