Missouri mom Rebecca J. Wanosik is fighting to regain custody of her five children, saying doctors misdiagnosed her baby's complicated medical condition as child abuse.
In February, at just 2 months old, her daughter, Zeydn, suffered a broken arm and three fractured ribs. The pediatrician called state child protection authorities and all the children were placed in foster care.
But Wanosik and her husband, Anthony, are hopeful that the family will be reunited after consulting with a prominent Boston endocrinologist this week. Dr. Michael F. Holick diagnosed the baby with infantile rickets, caused by a vitamin D deficiency, as well as a connective tissue disorder.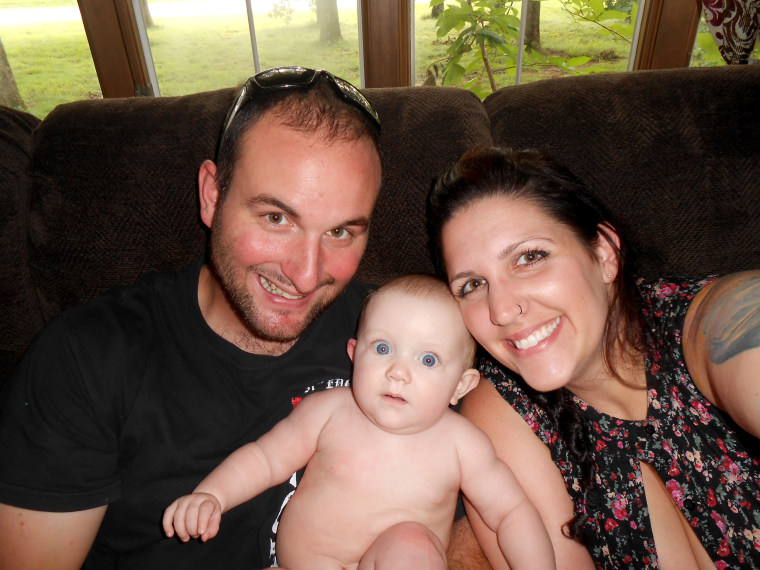 That medical diagnosis, say both Holick and the Wanosiks' lawyers, is a "catastrophic" combination that would explain Zeydn's injuries.
"Our children have suffered enough. ... It is time to start healing."
Her legal team has said it will file a motion with the court to introduce the new evidence so Wanosik can get her children back.
"I am hopeful that the state will choose to do the right thing," said Rebecca Wanosik, 28, of Lebanon, Missouri.
"Our children have suffered enough, and it is time to rebuild our lives to establish a new sense of normalcy together," she told NBC News. "It is time to start healing."
Connie Sullivan, one of the family's lawyers, told NBC News that the Wanosiks had been "vindicated" by this diagnosis and she is hopeful the state will agree. "Rebecca knew there had to be something else, and now she is proven to be right," she said.
On April 20, in an adjudication hearing at the 26th Judicial Circuit Court of LaClede County, the judge agreed with the Children's Division of the Missouri Department of Social Services that Zeydn was a victim of child abuse and issued an order of protective custody. A motion to set aside the order was rejected by the court on May 13.
Were looks, lifestyle factors?
All of the children, aged 6 months to 8 years old, are now in foster care. Court officials would not comment on the case because juvenile proceedings are confidential.
Rebecca Wanosik said she believes that her child-rearing style — home birthing and delayed vaccinations, her appearance and the family's low-income status — prejudiced doctors.
"I am covered in tattoos and have a nose pierced," she said. "They probably look at me as though the kids are stupid and I am no better.
"But we have never had child services here. We have never had any domestic disputes, not even a 911 call. We are squeaky clean."
Wanosik said she and her husband work hard to ensure that their children are well cared for.
"I am a stay-at-home mom," she said. "My husband made $27,000 last year, but we make it work. We don't have food stamps, we have insurance and I coupon like nobody's business."
Zeydn was born Dec. 21, 2014. Her mother said she had regular prenatal care and the home birth supervised by a midwife was uneventful.
"She was a fussy baby, but I was breastfeeding her and not watching what I was eating," said Wanosik. "I cut dairy and spice out of the diet, which according to Dr. Holick, didn't help, but I didn't know that."
Wanosik said her doctor did not mention vitamin D supplements, which are recommended by the American Academy of Pediatrics.
On Jan. 16, when Zeydn was just 3 weeks old, her mother said she could hear a "popping and cracking" in the baby's ribs. She took her to the pediatrician. "The doctor said it was normal in an infant and that I shouldn't worry," she said.
But on Feb, 24, Wanosik said she lifted Zeydn's arm to wave goodbye to her brother and the baby cried. When the baby fussed in the car seat, she took her to the pediatrician again. This time, it was a doctor unfamiliar with the family.
After scans showed fractures, the doctor called authorities. "I felt physically sick, I was so distraught," said Wanosik.
'Downright mortified'
Authorities initially blamed Anthony Wanosic, Zeydn's father, a 26-year-old Army combat engineer, who had been away on military maneuvers. He is step-father to the four other children.
"I felt downright mortified when I heard that the allegations," Wanosik, a specialist based at Fort Leonard Wood, told NBC News. "Not only did they say that I hurt the baby, but they also said my wife was aware of it. There is no way I hurt this baby. I have been waiting a long time to have a child of my own, and I even cried when she was born."
Wanosik, insisting her husband's innocence, "immediately went proactive," according to Sullivan, the family's attorney, scouring the Internet for information on brittle bones. "The first thing she found was vitamin D and rickets, so she got herself tested."
In April, Holick, a professor of medicine, physiology and biophysics at Boston University School of Medicine, examined Wanosik and found her vitamin D levels were 5 nanograms (ng) per milliliter (ml) of blood, "almost undetectable" and "low enough for rickets." A healthy vitamin D level is between 20 and 30 ng/ml.
Zeydn's vitamin D levels were even lower than her mother's, 4.3 ng/ml, according to Wanosik. The baby has since been taking vitamin supplements.
Dark Side of Inside: Lack of Sun Exposure Dimming Our Health, Experts Say
Holick said Zeydn's bone scans, which prompted the child abuse charges, probably showed older "healing fractures," perhaps from birth.
"Child abuse experts … are not experienced in metabolic disease," he told NBC News.
Holick also diagnosed both Wanosik and Zeydn with a form of Ehlers-Danlos syndrome that is genetic and can cause joint hypermobility. Wanosik has later learned that her mother, grandmother and one of her other children have the disease.
Injuries 'likely happened in the birthing process'
"A combination of the two (conditions) caused the fractures," said Holick. "It likely happened in the birthing process, but even moving her in the crib could have caused it."
State officials would not comment on the case, but Nick Mebruer, a Lebanon attorney who has been appointed guardian for the baby, said that in general, he "remains open" to new evidence.
"Our system allows you due process," Mebruer told NBC News. "I would want to pay attention to what develops if something is contrary to what we thought along the way.
"The whole process is designed to safely put the family back together. The goal in every case is for unification."
Meanwhile, the Wanosiks, who have had regular supervised visitations, say they are certain they will be vindicated.